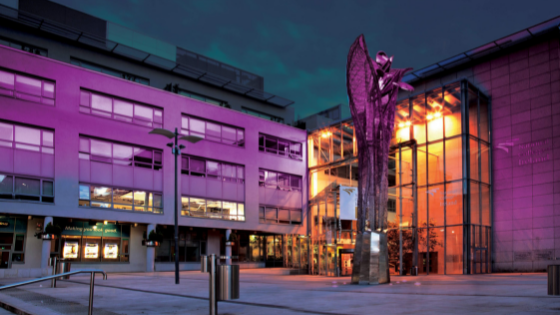 As part of her transition year work experience programme, Lisa Murray joined NCI's busy marketing department where she worked across a range of digital projects. From email marketing to social media, websites and graphic design, Lisa made her mark by supporting the team with tasks which include creating content, analysing campaign results and learning how to optimise websites.
Her final activity was preparing a blog post which summed up her learnings from the week. She explains what she has learned from her work experience to date, shares advice for future TY students and predicts her next steps in terms of future study and her career plans with us below.
Tell us a bit about yourself and your time as a TY student.
TY has been an amazing experience so far. I have gone on trips, met new people and participated in many workshops I never thought I would get the opportunity to, such as forensics and hair styling. I consider myself to be someone who doesn't participate much but during TY, I have put myself out there and I have done things I never thought I would have.
There are so many opportunities presented to us that have taught me how to be more confident, more social and more involved. I know for a fact that I would not have been able to go straight into fifth year, an option at my school, and I'm enjoying taking a break from exams and focusing on experiencing new things.
What work experience have you been involved with during TY?
During TY, we do two weeks of work experience. My first week was spent with a genetics researcher, so I wanted something very different for my second week. During this week I have been working with NCI's marketing team and have been doing a lot of online projects while working from home. I have been doing a wide variety of tasks in the areas of SEO and social media for example. I have also been doing a lot of research work.
I have never really done any work like this before, so it was very interesting to see behind-the-scenes of the marketing team. I was also able to go into the college one day to help with some small events. I had a list of things to do at the start of the week and was allowed to work through it at my own pace, which I liked as it meant I was required to manage my own time throughout the week.
What key skills have you learned during your work experience?
I have learned a lot during my work experience. I have never done traditional office work before, and I found it very interesting to see the difference between this and what I normally do in school. Using the different websites and programmes was very fun. I love experimenting and learning so trying to use a website I had never even heard of was something I enjoyed. Some new tools I used were:
I also learned a lot about the social aspect of this job when I went into the college. I talked to a lot of people and met people from all over the college. It was very interesting to learn about all of the different roles in a college that might not be obvious to me as an outsider.
I would say the most important thing I learned was how difficult it can be to work from home. There are plenty of distractions, especially if you have a pet, and you might not have a very good workspace. However, there are some good parts. You can take lunch whenever you want, and you don't have to commute every day. I never fully understood what came with working from home as the only stuff I did at home was schoolwork, but now that I do, I can understand why people would want to stay home and why some would prefer going into the office.
Do you have any tips for anyone who will complete work experience as part of TY in the future?
My main advice is to organise it early in the year. It gets harder as time goes on as people might not respond quickly, people might say no and you'll have to rush to find somewhere else, etc. Things like this have to be prepared as soon as possible for the best possible outcome. I applied to a TY placement somewhere else and they said no about a month after I had initially applied.
I would also say don't be afraid to reach out to someone if you're genuinely interested in what they do. Even if they say no, most people recommend other people/places that you could try. Always have a backup too, maybe with your parents or one of your friends' parents.
What area do you see yourself studying and working in in the future?
I see myself working in Engineering in the future. I especially want to work with prosthetics and other similar things. Science has always been something I was interested in, and I can't wait to study it more in the future. That's the reason why I wanted to get one science related work experience and one completely different area. I know that I want to work in STEM, so I'll never really experience this aspect of marketing.
This experience has been very informative, and I have truly learned so much! National College of Ireland is an amazing place and I'm glad I got the opportunity to work there!