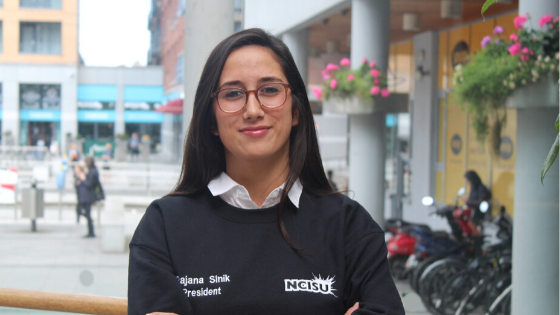 Dear Students,
For one final time I would like to congratulate you on completing a uniquely challenging year. Throughout the last twelve months, you've shown great determination, resilience, and patience while we navigated unknown and ever-changing territory – a test for all humanity. As we come to the end of your term and at the end of mine, I want to thank you for electing me for two consecutive years to represent you as President of NCISU.
There have been many issues to deal with over the last two years, demands from both staff and students, and a number of curve balls! During my first election, I promised to represent you, bring forward your concerns, voice your opinions, and put you at the forefront of every decision NCI makes. As I write this final letter, I hope that I have done you proud, I hope that I practiced what I promised, and I hope my open-door policy was consistent throughout.
In the last year, we focused on a rebrand of the Union, starting with a new Constitution, a new logo and a new approach. We implemented new structures, such as a newly formed Governance Committee; formalized the Class-Representative system; implemented a cross-over manual for incoming Officers; and started drafting a Partnership Agreement between NCI and NCISU.
We negotiated on your behalf: we sought academic mitigating policies during COVID, and we lobbied for additional support, such as free counselling for Part-Time students and financial assistance for International students; we drafted organisational policies such as annual and sick leave policies, a Returner Salary Policy, Code of Conduct policies, and a Research Student-Supervisor relationship toolkit. We also continue to represent you on a national level, as we are a proud member of the Union of Students in Ireland, where we lobbied Government officials and submitted policies at the annual Congress to dictate the work of our national representative body.
None of the above would have been possible without a great team behind me. I specifically want to thank the current Vice-President and my successor Conor O'Reilly, who has helped me fulfil my role as President and who has done tremendous work when it comes to the welfare of students and implementing Consent Education in NCI.
I also want to thank all the NCI departments for being student-focused and student-centred. But mostly, I want to thank you! For being a part of the community, for making contributions, and for being an NCI student.
Finally, I would like to wish all those continuing their studies the very best of luck, congratulate those who are graduating, and welcome our incoming students.
I am very excited for the future of the Union and NCI, and I'm excited to see all the initiatives that will be implemented, and the changes made by the new executive.
There is an exciting time ahead of us and, as I handover the Union, I look forward to visiting the College in the future as an alumni and former President - I will always look back fondly on the close knit ties that characterise NCI and will continue to feel part of the broader NCI community.
Dajana Sinik,
NCISU President 2019/20 & 2020/21