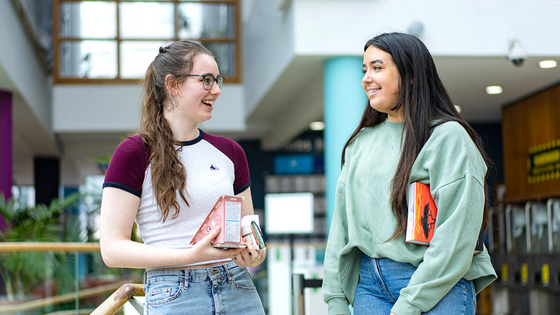 Missed the CAO deadline or you're unhappy with your previous course choices? You still have a chance to attend NCI this September through the Available Places facility! Further information can be found on our Available Places hub.
What is Available Places?
Available Places is a facility that highlights places that are still available on selected programmes for CAO applicants. This means you still have the option to choose to study at NCI in September!
What courses can you study at NCI as part of this programme?
BA (Hons) in Marketing Practice - NC020
Have you ever looked at the latest big brand advertising campaign and thought: I could do better than that? Marketing is central to our everyday lives, as organisations compete for attention with TV ads, sporting sponsorships, social media campaigns and more. This degree will allow you to understand these campaigns and the strategies behind them and give you the skills to work in this fast-paced area.
BSc (Hons) in Data Science - NC025
Data can be used to examine performance in key areas of a company, highlighting what's most and least effective, and driving change based on evidence, rather than gut instinct. This honours degree will equip students with the skills to apply computing and analytical science in the pursuit of discovering new information by identifying patterns in data.
BA (Hons) in Early Childhood Education and Care - NC030
This course will give you the knowledge and skills to work with children and their families during their crucial early childhood years. This is a sector that is experiencing a growing demand, as research shows us the vital importance of early childhood education in shaping children and our society.
Higher Certificate in Data Science - NC105
NCI's Higher Certificate in Data Science uses a blend of computer science and data science to provide you with the knowledge and skills necessary to carry out data modelling, data management and data analysis activities, and to interpret and communicate that data to a variety of audiences. The programme will give you the mathematics, programming and problem-solving skills required to exploit data in addressing real-world problems.
Higher Certificate in Business - NC103
This higher certificate course is an ideal introduction to contemporary theories and approaches to modern business practices. You will study key areas such as marketing, human resource management, entrepreneurship and much more. This full-time course is highly practical; you will learn to understand the business world using real-world examples, guided by expert faculty.
Higher Certificate in Computing - NC102
On completion of this two-year course, you will have highly valued expertise in hardware, software applications, software development, operating systems and databases. It is a fantastic foundation on which to build your career in the dynamic world of information technology.
Who can apply for Available Places?
If you have already applied to the CAO this year but you have not selected the above courses then you can submit an Available Places application free of charge. You can also make an Available Places application if you haven't applied to the CAO before now for a fee of €45.
Watch this video for further information:
What are the minimum requirements?
Applicants do not need to meet the points requirements for these courses however, students need to meet the minimum entry requirements for the courses selected. Visit the course pages listed above and click the 'Minimum Entry Requirements' tab to find this information.
When are applications open?
The Available Place facility will re-open on 31st August at 12:00 noon. Keep an eye on the CAO website for any updates.
How can I apply for a place?
If you are an existing CAO applicant, you can insert the courses listed above into your current application in the 'My Application' section on the CAO website. New applicants need to visit the Available Places to submit an application.
One important thing to keep in mind is that you should place your course choices in order of preference, similar to your original application. Watch the video above for more details.
Get in touch
If you have any questions about our courses listed under Available Places, you can contact our School Liaison Officer, Karen Campbell, directly by emailing karen.campbell@ncirl.ie and she will be happy to help!
This article was updated on 25th August 2023.