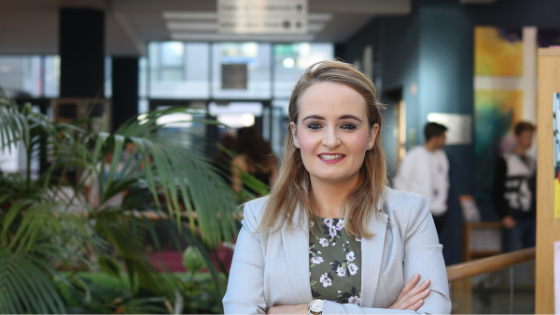 We believe our students are living proof of what can be achieved with a qualification from NCI, but they're also proof that it's possible to integrate student life into your existing working and personal life and get the balance right. Don't believe us? Read how Marian, current student of the MA in Human Resource Management, manages it all.
Why did you choose NCI?
I've always had an interest in HR and the psychology of the workplace. This time last year I took the first step in pursuing a career in this field when I registered for the MA in Human Resource Management. The main reason I chose NCI was its exceptional reputation in this area and its strong links with the CIPD. I also chose NCI because I liked the building! Its location is central and nestled in the heart of the Docklands. It's even got a Luas stop at its door. I also liked the 'campus without walls' concept of the building.
Did you have any fears/concerns about starting a part-time course?
Returning to education after a decade definitely had it challenges for me. In the ten years since I completed my undergrad, advances in technology have changed the world of education. The sheer volume of information out there, which can now be accessed so easily, can be overwhelming. I worried about my ability to keep up, particularly when working full time. I also think for many, September is the beginning of the traditional school year. You may even ask yourself: Will I make friends? Will I find my way around?
Give yourself time. For me, I was halfway through my first semester before I felt comfortable. Having the support of your classmates is incredibly important. As children making friends is easy, as an adult it's different! I think knowing that others are having the same issues, and seeing how they tackle them, really helps. I was far more confident coming into the second semester and this confidence was definitely reflected in my performance.
How are you finding the balance between study/work/personal life?
It is certainly not always easy to juggle it all. I discussed my ambition to undertake an MA with my manager before registering for the programme and went through the supports I would need and the benefits I could bring to the team as a result of completing it. That said, there are days when coming home from work the last thing you want to do is research an assignment. You need to keep your focus.
From a social perspective, you will find you may have to say 'no' to the night out or the weekend away with friends from time to time. However, it's important to remind yourself that it's not every night out or every trip away you have to pass over. And with a little extra planning and organisation, you can still make time for the people in your life.
Your master's is not forever and will be worth it!
Do you have any tips for someone starting a part-time course?
Focus is important, on yourself and the end goal. Siphon off a period of time every week, outside of class time, to keep up with your reading. Stick to that time as best you can, even if you are tired.
Speak to your manager and team at work. Make use of every assistance offered to you.
Your classmates will be one of the greatest supports you have. They know exactly what you are going through on this journey because they're taking it with you.
Be kind to yourself.
Enjoy it 😊