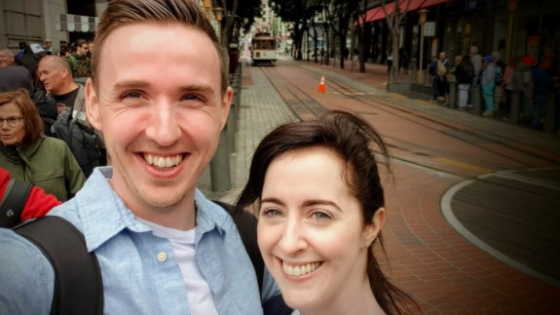 Human resource management, data analytics, economics and TikTok…
John Geraghty, HR Business Partner at TikTok, explains how these areas come together in his current role. Drawing from his undergraduate degree, his interest in data and economics has kept him grounded and ensured that he has always based his decisions on facts and tangible metrics. Studying the MA in Human Resource Management at NCI was a real lightbulb moment for John; he was certain that this was the field he wanted to pursue a career in. Starting off in recruitment, he soon moved into HR roles in technology companies where he developed an understanding of the impact of employee insights on business success. This sparked a desire to develop analytical skills to make decisions that would drive business growth, leading him to study the Higher Diploma in Science in Data Analytics at NCI.
The Higher Diploma in Science in Data Analytics at NCI is offered through Springboard+ meaning it is free if you're unemployed and 90% funded if you're employed. The next instance starts in January 2022, visit our Springboard+ page to learn more.
John reveals how studying data analytics helped him secure his current role and share insights into this conversion course at National College of Ireland for any business graduates thinking about gaining technical business skills below.
You're currently working as a HR Business Partner for TikTok in Ireland. Why did you choose to upskill in the area of data analytics?
My role as HR Business Partner role at TikTok is incredibly exciting! We are seeing phenomenal growth across all our regions, and Ireland is no exception. We've had over 1,000 employees join our Ireland base during the pandemic. I believe data analytics played a massive part in me securing the role with TikTok.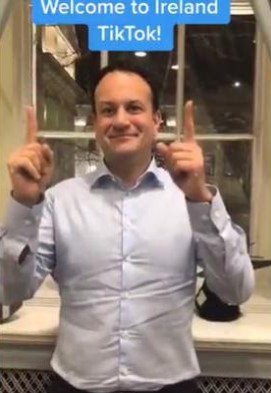 Tánaiste Leo Varadkar starring in a TikTok video
If I take a quick step back, metrics and data are integral to how businesses operate, and I believe HR should be no different. Business managers were always keen and would ask for data insights and have tangible figures that they could evaluate situations on. I've been generating and interpreting metrics such as employee engagement surveys, absenteeism, attrition/turnover, recruitment, etc. for a long time but I became very interested to gain more knowledge about this area and look at more ways to use data in HR.
This led me to decide to study data analytics, and the course at NCI was recommended to me by a colleague in the business intelligence team of the company I worked in at the time.
Can you share some insights into your experience studying data analytics at NCI?
The statistics modules we did with Brian Buckley was fascinating, he was an incredibly interesting lecturer. The stories he would tell and examples he used from his experience were exactly what I wanted to get out of the course. He helped you really understand the importance and relevance of data analytics in modern businesses. Brian advocated robust testing which allows you to stand over the data you used.
Eugene O'Loughlin was also a terrific lecturer who hosted engaging sessions on visualising data, what data you use and how you use it to display relevant insights and points of view.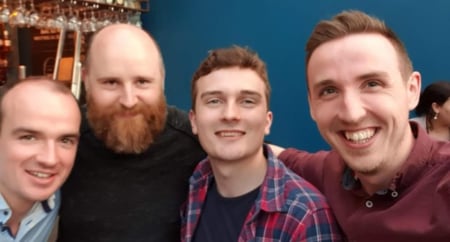 Celebrating completing our final project presentation
It helped to be around so many smart and interesting people too by working on group projects to run relevant statistical tests and investigate certain questions. It was a tough slog to motivate yourself to go to college lectures after a difficult and long day at work, but once there, the classmates made it much easier to manage.
How has your data analytics knowledge helped you in your current role?
The course started with the basics and built up to the skills of using advanced statistics and programming to run various models. In truth, starting from the basics was essential as it taught me to question how business fundamentally use and interpret metrics and also to train myself out of some bad habits.
Also, I used the learnings from the course to improve how I present data such as employee survey results, absence, turnover, recruitment to stakeholders, and also to:
Build SQL databases for HR data to make data retrieval easier and more consistent
Use statistical methods such as regression analysis and time-series modelling to forecast any warning flags on key people metrics
The programme also encouraged me to question the accuracy and relevance of legacy people metrics and it gave me the confidence to expand data methods that were used in companies I worked for.
I look forward to broadening these skills and knowledge even further in my role at TikTok. There are some interesting data areas such as employee wellbeing and remote working that I feel provide an opportunity to explore and build valuable data insights.
Interested in studying Data Analytics at NCI? Register for an Online Open Event to join our live Q&A, watch course videos and access useful resources.
What advice would you share with someone who is considering gaining a qualification in this area?
I believe that data and data analytics is in every business sector and department in some shape or form and has become part of the norm. While I have a strong interest in numbers and maths, I wouldn't be your archetype data analyst or avid programmer (in fact lines of code still look foreign to me). I believe this course can be of benefit to people of many different industries and backgrounds. Whether you are currently a data analyst looking to broaden your knowledge in areas such as AI and machine learning, you're considering moving your career entirely to data science or like me, in a traditional field such as HR and feel you could be utilising data better - there are definitely knowledge and useful learning experiences you can gain from that would benefit you.
Take the time to speak with the team at National College of Ireland, read the available material and attend an online open evening. I was fortunate enough to have colleagues that studied the course so I would recommend reaching out to your network to see if any of your contacts can help you decide if it's right for you. Also, I availed of the Government-funded Springboard+ scheme and that made a huge difference for me.
It is a tough challenge to juggle work, college, and personal life, but it is so rewarding and worthwhile!
John studied the Higher Diploma in Science in Data Analytics through the Springboard+ initiative at National College of Ireland. Visit our Springboard+ page for full programme details.