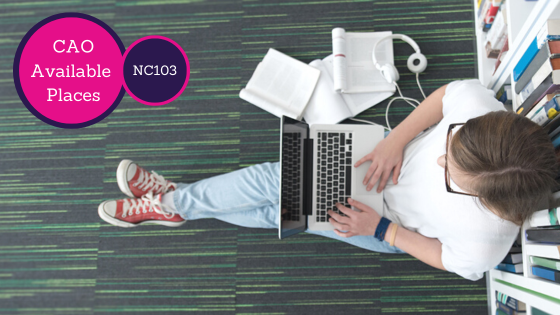 There are many reasons why someone would choose to do a Higher Certificate (Level 6) after Leaving Certificate, rather than go directly onto an Honours Degree (Level 8) course.
Keep Your Options Open
"My advice would be to complete both your top-10 Level 8 courses and your top-10 Level 6/7 courses," says Karen Campbell, NCI's Schools Liaison Officer. "Remember, you might do better than you expect, so do put your absolute favourite course first, don't let the points you think you might get influence that decision."
Karen continues: "If there is a path you know you want to follow, for example if you know you want to do Accounting, filling in a Higher Certificate in Business at NCI (NC103) in the Level 6/7 column gives you a second chance to follow that path, even if you don't get the points to go straight to a degree.
"You could end up, on CAO results day, getting offered a course that isn't your favourite but is also something you're interested in, like maybe a Level 8 course in Maths, and also get offered the Higher Cert in Business. You can then decide, do you want to go straight to a degree that wasn't your first preference? Or, now that you see the options laid out in front of you, is the ultimate goal of Accounting still the most important thing? If so, you can now still pursue a degree in Accounting, just via a slightly longer route. Filling in both columns allows you keep your options open!"
CAO Available Places

Students can now apply for the Higher Certificate in Business (NC103) through the CAO's Available Places facility. Learn more here.
Who Would My Classmates Be?
Business lecturer Dave Cormack tells us: "The Higher Certificate in Business attracts all sorts of people.
"We have some students who already know what they want to do for a living, but see the advantage of a strong grounding in Business before they embark on opening a nail salon, for example, or taking an apprenticeship in the family trade.
"We have some students who are very focused on the area of business they want to specialise in, who realised their Leaving Certificate results would not provide them the points they needed to embark directly on a Level 8 programme, and a Level 6 gets them there with just one additional year's study.
"And we have some students who are not sure what it is they want to specialise in, but want a taste of every aspect of Business – and an experience of college life – before they make up their minds."
Karen interrupts to say, "On Dave's last point, if you really don't know what you want to do, you really should consider a PLC course or a Level 6 programme – if you drop out at the end of the first year of a Level 8 degree because you realise it's not for you, you will not qualify for the Free Fees Initiative, or any SUSI grant you may be receiving, to start again on another course, until you reach second year – for many students, having to self-fund a year of college is not affordable. So again, give yourself every chance to find a course you really want to do."
Dave adds, "Most of our Higher Cert students actually do choose to progress onto an Honours Degree course at NCI, whether that is in HR, Marketing, Accounting & Finance or Business."
Meet Adam and Cillian
Adam Tallon, currently studying for a BA (Hons) in Human Resource Management, started his college life on the Higher Certificate: "I didn't really know what I wanted to do after I finished secondary school. When I saw the HC in Business at NCI, it looked like a good general course. I hadn't studied Business in school, so I wanted something that would let me understand all aspects of Business, and that's exactly what I gained from doing the course."
Cillian Cosgrave also did the Higher Certificate, and is now completing an Honours Degree in Business: "With me, I knew I wanted to study Business, but I didn't know what area I wanted to specialise in. Like Adam said, the Higher Cert gives you a taste of everything. It also gives you a chance to grow up a bit, to adjust to the difference between school life and college life. Once you have your Higher Cert, you can apply to go directly into second year of the degree – this means, it will take me 4 years rather than 3 to get my BA Hons, but I had such an advantage going into second year with two years' work behind me."
Adam agrees, "Yes, you feel the advantage. There were definitely HR terms that I was more familiar with than those who had just completed the first year of their degree, and I think also that having more experience of group work and managing your time, it all helps."
Location, Location, Location
For both Adam and Cillian one of the things that attracted them to NCI was the central location.
"Besides the fact that the campus location means it's easy to get to NCI, you are literally in the heart of the IFSC, surrounded by the sort of companies you'd like to work for when you leave college," says Adam. "Between work placements as part of the course, and all the work the Careers Service does to help you build your CV and connect you with potential employers around you, through mock interviews and work placements, NCI literally places you well to succeed."
Size Matters
"I also liked that NCI is a smaller college," says Cillian. "I reckoned that if I went to a smaller college, I would be able to get more out of my lectures and be able to get help when required from my teachers, which I thought was very important. And this has turned out to be the case. At NCI, you get to know all your classmates, and it is easy to have lots of direct contact with lecturers."
What Next for Adam and Cillian?
Cillian explains, "Through my course, I have already done work experience with a company I really like. This also means I am a 'known quantity' to them, so that when I apply to their graduate programme, I immediately go to the second interview stage. While I am also applying to other companies, I am hopeful of joining their graduate programme. Ultimately, I see myself returning to do a Master's, but I think a graduate programme will provide me with broad experience and an understanding of the working world."
"I am actually going to add another year to my college life," smiles Adam. "The BA (Hons) in HR is usually a three-year degree. However, there is an option after second year to do an additional year's work placement, before returning to do your final year. I think this will help me not just gain work experience, but a greater knowledge of the field of HR, so that I will know what specialty I want to focus on because, at the moment, I'm not 100% sure.
"This means I will ultimately take a 5-year path to complete my honours degree, but it places me in a stronger position when I graduate, and gives me a lot of confidence that I will not just find a good job but a job I really like."
Adam and Cillian completed the Higher Certificate in Business at NCI (NC103) after adding it to their Level 6/7 CAO preferences. If you have any questions about this course, you can get in touch with our School Liaison Officer Karen by emailing karen.campbell@ncirl.ie and she will be happy to help.