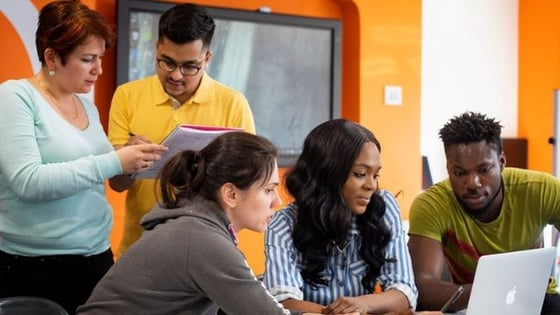 In 2012, an article from the Harvard Business Review deemed Data Scientists to have the "sexiest job of the 21st century" due to the high demand from companies for individuals who could combine programming and analytics and make sense of the ever-increasing data that businesses were handling.
Fast forward to 2023 and it's safe to say that Data Scientists are still worthy of this title, with the only change being the role has reached an even more critical level of importance to companies and their success.
The demand for workers in this field is reflected by the fact that Data Science continues to be one of NCI's most popular subject areas, with courses offered at both undergraduate and postgraduate level.
Whether you are a recent graduate of data science, or an experienced professional looking to make a career change into the area, you will want to hit the ground running in your new data driven role. Therefore, we've compiled some tips on how to ensure you maximise your potential and bring true value to your company.
Keep Learning – Stay Up to Date with Current Trends
To be successful in any role, it is important to stay on top of current trends and updates within your area of expertise. This is especially true for those looking to make a career in the data science arena.
In the last number of years, we have witnessed several new trends and ideas emerging from the traditional areas of data science. Whilst previously the focus was primarily on topics such as statistics, programming, database management and web mining, we are now witnessing increased popularity in new technologies and processes, such as artificial intelligence, blockchain and deepfake audio and visuals.
CAO Available Places

Students can now apply for both the BSc (Honours) in Data Science and the Higher Certificate in Data Science through the CAO's Available Places facility. Learn more here.
As well as this, consumer expectations are changing, with a greater emphasis now on better security for their personal data and a desire for real-time data.
Data Science professionals need to be keenly aware of these new and emerging technologies, to anticipate changing consumer and business needs. As it is such a highly competitive industry, failing to identify a new trend could leave you falling behind your competitors.
NCI offers several courses which can help data science professionals, or those looking to enter the industry, learn up-to-date techniques and processes, ensuring they bring true value to their organisation. Check out our range of Data Analytics courses for further information.
Be Open to Change and New Opportunities
New roles are continuously being created as the data science landscape continues to develop, meaning new opportunities are constantly arising for professionals with the right skillset.
It is important that individuals working in this area are open to change as their current role may become obsolete just as quickly as a new role is created. For example, experts have said that 80% or more of a data scientist's job is getting data ready for analysis. However, this will reduce dramatically over the coming years as technologies like Artificial Intelligence and Machine Learning will be able analyse this same data and draw insights from it far more quickly than a data scientist working manually.
Therefore, it is important for data scientists to identify new trends and opportunities in the industry, to highlight where their skillset is required and where they can make an impact.
While technologies will continue to change the way we work and reduce the need for manual work, there will remain a need for human intervention, which is where future opportunities may lie. For example, with concerns over the use of deep fakes spreading misinformation, data professionals will be tasked with finding solutions that can verify digital content and expose "fake news".
Similarly, with the rise of cybersecurity attacks, companies are nervous of having their information accessed unlawfully. Cybercriminals can penetrate 93% of company networks so companies will be keen for professionals to join their team to improve their online security. This represents another area where data scientists can use their unique skills to find real, value-adding solutions to a business.
Avail of Networking Opportunities
While it is important to be knowledgeable about the industry you are working in, and the technical elements of your role, it is also important to develop your "soft" skills. These include interpersonal, communication and listening skills, attributes that are not typically taught in college or school but are learned whilst on the job and are crucial when it comes to professional development.
According to LinkedIn, whilst less than 50% of people maintain their professional network, 80% of people believe that networking accelerates their career growth.
A great way to grow and develop these skills is to attend networking events. Not only will these events, such as conferences, webinars and lunch and learn events, improve the previously mentioned soft skills, but they also represent a number of other benefits, including:
Meeting like-minded individuals working in similar roles, who may be able to offer assistance and guidance on mutual problems you've encountered
Potential business relationships can be formed at these events, leading to company growth
Identify new and upcoming trends relevant to your company
Identifying potential new roles for you as well. According to PayScale, 70% of people report that networking helped them to find their current job.
To stay up-to-date with the latest data science events in your area, check out Eventbrite. If you are interested in returning to study or upskill in a particular data science field, join us at one of our open evening events where you will have the opportunity to talk to lecturers in person. Please see NCI events for more information.