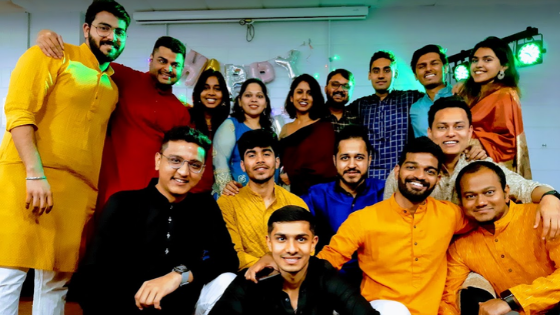 This is a guest blog post written by Surya Kumar Govindan, an international student from India studying the MSc in Cloud Computing at National College of Ireland.
As NCI hosts a significant cohort of international students from India, the college and student societies organise cultural celebrations to observe festivals such as Diwali and Holi to support these students during their time away from their home country.
Having commenced his postgraduate studies here in Dublin this September, Surya Kumar Govindan celebrated Diwali, the festival of lights, here in Ireland for the first time. Surya shares his understanding of the religious tradition along with his experience of celebrating the festival here at NCI with his new friends.
What is Diwali?
Diwali or Deepavali denotes the festival of lights, celebrated predominantly in India. The festival gets its name from "Deepa", meaning lamp symbolising the light from the lamp that protects people from spiritual darkness. This is a very ancient festival embedded in the culture of Indians and has been celebrated for centuries. It was also celebrated here at National College of Ireland recently, ensuring Indian students feel at home here in Ireland.
Diwali in India
Growing up in India, Diwali celebrations undoubtedly form a fond part of our childhood memories. The day starts with taking an oil bath early in the morning, followed by bursting crackers, illuminating homes with diyas (oil lamps), decorating our floors with rangoli designs, wearing new clothes and worshipping God for a bright and colourful life and future.
The best part is the snacks and sweets which have been prepared in the weeks before the day of the festival and you finally get to eat them on Diwali day - this is because typically we are not allowed to taste the snacks and sweets before offering them to the God on Diwali (sad, but it is worth the wait!). The sweets and snacks are then shared with neighbours, friends and family. In the evening, the whole country gets illuminated like no other day with fireworks lighting up the sky and the streets.
Celebrating Diwali away from home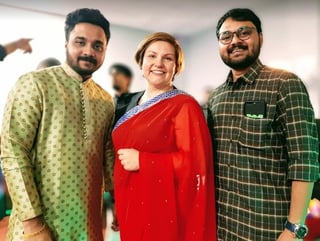 We were very excited when we learned that NCI celebrates Diwali, which was a pleasant surprise to us Indian students. We immediately registered for the event and were looking forward to the celebrations! The event was absolute fun – we got all dressed up, gleaming in our traditional Indian attire, lit up some fireworks in the evening (thanks to the weather!), ate delicious Indian food and the best part was the games and events planned by the International Society.
The various events were extremely entertaining and towards the end we got to dance to Indian numbers (for hours!). Though we did miss our families, we were overjoyed to celebrate the same festival and have the fun with fellow Indians at our new home, away from home. It was also great to see NCI staff and students from other countries attend the event to learn about our cultural celebrations.
Everyone's welcome!
Adebiyi Sodiq, MSc Data Analytics student from Nigeria, said that Diwali is a celebration of goodness over evil and that he looked forward to learning more about the festival during the event.
Attending the event, he also said:
"I feel good about NCI organising these cultural events as students will not have to leave their traditions behind just because they have left their country to further their education."
Sodiq is right! It is not just Diwali. NCI also celebrates important festivals of different nationalities – the Independence Day of Nigeria, Holi, Culture Day and many others, which I feel is very interesting because the students not only get to celebrate their favourite festivals abroad, but also learn about the culture of different countries and people from different traditions. This, I think, is the best part about studying abroad. Getting to learn about different cultures and traditions helps one evolve as a person and appreciate diversity.
Another NCI student, Saktis Paul Alexander who is from Malaysia and studying MSc Entrepreneurship attended the Diwali event and already knew what Diwali is. However, he feels that the way Diwali was celebrated here is different from how it was celebrated in Malaysia by the Indian community. He says he felt welcomed into the Indian community and he lauds NCI's efforts for making students feel more at home, despite living miles away.
Awaiting the next celebration!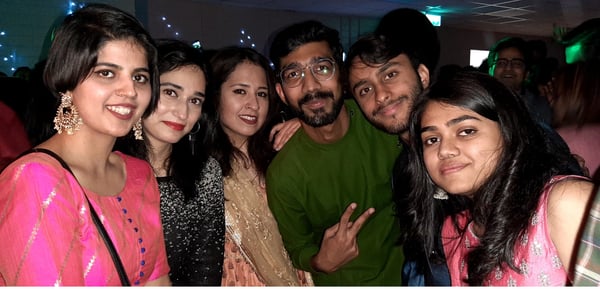 It was an exciting event with a lot of fun and beautiful pictures - we got a chance to wear and boast our traditional clothes and the event was the best way to end the week! Unnimaya Warrier, a student of MSc Management jokes that she never got a day off for festivals like Onam back in her college in India but feels great that NCI puts in a lot of time and effort recognising and celebrating the festivals of other Nations.
On behalf of the Indian students and everyone who attended the Diwali celebrations, I would like to personally thank NCI and the International Society for embracing diversity - we look forward to more celebrations in the future!
The photos shared in this blog post were taken by MSc in Cloud Computing student, Harshit Jayaseel. Visit the NCIRL Instagram page to see some further pictures from the celebration.
Many thanks to both Surya and Harshit for sharing their experiences of Diwali. Visit our website if you are interested in studying the MSc in Cloud Computing or becoming an international student at NCI.