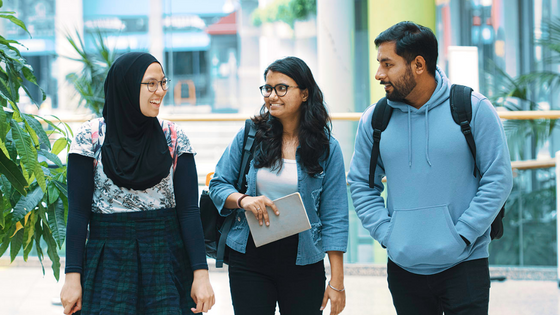 Is it your dream to study abroad one day? Is Ireland one of the destinations you're considering for this journey? This guide will help you understand the steps you need to follow to make your dream come true!
What Can You Study in Ireland?
Ireland is an excellent choice for international students and has become an increasingly popular study destination in recent years due to the fantastic career opportunities, world-class education system, vibrant culture and great quality of life here. As Ireland is an English-speaking country, it is a convenient location for international students who can choose from a wide range of fields including medicine, engineering, business, technology, psychology and lots more.
At National College of Ireland, international students can avail of undergraduate and postgraduate study options in Business (Marketing, Finance, Entrepreneurship, Human Resource Management, Accounting, International Business), Computing (Artificial Intelligence, Data Analytics, Cybersecurity, Cloud Computing, Fintech), Psychology and Education (Early Childhood Education and Care).
See the full range of courses international students can study at NCI.
Get to Know Dublin and Ireland
Before you arrive, research your destination online to get excited about the new country you will be living in. Social media is a great place to start! Make sure to follow @ncirl and @nci_int on Instagram to get a taste of life as a student in Dublin.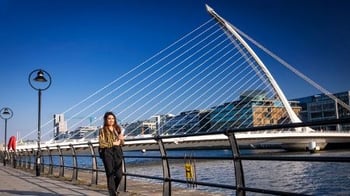 You can look forward to visiting popular locations around Dublin such as Temple Bar, St Stephen's Green, Phoenix Park, and the Guinness Storehouse, along with areas outside Dublin you can visit such as Bray, the Wicklow Mountains, Powerscourt Gardens, and the Cliffs of Moher.
If you choose to study at NCI, you will have the option to sign up for a number of day trips and guided tours along with other new students and Peer Mentors. For example, groups visited the National Botanic Gardens, Glendalough, Howth, Bushy Park, Bray along with doing a walking tour of Dublin City.
Upcoming international student events and trips will be added here.
Flights and Airport Shuttle
Dublin offers direct connections with many international airports but if you're travelling from further field, you may have one or more connections. Make sure to check all connections as you may require a transit visa for any of the countries you will be travelling through.
Once your flight has been organised, you need to check the best way to travel from the airport to your accommodation. NCI offers a complimentary airport shuttle service for our students arriving to Ireland for the first time which will bring you directly to your new address.
Here's how you can book our airport shuttle service.
Student Accommodation
Once you've made the decision to study in Ireland and you've applied for your course, you will know when your classes start and your expected arrival date. This means you can start exploring accommodation options to find the right fit for you during your time here.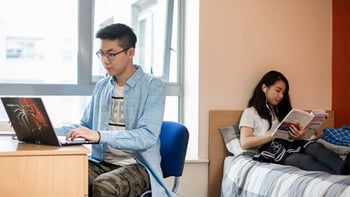 In Dublin, Ireland's capital city where NCI is based, you have the option to choose a student residence or to rent privately. Your college years are incredibly exciting, it's a time when you will build formative experiences and lifelong memories. It's important to understand that choosing a place to live can have a big impact on your time in Dublin.
NCI does not own or manage student accommodation or a placement service. However, we do recommend that international students book a student residence while studying here, to apply early and to multiple locations.
Learn more about accommodation for international students in Dublin.
Student Visas and Immigration
Students from certain countries will need an entry visa before arriving in Ireland. Each country has a different processing time, ranging from one week to four months. Visa approval is required for students to start their studies at NCI.
All students, whether you need an entry visa for Ireland or not, are required to register with the immigration authorities in Dublin. You will then receive an Irish Residence Permit (IRP) card which will give you permission to remain in Ireland for the duration stated on the IRP card.
Find more information on applying for a study visa to enter Ireland.
Things to Pack for Studying Abroad in Ireland
If you haven't travelled to Ireland before choosing to study here, you might not know much about what it's like to actually live on the Emerald Isle. Here are a few things we recommend packing in your suitcase:
A warm jacket: If you're leaving a hot country, the weather here in Ireland may be a shock to your system. Don't worry if you don't own one already, there are plenty of affordable clothing shops, such as Penneys, that you can visit when you arrive
Comfortable shoes: Dublin is a very walkable city so be prepared to hit your step target on a regular basis. You can also expect to build your step count when you take day trips organised by NCI's International Team if you choose to study with us
Adaptors and power banks: In Ireland, we use plug type G which has three pins in a triangular pattern. It's likely that you will need an adaptor to use appliances from your home country when living in Ireland. We would also recommend bringing power banks as these are useful for keeping your mobile devices charged when travelling
Local currency: While many shops and restaurants are cashless these days, it's still a good idea to bring a small amount of local currency with you for emergencies. The currency used in Ireland is Euro
Checklist for Starting at NCI as an International Student
If you've decided that National College of Ireland is the institution you want to complete your studies, below is a list of tasks you should tick off before you begin your classes:
Pay your tuition fees in full: International students who are normally resident in Ireland can setup an approved payment plan
Submit your registration form: The Registration Form for international students should be emailed to internationalsupport@ncirl.ie by the deadline for your intake
Setup your student profile: This includes re-setting your password, uploading your photo for your Student ID card and activating your student email. Instructions are outlined in the Pre-Arrival Guide
Attend welcome events: It is mandatory to attend a Welcome Meeting before you join your studies at NCI when you will meet Peer Mentors, other new students and take a campus tour. We also recommend that you join the Welcome Programme which is a series of engaging and interactive events that will help you get more out of student life
Download your class timetable: Your timetable will be published the week before your classes are due to start. You will be able to view your timetable by downloading the myTimetable app or by viewing it on the timetable website
Download the Essential Guide to Starting at NCI for more details.
Are you ready to make the leap to studying abroad in Ireland? Visit our International Hub for information on what you can study at NCI, how to apply and lots more, to begin your journey to becoming an international student. We look forward to welcoming you to Dublin! 👋