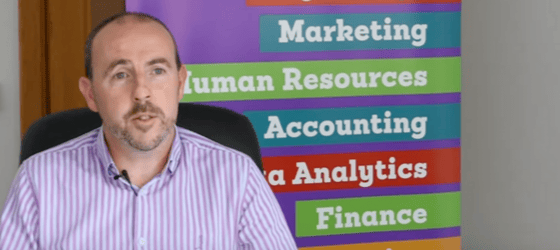 Higher Diploma in Science in Data Analytics graduate, Darren Malone, shares his experience of studying at National College of Ireland through the Springboard+ scheme along with his advice for anyone considering a career change.
The first time Darren considered a career in data analytics was when he was introduced to 'big data' while seeking employment guidance from an expert. Following the completion of a degree in mathematics and looking to flex his analysis skills further, Darren discovered the data analytics course at NCI.
The Higher Diploma in Science in Data Analytics course is ideally suited to candidates like Darren who may not have prior computing experience but want to develop their technical knowledge. Combining this technical expertise with business acumen, data analysts work to understand complex data to provide informative insights and support effective organisational decision-making.
As the course is offered through the Springboard+ initiative, Darren was able to avail of the qualification at NCI in this hugely popular professional area. The scheme is designed to encourage upskilling at higher education level, particularly in areas where there are employment opportunities.
Applicants are eligible to study a free Springboard+ course if you:
are currently unemployed
have been in employment previously
are actively seeking employment
However, the benefits of this scheme are not exclusive for unemployed people. Anyone in employment can apply for a Springboard+ course and pay just 10% of the course fee, a substantial discount for anyone interested in improving their career opportunities with further education.
At National College of Ireland, we offer computing courses through the Springboard+ and the Human Capital Initiative (HCI) in data analytics, software development, artificial intelligence and machine learning, blockchain, cybersecurity and cloud computing.
As a direct result of obtaining the qualification through Springboard+, Darren transitioned from a long-term career in logistics and warehousing to his role as a Data Analyst with leading global professional services firm Aon.
Listen to Darren as he shares his experience of the course in the video below:
If you can't watch the video right now, here are Darren's top tips for anyone considering studying data analytics:
1. Brace yourself
Be prepared for the intensity of the course as you will be learning MySQL, Python and R programming along with data and web mining techniques in a relatively short space of time. Prepare in advance using free resources and tutorials available online such as Codecademy.
2. Knuckle down
You will need to dedicate your time to the course including both classroom hours and outside learning which will mean giving up some personal time so make sure to apply yourself to get the most from the course.
3. Take advantage
Use the support structures at NCI during your time at the college, especially the careers service – Darren applied for his role at Aon while attending the Just in Time Careers Fair. You may have spotted him at the same event this year representing his employers along with another NCI data analytics graduate!
If you're a graduate of one our Springboard+ courses then we want to hear your story! Tell us about your educational journey and career path in the comments below or via your preferred social media channel by tagging National College of Ireland and using #NCIAlumni.