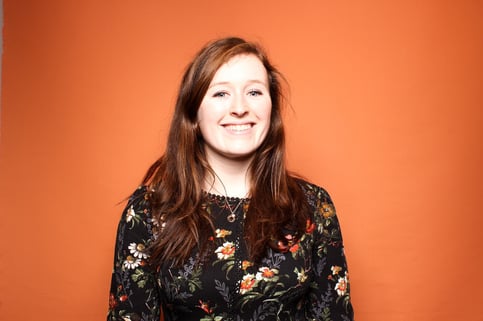 Cathy Dunne, who graduated with the MSc in Data Analytics from NCI this year, started her higher education studying French and Maths, before transferring to Economics. Degree in hand, she earned a place on a graduate programme with CarTrawler and there she was encouraged to learn coding. "I had always been inclined towards computing and my father had encouraged me to study computer science but I just couldn't see myself in that role. He laughs when he sees what I'm doing now but never stoops to 'I told you so'", says Cathy.
"At CarTrawler, I felt really encouraged by the leadership team – and by my colleagues – to explore my natural inclination towards data analysis. I was shown how I could help myself to study and learn coding, as well as gaining work experience in data science."
The Road to Data Analytics
As she looked at progressing further in the area, word of mouth led Cathy to consider studying at National College of Ireland. She spent some time devising a plan for work/life balance, and then signed up for the MSc in Data Analytics, part-time over two years.
"Just making the decision to undertake a masters helped my confidence a lot, and during my first year of study, I applied for and got a job in data analytics with HubSpot," Cathy explains.
"I guess I was lucky that I had statistics from my Economics degree, and I had taught myself coding before taking on the masters, so I was coming to it with good foundational knowledge. I was also doing work each day at HubSpot that involved a lot of data analysis and data architecture. However, everyone in the class brought different strengths to the table and, in group projects, we very much worked together, encouraging each other to build experience in areas we were weaker, and taking on responsibilities where we had that edge."
Final Year Project
When the time came to choose a final year project, Cathy took the advice of lecturer Barry Haycock, and chose a subject she really cared about: shoes!
"I had worked in shoe retail part-time while at college and gained a lot of insight into the business. Each season, high street outlets will try to bring a flavour of haute couture brands to their own collections – can't afford the latest Gucci or Valentino? You might be able to pick up 'the look' for less on the high street. Some of the look-a-like versions are amazing, but at least half that time I could spot a clear difference between high fashion and high street – my boyfriend couldn't, though; he couldn't see what I was taking about at all. So I decided to build an AI that identifies whether or not a piece of footwear is designer-made."
To teach her app, Cathy first had to source thousands of images of both high street and designer shoes to inform the Artificial Intelligence. Cathy could then test the app against other images, including crushing and distorting those images, stripping them of colour or using low resolution pictures: her app scores 86% accuracy.
"Definitely, I could improve accuracy, given more time, but as is: I set out to build an AI smarter than my boyfriend, and I succeeded in building one that's smarter than I am!" Cathy laughs. "The app is right more often than I am and I am still trying to understand what it is perceiving 86% of the time that I perceive only half the time – I'm still trying to understand the 'je ne sais quoi' of the high fashion shoe."
What's Next?
While there is a potential for monetisation of this app, that's not Cathy's priority right now. "Using a dataset that genuinely interested me helped me maintain focus - while juggling work and personal life, at the same time as studying – to produce this final year project, but I don't see myself pursuing it commercially.
"For me, the most exciting thing to come from this project was my deep dive into machine learning and artificial intelligence. I see this project as a stepping stone to the future rather than an end in itself."
All of us at NCI wish Cathy well as she steps into the future – in designer shoes!
If you have any questions about studying the MSc in Data Analytics, either part-time or full-time at National College of Ireland, leave a comment below or email our Admissions Team directly at admissions@ncirl.ie and they will be happy to help!
Want to focus your studies on AI? You can join the Higher Diploma in Science in Computing specialising in Artificial Intelligence and Machine Learning this September (either blended or online delivery).