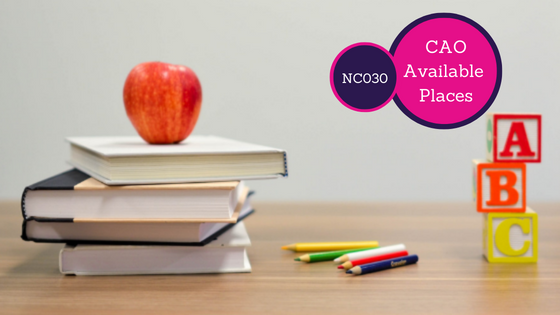 National College of Ireland has extended its long-established and highly reputed BA (Honours) in Early Childhood Education and Care (ECEC), from evening delivery to also being offered as a daytime course to CAO applicants.
This fully accredited, 4-year, full-time, honours degree is recognised by the Department of Education and Skills for practice in the Early Learning sector in Ireland, therefore is a professional as well as an academic qualification. Students will complete over 1,000 hours of professional work placements while completing their studies.
Opening up many pathways for career development in this growing profession - whether in a Naíonraí or a special needs' environment, as a childminder or home visitor, or in early years' intervention programmes - this level 8 qualification on the NFQ can also be the foundation of an academic career.
Watch: Our webinar introducing the BA (Hons) in ECEC
The BA (Hons) in ECEC will qualify you for your first job in the industry. As you gain experience and become curious about specific aspects of early childhood education and care, your level 8 qualification will allow you to return to your studies, whether that is to pursue postgraduate course such as our MA in Educational Practice, or to undertake specific research into aspects of childhood development: you have the undergraduate degree necessary to continue to advance.
CAO Available Places

Students can now apply for the BA (Honours) Early Childhood Education and Care through the CAO's Available Places facility. Learn more here.
For some educators, the journey goes full circle, as they use further qualifications to become lecturers – teaching the next generation of Early Childhood Education and Care professionals.
Minimum entry requirements for the programme are H5 in two subjects, and O6/H7 in four subjects in the Leaving Certificate or equivalent, which must include English and Mathematics. NCI also welcomes applications from students who are presenting QQI (formerly FET/FETAC) Level 5 and Level 6 awards, with minimum requirements of three distinctions and a full award.
Course Fees
The BA (Honours) in Early Childhood Education and Care is a self-funded course that does not qualify under the Free Fees Initiative. The fee for this course for students starting classes in September 2023 is €3,080 per annum which is equivalent to the normal student contribution fee.
Students on this course may be eligible for funding under the Student Grant Scheme.
Interested in studying early childhood education and care? You can study the BA (Hons) in Early Childhood Education and Care full-time during the day or in the evening starting in September.