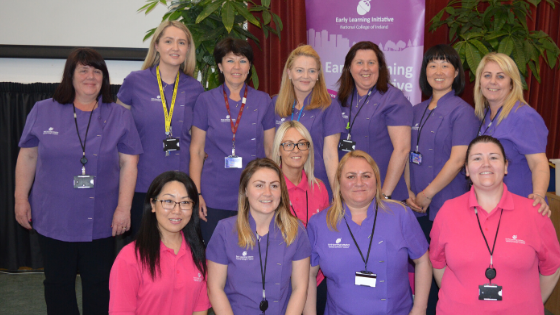 The Early Learning Initiative at National College of Ireland has a deep and active connection with the community of the North East Inner City. Staffed primarily by people from the area, ELI works with other organisations, community groups and schools, through vital funding partnerships with government, businesses and corporations, to weave a network of support for families and children across the NEIC.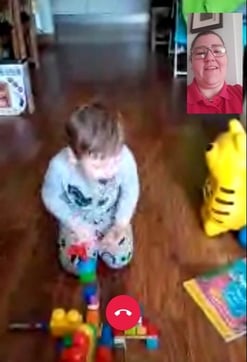 In line with An Taoiseach's directive for educational institutes to close, when students and staff at National College of Ireland left the campus on the evening of March 12th, business continuity planning meant that most people were heading home to carry on their jobs remotely.
The Home Visitors, who work on ELI's ParentChild+ programme, had a particular challenge to meet:
Parents are a child's first and best teacher. If a family finds itself socially isolated or in a vulnerable situation like emergency accommodation, it can be easy for parents to feel overwhelmed in this role.
ELI's ParentChild+ programme encourages and supports parents of preschool children in their role of educator. Operating in disadvantaged areas in Dublin, Limerick, Ballinasloe and Louth, specially trained Home Visitors (mostly employed from the local community) go to the family home, bringing a developmentally appropriate educational toy or book, and model how best to play and talk to a child, in a way that allows the child's imagination to soar and their vocabulary to build: asking open-ended questions, listening, and using lots of descriptive words along the way.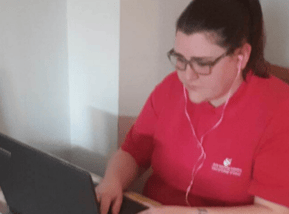 "We see real results from the ParentChild+ programme," says Dr Josephine Bleach, Director of the Early Learning Initiative. "The children who participated in our first programme 11 years ago are now beginning secondary school, and we can see not just their progress, but their enthusiasm for education and their ambition for the future. This programme actually changes aspirations."
As Ireland faces into another week of 'Stay At Home' and 'Social Distancing', many more people now fully understand how hard it can be to teach your child when there are other stresses drawing on your time and attention.
For families already in pressured situations, not having the support of the ParentChild+ programme during a time of national crisis would have been a very big loss.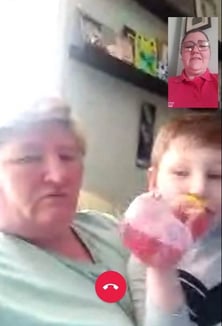 Pictures show Amy Cooney from ELI PC+, whose mam Antoinette and son Milo volunteered to help show us what video chat interaction between Home Visitor and Family looks like.
"For everyone's safety, face-to-face visits can't take place at the moment," says ParentChild+ Programme Senior Specialist Michelle Moore. "So, we've set our Home visitors up so that they can link with their families via video chat or phone call. We're finding parents of babies prefer to chat by phone, but those with toddlers are all up for video chat - the children are excited to see the Home Visitors, and the calls are made at the time visits would usually take place, so routine is maintained. Most importantly: social contact is maintained!"
Michelle has been working with other ParentChild+ sites in Ireland to adopt this practice, while continuing to link in with the originators of the programme, based in the USA, for further ideas and inspiration on how to keep going during the COVID-19 outbreak.
Thanks to this speedy adoption of remote-working, 65 Home Visitors in 9 ParentChild+ sites around the country are ensuring that 334 socially isolated vulnerable children are being talked, read and played with every day. Their parents are receiving the support they need to maintain a positive home learning environment in which their children can thrive during this challenging time.
As one parent expressed it: "We have very little family and very few supports around us. For us Social Distancing could really have meant complete isolation. Thank you so much, ELI!"
All ELI staff are now working remotely, not just Home Visitors, ensuring continuity of all programmes, and engagement with all stakeholders, as well as the great success of online home visits.
ELI is greatly appreciative of its funding partners. Do you think you could help support programmes such as ParentChild+? Learn more about the Early Learning Initiative.