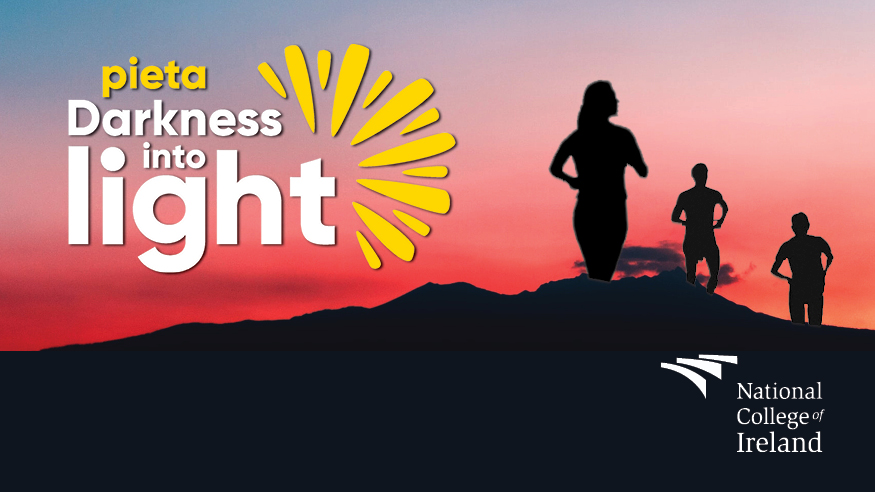 NCI is supporting 'Darkness into Light' which will take place virtually at Sunrise on Saturday 8th May
Many students and staff are already keen supporters of this popular event but we are hoping to get more of our NCI community involved this year to shine a light on this fantastic cause. Unfortunately, we can't gather together in the usual Darkness into Light venues but we can still put on that yellow t-shirt and take part in a location that suits you.
About Pieta
As you may know Darkness into Light is run by Pieta. Founded in Dublin in 2006, Pieta was established to provide free, accessible one-to-one counselling to people suffering from suicidal ideation, engaging in self-harm or to those bereaved by suicide. In 2020, despite the impact of COVID-19, Pieta did phenomenal work by delivering over 52,000 hours of suicide intervention and bereavement counselling and answered over 700,000 crisis support calls and texts.
An important point on their website stands out: they are passionate about their life-saving work. They provide all of their services free of charge so fundraising activities like Darkness into Light are vital to help them continue reaching out to families affected by suicide and providing intervention services.
Here's How You Can Join In:
You can participate in the Darkness Into Light event in a number of ways:
You can sign up on the Darkness into Light website and commit to undertaking your sunrise walk and make your contribution to the charity
For the bolder amongst us, you can also create your own challenge and decide to run a 10k, swim or cycle and get sponsorship for your challenge
Simply make a donation to the cause of any amount you are able to give
To help you prepare for taking part, we have created a 4 week training plan (see below) with the help of Mary Jennings from Forget the Gym who helps people on their journey to becoming runners.
Make sure to share your journey on social media using the hashtag #DarknessIntoLight2021 and if your an NCI staff member, include #NCIStaffRoom and post your updates on our social team on MS Teams.
Now it's time to get started!
Meet Your Coach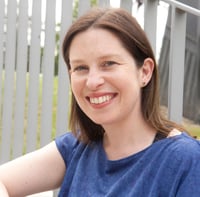 A relative latecomer to exercise, Mary understands what it's like not to feel 'sporty' and loves building confidence in new runners and helping people reach their running goals. She has plenty of practice on the roads herself, having completed over 40 marathons and ultramarathons.
Mary is the author of the book 'Get Running' published in 2019. She is a regular columnist with The Irish Times on all things running, and a frequent voice on radio, television and print.
Training Plan
This plan will help you build your running up over 4 weeks to get you all the way to the 8th May:
We're looking forward to seeing you all getting out and about (come hail, rain or sunshine!) while you train for Darkness into Light. Let us know where you plan to take part in the comments below and don't forget to share photos of your journey with us on social media running up to the big day!
See you at sunrise on the 8th May!