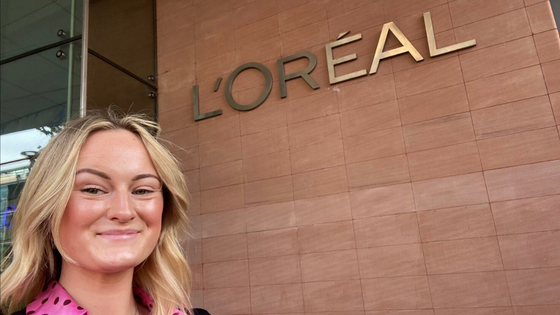 One of the biggest things we at NCI pride ourselves on is that the College provides industry-oriented courses which offer a clear link between academia and business. Trinity's story exemplifies this focus as she takes us through the careers support she received during the application process right up to where she sees herself going next with L'Oréal, the company she is currently completing her work placement programme with.
Get to know Trinity and hear how she struggled to find a niche that excited her when weighing up her college choices, which many people can identify with, and what lead her to gaining invaluable experience with one of the world's leading cosmetic companies before she has even completed her business degree.
Tell us about your education journey to date.
I didn't enjoy secondary school. When picking my Leaving Cert subjects, I allowed other people's opinions influence my subject choice and ended up studying things I had no intention of studying in college. I often felt that I wasn't supported by my teachers in Secondary School, and we received little help in terms of useful career guidance. I often avoided going to school just because I hated it so much, which lead to me getting less points in my Leaving Cert than I was capable of.
I left school without much of an idea of what I wanted to do. I decided to do a PLC in Business and Marketing (a mix of two subjects I had enjoyed in school) at Marino College of Further Education. A PLC seemed like the best option for me as it allowed me to 'test' a course before committing to one for 4 years and would give me a clear path into college without relying on my Leaving Cert points.
I ended up loving the PLC. The teachers at Marino FE were so attentive and as my class was quite small, it allowed for us to have more one-to-one discussions with the lecturers. At the end of my PLC, I decided to apply for the full-time BA (Honours) in Business degree at NCI and luckily got in after achieving top marks in my PLC. I enjoyed the independence of studying in college and choosing a field that I wanted to study made learning much more enjoyable for me. Through hard work, I earned a Dean's Honour Award for academic excellence in my 1st year at NCI – a sharp turn around from my poor LC results!
Why did you choose to study at NCI?
I chose to study at NCI as I had family members who had attended the College in the past and had positive experiences. I also enjoyed the option of undertaking a 1-year work placement programme – something other colleges weren't offering.
Having the option to do work placement was important to me as I wanted to leave college with experience in my field as well as a degree!
You are completing your placement with L'Oréal as part of your BA (Honours) in Business degree. Firstly, can you tell us about the recruitment process?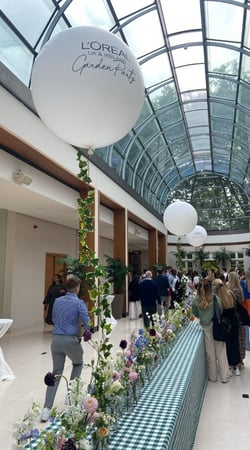 The recruitment process for L'Oréal was quite difficult compared to the experiences I heard about from other students applying for similar programmes with other companies. I firstly applied through the L'Oreal website which required me to answer 3 questions based on my previous work experience such as providing examples of how I overcame difficulties in the workplace in the past. Once I successfully passed this stage, I completed a cognitive ability test. After this stage, I completed a case study which required me to create a sales pitch for a new La Roche-Posay range and present to one of the commercial managers at L'Oréal (nerve-wracking!). Finally, I had a standard interview with another manager from L'Oréal which completed my application process. One week later, I heard back that I got the job!
Caroline Kennedy, who is Head of NCI's Careers Team, provided such amazing help in the lead up to my application. She hosted my Work Placement module where she helped the class prepare our CV and create a LinkedIn profile. My L'Oréal manager even told me that my profile had a positive impact on my selection for the role. The Careers Team as a whole were so supportive throughout my work placement applications.
What have you learned during your placement with L'Oréal?
My role at L'Oréal is officially a Commercial Intern working with the National Account Manager for Peter Mark. Initially, I was nervous it would be extremely number heavy, as I find that I lean more towards creative tasks, but I was shocked at how broad my role is. I help with PR, marketing, events as well as more commercial tasks. I have also enrolled in several training courses with L'Oréal to broaden my skillset and to gain a greater understanding of the industry.
This broadness has allowed me to really get a feel for each field and learn so much from other teams which in turned has given me a well-rounded experience before I event finish my degree!
Can you share some insights into studying business at NCI?
Business at NCI is great – there are so many options to choose from in terms of subject choices, from accounting, economics, human resource management, marketing, management and more. Then there's the option of completing work placement.
You can get a feel for every area of business and so you really get to see where your skills flourish best!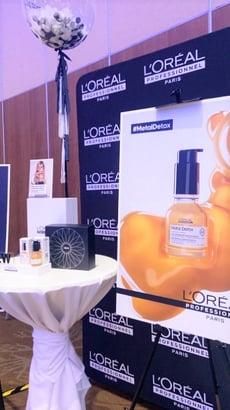 Do you have any advice for someone who is considering their college choices at the moment?
Choose something you're interested in! Think of where you want to go in the future and what you're ultimate goals are. Don't choose something that you think will make your parents happy.
In 2nd Year, I attended a career networking event with several companies and the one piece of advice they all offered to students applying for internships of graduate programmes was to find a company where you fit into the culture and style of work. Nothing can make up for the satisfaction and joy you get from your work and ultimately, that's what will keep you invested and engaged with your projects.
So choose a course that will get you there, carefully look at your available subject choices and see how they align with your plans.
Finally, what's next for you and your career?
Who knows! I'm still learning so much here at L'Oréal and still not sure what position I'd love to settle into! I've found that I gravitate towards more artistic and social aspects of business such as Marketing and PR and so I will most likely pursue these areas more after my internship has finished.
L'Oréal offers a programme called 'Talent Track' once you have completed your internship year which I have already been thinking of applying for. You apply for this programme and have the opportunity to be selected for a full-time position immediately upon completing your degree which is just fantastic. Of course, this can be extremely competitive, So there is also the option of entering their Graduate Programme which allows graduates to work their way up through different divisions and find what works best for them.
Trinity is currently completing her work placement as part of the BA (Hons) in Business. We wish her every success with the remainder of the programme and her course here at NCI!