In Semester 1, the final year accounting and finance class visited the Google offices.
The honours degree students were there to meet with Google's finance team, including the Director of Finance, Niall O'Sullivan. The class got to learn about the variety of products Google offers its consumers, and discuss Google's recently published financial statements.
The whole trip was a success, from the insight into real life products and accounts that demonstrated the application of everything the students have been learning, to the tour of the offices themselves, allowing the class to experience a real working environment.
Semester 2 commenced with a return visit. Eamon Kearns, Eoin Donohoe and Peipei Cheng, from the Google finance team, came to National College of Ireland to work with the students in their own classrooms - pictured here with NCI lecturers Desmond Gibney and Ruth O'Leary.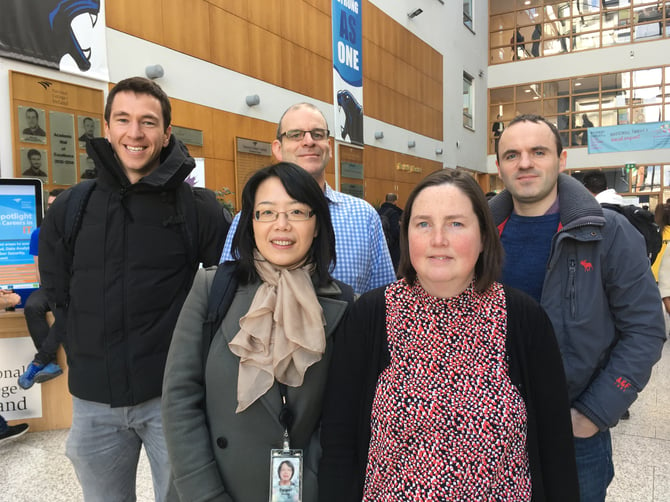 "I was delighted to be given an opportunity to learn directly from Google's finance team", said Keith Doran, a final year BAHACF student at NCI.
"The class as a whole found it very beneficial; we were able to gain an understanding of how the material we learn comes into play in real life. Eoin, Eamonn and Pei Pei were very helpful and very interesting, both from an academic perspective and also with regards to our future careers in accountancy or finance. We really appreciate having these opportunities at NCI, and the whole class wants to say a big thank you to Desmond and Ruth, and to the Google finance team."