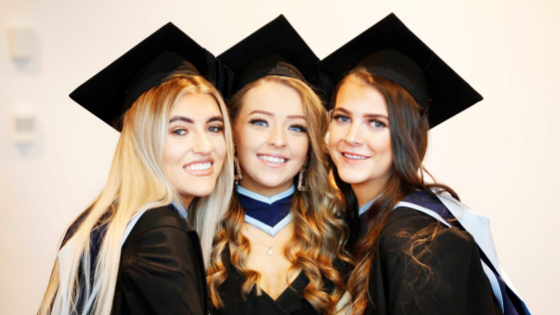 Photo credit: Photocall/Sasko Lazarov
On Thursday 28th November, the class of 2019 celebrated their graduation from National College of Ireland with a formal ceremony at The Convention Centre Dublin.
1,300 graduates who completed courses in business, computing, psychology and education at both undergraduate and postgraduate level along with those who studied professional certifications and recently established programmes celebrated their graduation on this special day.
The team at NCI wish all of you a massive congratulations. You've worked so hard during your time with us and we hope you all had an enjoyable and memorable day, you absolutely deserve it!
Many of our graduates and their friends and families shared their memories from the day with us using #NCIGrad2019, here are some of the most special moments from the day:
1. NCISU Vice President Received a President's Award
After the graduates were conferred in the first session of the day, the first President's Award was announced by NCI's Vice President, Professor Jimmy Hill. From one Vice President to another, the award was presented to NCISU Vice President Dean Murphy for his contribution to Student Participation and Innovation during his time studying towards his BA (Honours) in Business degree.
On top of that, NCISU President Dajana Sinik also won a President's Award. Congratulations to both Dean and Dajana for making NCI proud!
"Well this was a surprise!"

Huge congratulations to @ncisu's Vice President Dean Murphy on winning the Award for Student Participation & Innovation this morning - very well deserved #NCIGrad2019 pic.twitter.com/8fcJDOQX4m

— NCIRL (@NCIRL) November 28, 2019
2. Computing Graduate Ryan Turned 21
It was a big day for Ryan O'Toole as he not only graduated alongside the rest of the class of 2019, he also celebrated his 21st birthday!
Both of these occasions are big moments to celebrate and remember so we captured a photo of Ryan with some of classmates who are all progressing from Higher Certificates in Computing to honours degrees.
Happy 21st Birthday to Ryan O'Toole, graduating from National College of Ireland today with classmates Mark Noble, Josh O'Regan and Sean Dolan, all of whom have earned Higher Certificates in Computing and are progressing on to honours degrees #NCIGrad2019 pic.twitter.com/CXS4y64VDk

— NCIRL (@NCIRL) November 28, 2019
3. Husband and Wife Nick & Gill Graduated Together
Here's a recipe for success; husband and wife Nick and Gill Dempsey both graduated with business degrees from NCI. Nick graduated with a BA (Hons) in Business Management degree while Gill now has a BA (Hons) in HRM Strategy and Practice to her name – both of which are three-year part-time degrees.
Congrats to you both for your hard work and dedication!
Mr & Mrs Dempsey are both graduating from NCI today 🎓

Congrats to Nick & Gill for your hard work and academic accomplishments! #NCIGrad2019 pic.twitter.com/ldREX45Uu3

— NCIRL (@NCIRL) November 28, 2019
4. The First Group of IFS Apprentices Graduated
The International Financial Services (IFS) Apprenticeships is run in association with FSI and provides a pathway to a career in financial services through a combination of off-the-job and on-the-job learning modules. Apprentices work in blue-chip financial institutions for two years while attending regular classes in National College of Ireland.
We know how hard they have worked so it was fantastic to see the first class of IFS Apprentices graduate at our recent ceremony – well done.
Fantastic to have our first group of IFS Apprentices graduating today!

Wishing you all the best in your future careers #NCIGrad2019 pic.twitter.com/YKxvQHchqX

— NCIRL (@NCIRL) November 28, 2019
5. Our Social Sharing Champions Were Announced
The NCI team were so proud to see so many of our graduates along with their friends and families sharing photos of their academic achievements on social media at their graduation. We loved seeing all of your graduation memories so much that we ran a competition to win a bottle of bubbles with one winner from each session on the day.
Thank you to everyone who entered the competition by using #NCIGrad2019 and huge congratulations to our three graduate winners Chris, Sophia and Zoë (special note to Chris' sister Shannon and Sophia's father Patrick for sharing winning photos).

From fabulous fashion, warm family moments, news features and #NCIGrad2019 trending on Twitter, there were so many more moments we could have included in this post.
Let us know if you have any graduations stories to share in the comments below.