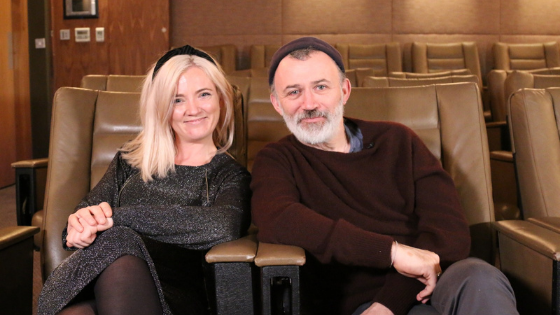 Molly interviewing Tommy Tiernan about his chat show, image taken pre-covid. Photo credit: Bren murphy
Rubbing shoulders with the stars isn't something you imagine doing as a data analyst. However, NCI data analytics graduate, Molly O'Dwyer, has found a way to combine her creative marketing side with her analytical strengths in her role as a Social Media and Data Lead at RTÉ where she works on shows such as The Late Late Toy Show and The Tommy Tiernan Show. While 1.5 million viewers tuned in to watch the record-breaking Late Late Toy Show in November, Molly was hard at work sharing special moments from the show with online audiences and uncovering insights from online engagements and behaviour.
In her time working for Ireland's national broadcaster since graduating from the Higher Diploma in Science in Data Analytics at NCI, Molly has joined the RTÉ Data Value Group and introduced new ways to measure marketing campaigns, redefining what success looks like for the organisation. She shares her journey to her current role along with a taste of the data analytics course she studied through Springboard+ and her advice for anyone considering gaining a qualification in this area (even if it doesn't seem like an obvious next step in your career) in her answers to our key questions below.
Tell us about your education and career background.
I undertook a Bachelor of Commerce in UCD with a final year specialisation in marketing. Following on from that, I spent two years in Australia where I got my start in Digital as an Ad Ops Campaign Manager in Fairfax Media - a brilliant training ground.
I had always been interested in television so when I returned to Ireland, I studied Television and Video Production full-time in the National Digital Skills Centre. During this time, I started to make online video content for businesses. I worked in a number of digital marketing roles before I joined RTÉ full-time in 2016.
I started in RTÉ in Young People's Programmes as a social and web coordinator before moving to Audience, Channels and Marketing to work as a social media lead on some of the country's biggest TV shows including The Late Late Toy Show and The Tommy Tiernan Show.
During my time in RTÉ, I continued my studies part-time, firstly with a digital marketing diploma, and most recently with the Higher Diploma in Science in Data Analytics in NCI
You have worked your way up to Social Media Lead in RTÉ Marketing in recent years. Why did you choose to study data analytics at NCI?
Even though my career has always been firmly rooted in creative industries, I have always loved working with numbers and understanding the data behind my campaigns. From my years working in digital marketing and social, I noticed that opportunities for insights were often missed through a lack of clarity and consistency across reports. I saw an opportunity for myself as someone who fully understood the creative process to be trained in the analytical reporting of creative campaigns.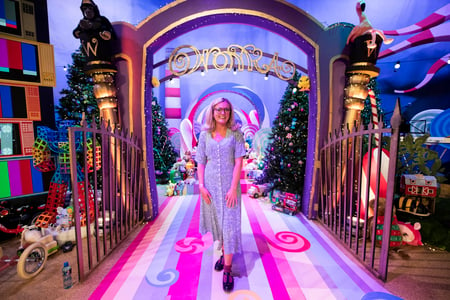 Molly on set and in character at the Late Late Toy Show. Photo credit: Andres Poveda.
I knew that this course would allow me to develop my mathematical and analytical capabilities and bring an innovative skillset to my work. After researching many Data Analytics courses, I chose to study at NCI as it would allow me to work full-time and qualify within a year.
I have recently redesigned how we measure social campaigns in RTÉ. This has enabled us to innovate in how we benchmark and report on our campaigns to gain better quality insights. I led the social for this year's Late Late Toy Show and seeing the social stats featured in the Irish Times alongside the TV Ratings and Player streams was a very proud moment.
Can you share some insights into your experience studying data analytics at NCI?
There are amazing supports available at NCI. Emer Thornbury in Computing Support was incredible and was able to either help with my query, or refer me to a tutor when I got stuck with something in R Studio or SQL.
Juggling a full time job and an intense college workload can be overwhelming at times. Find out what supports are available and use them when you need them. Don't wait until just before an exam or an assignment deadline - give yourself time.
I found the careers supports really valuable. It can be hard to make time due to the heavy workload but it's worth it. Also, I was in a WhatsApp group with three of my classmates and this was a great support - whether it was sharing notes, helping each other to get a line of code to run, or just generally feeling connected to others going through the same experience.
How has your data analytics knowledge helped you in your current role?
My knowledge of data analytics has transformed my existing role. I was able to join the RTÉ Data Value Group and represent social and the wider marketing team and examine ways to drive a more data driven approach to marketing decisions.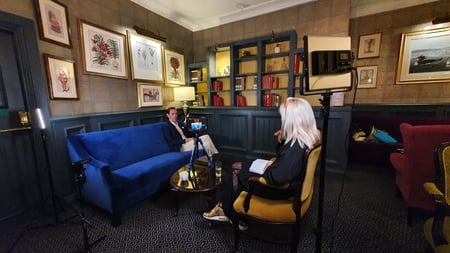 Molly interviewing Ryan Tubridy for The Late Late Show social. Photo credit: Bren Murphy.
Through this work, I set up incredibly beneficial working relationships with colleagues in audience insights and began to re-examine what success looks like for marketing campaigns. As a part of the Social Media and Marketing Data Project, I designed and rolled out new reports with more effective KPIs, benchmarks and measurement metrics, for social and for the overall marketing campaign.
This work has been transformative in how we determine what success looks like and most importantly what we can learn from it, so we can build on successes and learn from underperforming campaigns.
What advice would you give to someone considering gaining a qualification in this area?
The skillset you will acquire is useful in so many different industries. Don't be put off if it doesn't seem like an obvious next step in your career. Attend an open evening, read up on the course modules or reach out to former graduates on LinkedIn. I was fortunate enough to receive funding through Springboard+ so investigate whether this could be an option for you.
After completing the course, if you're not working as an analyst, try to incorporate tools like RStudio into your work in some way to ensure you keep your new skillset fresh.
It's not an easy year but I found it so incredibly rewarding. I can't recommend the Higher Diploma in Science in Data Analytics at NCI highly enough and am really grateful to have been able to do the course.

Our Springboard+ courses in data analytics and other computing areas starting in January are currently open for applications. Visit our Springboard+ page for further details and for information on how to apply.