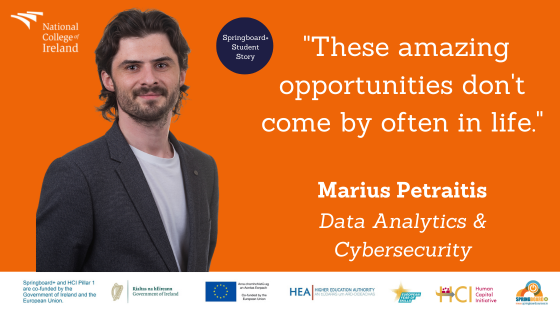 Marius Petraitis set himself a goal of becoming a tech startup founder, but always wanted to expand his knowledge and skills before doing so. His first step was to join an undergraduate degree that included both business and technology subjects. After gaining a postgraduate qualification in the e-commerce space, the Springboard+ initiative gave him the opportunity to build on his existing skills in specialised areas such as Data Analytics and Cybersecurity.
Having combined his experience in industry and education, Marius launched his first version of Wennce in March 2023 and is now building a second iteration which is a mobile application that will help travellers plan trips in seconds and save money while doing so. In this blog post, Marius shares his story including why he decided to pursue not one, but three courses here.
Keep reading to gain insights into his journey with Springboard+ at National College of Ireland.
1. Tell us about your career and education background.
I am happy to say that I am a triple NCI graduate!
After completing my Leaving Certificate, I decided to choose a third-level course that was a mix of both technology and business subjects and would allow me to follow my career goals. The BSc (Hons) in Technology Management at NCI was ideal as it provided me with foundational knowledge of computing and helped me develop creative, leadership and managerial skills in a technology environment.
Following my undergraduate studies, I progressed on to the MSc in E-Commerce at DCU which is designed to produce e-business technologists, managers, entrepreneurs, and innovators. At this point, I wanted to improve my technical skills in areas like programming, machine learning, web mining and database management so I went back to NCI and completed the Higher Diploma in Data Analytics which I applied for through Springboard+.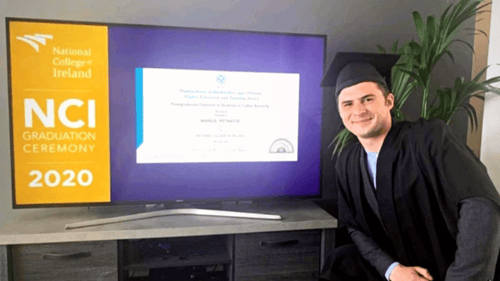 One year later, I did it again! This time, I pursued the Postgraduate Diploma in Cybersecurity with evening classes through the Springboard+ initiative. Modules included Incident Response and Analytics, IT Law and Ethics, Network Security and Penetration Testing, Cryptography and Forensics and eDiscovery. My latest qualification is a Postgraduate Certificate of Innovation and Enterprise Development from Trinity College Dublin.
In terms of my career, I progressed from Data Analyst to Global Head of Data Operations in 4.5 years, leading an international team of 50 members and working on company strategic projects. Before that I was a part-time cleaner during my undergraduate and masters' studies, working part time in the evenings and at the weekend. During this period I travelled around the world a lot.
2. Where did you hear about the Postgraduate Diploma in Cybersecurity at NCI?
I regularly check back in with NCI as I know the calibre of courses on offer there. At the time, I had good knowledge of business/tech areas, but didn't know much about privacy, ethics and security. Given the importance of these subjects and my desire to improve my secure programming skills, I researched relevant courses and came across the Postgraduate Diploma in Cybersecurity at NCI.
When I discovered that the course was funded by the Government of Ireland and the European Union through Springboard+ meaning that it was free to those who are unemployed and available at a reduced cost to those in employment, it was a no-brainer!
3. Why did you decide to study a Springboard+ course?
Why not! These amazing opportunities don't come by often in life.
Springboard+ allows you to gain a third-level qualification in a specialised area to develop your skills and push your career forward, for a massively discounted cost. I am super thankful to Ireland and the European Union, and to all the people that supported me throughout my education, for these opportunities.
4. What is your main career goal?
My main goal is to build a successful technology product and sustainable business, and make my family and team proud of our achievements.
I am a lifelong learner. Essentially, I like to continuously learn new things and develop myself. All the courses I did helped me to grow professionally and personally.
5. What advice would you give to anyone considering a Springboard+ course at NCI?
Just go for it! National College of Ireland is a great place to study. You will be offered support when you need it and you will gain a recognised qualification that will help you take your career to the next level. Best of luck!
Marius studied both the Higher Diploma in Data Analytics and the Postgraduate Diploma in Cybersecurity at National College of Ireland through the Springboard+ initiative.