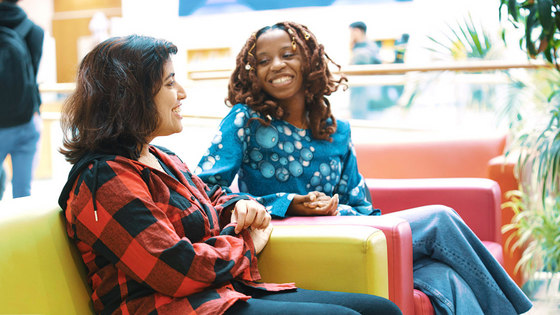 The Student Counselling and Wellness Service at NCI works to ensure students get any help they might need with their academic, personal or professional difficulties during their time studying with us. The team share their top tips for coping with the transition to college life below.
Accepting an offer to attend third-level education is such an exciting time in a student's life. It can be a starting point or a new beginning for many and as such, moving from secondary school to college or university can be a challenging transition.
However, we are aware that entering college can be a stressful time but don't worry, the team at National College of Ireland has your back and we have put together a few useful hints and tips that we hope will make the shift to a new education institution a little easier.
It's important to note that it is perfectly normal to be excited and apprehensive at the same time right now if you are planning to join an undergraduate course in September. Some students worry about making friends, if they will fit in and if they will like their course or their lecturers. It's a big change from your typical secondary school days, so there's no harm in preparing by being aware of our useful advice:
Ease yourself into college life over time
Connect with your classmates
Get to know your Students' Union
Be aware of the supports available to you
Keep in touch with family and friends
Look after your health and wellbeing
1. Ease
Take your time to settle into college as there is a big learning curve in the first few weeks and that can be hard. It's important that you don't put too much pressure on yourself to know everything at this stage and instead, ease your way into the new academic year. Remember, everyone is in the same boat!
2. Connect
College is not all about study, friends are a really important part of student life and often you will meet lots of new people and even make friends for life. These friendships can be defining and can provide support when you need it most.
We recommend connecting with your classmates and student leaders who you will meet during orientation. Following the college pages and the SU on social media for updates and events also.
3. Students' Union
Getting to know your Students' Union is key for any new college student and will help you transition from secondary school to third-level. NCISU has a range of clubs and societies including soccer, golf, pool, basketball, photography, dance, arts and much more along with running a schedule of events throughout the year. Attending events and joining clubs and societies related to your interests will help you make friends and have fun, even if these activities take place online for a period.
NCISU is also the main advocate for students at National College of Ireland and they are often the first point of contact for anyone who is struggling as they can advise on what options are available and refer you to the best support service. Connect with NCISU on Instagram to stay in the loop.
4. Supports Available
NCI is a very student-focused college which really does its best to help support, guide and facilitate our students. The Norma Smurfit Library and Career Development and Employability Service are incredibly useful services available to students, particularly those who are entering third-level for the first time. There are also a number of internal supports, such as
The college also has a Disability Service and a Student Counselling and Wellness Service, which are both confidential and free services available to help NCI students with any difficulties they may experience during their time studying with us.
Additionally, NCI students now have free access to SilverCloud, an online mental health platform with self-guided programmes specifically designed for students.
5. Keep in Touch
Just because you're starting college doesn't mean you can't remain in touch with family and friends. The first few weeks at college can be daunting as it's an unfamiliar environment with lots of new people from different cultures so its always good to stay in touch with loved ones to keep you grounded. Family and friends can be such a useful support while trying to transition to your new and exciting surroundings. Make sure to text, call and video chat with loved ones to maintain those long-standing relationships. It's comforting to talk with familiar people when so much is changing around you.
6. Health and Wellbeing
Many students put all of their energy into their academia and their social life but sometimes this causes them to neglect their health and wellbeing. It's really important to look after what I call the five pillars of health:
Diet | Sleep | Exercise | Social Life | Interests/Hobbies
Maintaining these pillars can help keep us afloat when things are difficult. It can be hard to strike a balance but really none of us can perform our best without paying attention to these elements. It's really important to take breaks and actively take some time out to look after your mental health and wellbeing. The Student Counselling and Wellness Service can help you if you need some pointers.
Remember, things work differently at college and tend to move at a faster pace. Students need to manage their own learning and it's important to believe in your ability. You earned your place at NCI so make sure you make the most of it. Things will naturally seem strange at first with new structures, new people, and a new system to get used to but you are not alone, all students feel the same. Stick to these tips and you can't go wrong! We look forward to welcoming you to National College of Ireland in September!
*My Top Study Tip*
Regularly back up your work. There's no point spending hours working on a project only to lose it before the submission deadline! Something like this can really drain your motivation.
Starting college is a big step. The Student Counselling and Wellness Service at NCI offers a supportive and encouraging environment where students can talk about their difficulties or any struggles they are facing. Contact details for the team are available via the link above for students or parents who wish to book a free appointment to discuss any issues of concern.