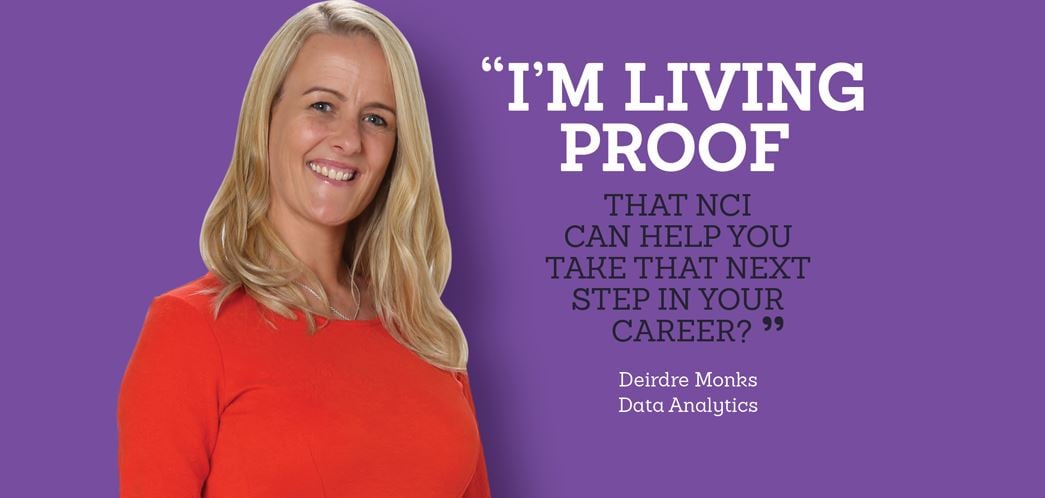 With almost 6,000 students, more than 70 courses, thousands of personal stories and dozens of reasons to study; the Marketing Team at NCI was faced with a question:
How do we let potential students know about us and what we do?
Every September we welcome students to our part-time courses in business, computing, psychology and education. For us this means in the months leading up to September we're hosting information events, attending careers fairs and advertising across print, outdoor, TV, radio and online. This year we decided to create a new advertising campaign.
To start this process we thought about what drives us in our work and graduation day sprung to mind. Graduation is a special day of the year when we get to chat to students about their time at NCI and we have always been moved by people telling us how NCI has given them renewed confidence, or helped them find a new job or move in a new direction. And so we reached a simple realisation: our alumni are living proof of what studying at NCI can do. We need to let them tell their stories to inspire other people.
Finding volunteers
The next decision we had to make was how to find people to volunteer. Even someone who passionately believes in your product may not be willing to see their face on the side of a bus! Luckily, this turned out to be easier than expected. We were surprised and delighted that, of the 23 people asked to participate, 18 came back with a resounding yes. Clearly our NCI alumni were keen to spread the good news!
Maintaining authenticity
We knew the stories and students were interesting but we wanted to make sure the authenticity of what we were doing was obvious from the moment you laid eyes on the advertising. After all, we've all seen the standard 'attractive person in graduation cap' advert so beloved in education marketing. We wanted to make sure it was clear, these are real students. We worked with our agency, Eyecue, on a simple idea that really lets the former student speak directly to the audience in their own words.
As a college we are so thankful to all the students who were generous with their time and who are so passionate about NCI. Their stories are a tribute to themselves, but are also something that everyone at NCI can feel proud of.
We've really enjoyed catching up with our alumni and we'd like to introduce you to just a few of them. Meet our 5 main stars and hear their stories:
Deirdre Monks is a data analytics graduate who used the course at NCI to change her career and has since set up her own creative data agency. She says all the time that NCI totally changed her life.
Adam Shah works at Citi. Adam completed the MBA at NCI and he attributes a big promotion at work to his success in completing the MBA.
Jennifer Kwan completed the MA in HRM. She loved the course so much that she came back to NCI to do a CIPD diploma. She is now the European Graduate Programme Lead at Aryzta.
Sharon Lyster completed the Postgraduate Diploma in HRM. She now works as a Management Consultant at Accenture. She speaks glowingly of the reputation of NCI in HR and of her experience.
Of all our group Will Fitzgerald was the furthest since his graduation. He completed the MSc in Learning Technologies over 10 years ago. Coming to NCI allowed him to change from a career in the defence forces to a career in the private sector.