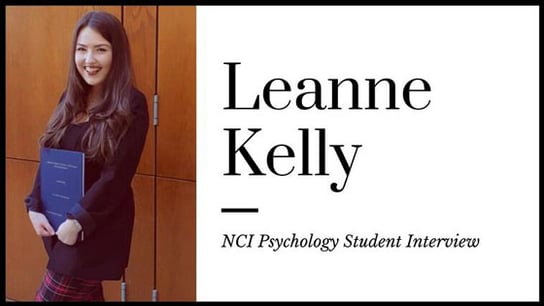 After completing her Leaving Certificate in 2015, Leanne Kelly felt that going straight to college was the right thing for her. However, she soon realised that joining a course she was unsure of in a big college wasn't working for her so she took a break from studying before starting her psychology journey at NCI in 2017. At that stage, she knew she had made a step in the right direction.
Three years later, Leanne received the Dean's Award for Excellence in Psychology in her final year and was recently awarded a First Class Honours in her overall degree results. An outstanding achievement given the extra difficulties faced by the class of 2020 in their final semester!
Leanne shares what she enjoyed most about studying psychology at NCI, her future aspirations and her advice for anyone considering joining this course in September.
Why did you decide to study psychology at NCI?
I am a very curious person and have always had a fascination with humans and how they interact with each other. I soon realised that I could extend this interest into my professional life through studying psychology.
I decided to begin this journey in NCI because the BA (Hons) in Psychology is completed over three years (full-time) or four years (part-time) and is comprised of a vast amount of interesting modules, from social psychology to abnormal psychology and everything in between.
Having previously attended a larger college in Dublin, I found the class sizes of NCI extremely attractive. This was a huge deciding factor for me personally, as I really disliked the lack of opportunities for questions and discussions in my previous experience of college.
The BA (Hons) in Psychology at NCI is also accredited by the Psychological Society of Ireland (the professional body for psychology in the Republic of Ireland). This is required for honours graduates to pursue further professional training within the field of psychology in Ireland.
What can students expect when they choose psychology at NCI?
As previously mentioned, students can expect a vast range of exciting modules and topics to suit the interests of every individual. You will study modules such as Cognitive Psychology, Personality and Intelligence, Lifespan Development, Biological Bases of Behaviour, and Statistics.
If you are someone who is thrown off by the idea of Statistics – please don't be! It is completely different to what you are taught studying maths at school; instead, it is focused solely on the tools required and used by psychologists. There are also extra supports in place to facilitate the learning of statistics, including the Mathematics Support Service.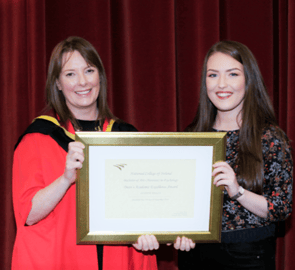 The various modules are delivered through both traditional lectures and interactive tutorials which will prepare you for a combination of continuous assessments (including essays, assignments, in-class tests, and group work) and end of term exams. The small class sizes at NCI allow for invaluable interactions between and among students and lecturers.
Although the number of contact hours may not be as demanding as other courses, the BA (Hons) in Psychology requires a substantial amount of independent work and reading. This is brilliant experience for you to develop your skills and see the knowledge that is learned in class applied to real research.
You will also learn how to conduct scientific research yourself. Your Research Methods and Statistics modules will equip you to carry out your very own piece of research in the form of a Final Year Project. This may sound daunting, but the support from the psychology department at NCI is second to none, with all staff going above and beyond to help you reach your potential. The psychology department at NCI also come from a range of different backgrounds, with some specialising in areas such as Applied Behaviour Analysis and Neuropsychology, to name but a few. This diversity gives students great insights into the various career paths available to them after their psychology degree.
What subjects did you enjoy most and why?
I honestly enjoyed the majority of the modules! However, my favourites would have to be Social, Coaching, Health and Abnormal Psychology.
I loved Social Psychology because of how relevant it is to every-day life. Through various topics, we learned that the presence of others greatly impacts how individuals act, feel, and behave. Famous experiments (e.g. the renowned Stanford Prison Experiment) demonstrated how people can become obedient, compliant and conform to the ideals of others when in a social context. I also loved learning about attitudes and the psychology behind stereotypes, prejudice and racism.
Coaching Psychology was thoroughly enjoyable, especially because so many of the topics can be applied to your own life to reach your full potential! We learned about goal-setting, motivation, emotional intelligence, the impact of self-talk, and much more. I now use the information learned from these topics almost every day.
Health Psychology was particularly interesting because I hadn't really thought of how our health influences our behaviours and vice versa. I particularly enjoyed learning about the placebo effect, vaccine hesitancy and how to use psychological theories and methods to influence health behaviours (i.e. how to stop people from engaging in hazardous health behaviours such as smoking).
Finally, Abnormal Psychology gave us an in depth understanding of mental health and mental disorders. It was great to learn about the different theories of how and why psychopathology originates, as well as gaining insights into complex disorders such as anxiety, depression, schizophrenia, and personality disorders.
What are your future career/study plans?
Having recently finished my degree, I plan to spend this year applying my knowledge of psychology thus far to various roles and projects. I am an enthusiastic student member of the Psychological Society of Ireland, where I work as part of the Events Team within the Student Affairs Group. This involves organising exciting events for psychology students, such as "A Day in the Life" talks with experienced psychologists from different fields.
I also run an Instagram page - @the.perky.psychologist – where I post both informational and anecdotal content on all things psychology, mental health and well-being.
I am also hoping to secure some volunteer work, as well as a Research Assistant or Assistant Psychologist position, which serves as brilliant experience for those who are seeking to further their education beyond their undergraduate degree. With this experience under my belt, I plan to embark on further postgraduate studies in September 2021.
I have not yet decided which field I would like to go into – a perk of psychology being so broad!
What advice would you share with anyone considering studying the BA (Honours) in Psychology at NCI?
There is something in psychology for absolutely everyone. If you are curious in nature, this course is definitely worth considering. Whether you are fascinated by the processes of the human brain, are intrigued by research and statistics or have a passion for mental health – every person will walk away from this psychology degree with something that they absolutely loved.
There will be a vast array of career paths available to you. The skills developed through a degree in psychology are highly valued by employers. Some viable career paths include Human Resources, Marketing, Management, specialised psychology routes (require additional postgraduate study) such as Educational, Counselling or Clinical Psychology, or research.
So, if you are still deciding whether the BA (Hons) in Psychology at NCI is for you, I would advise you to have a look online at the course information and module descriptors to see exactly what you will be studying and what career paths are available to you. I am also more than willing to answer any questions personally on my Instagram @the.perky.psychologist!
Best of luck to everyone starting this course in September, it's going to be an amazing journey! The time will fly by so make sure to enjoy every minute of it!
Leanne Kelly studied the BA (Honours) in Psychology full-time at National College of Ireland, the course is also available to study part-time in the evening. If you have questions about studying psychology at NCI, contact our Admissions Team and they will be happy to help.