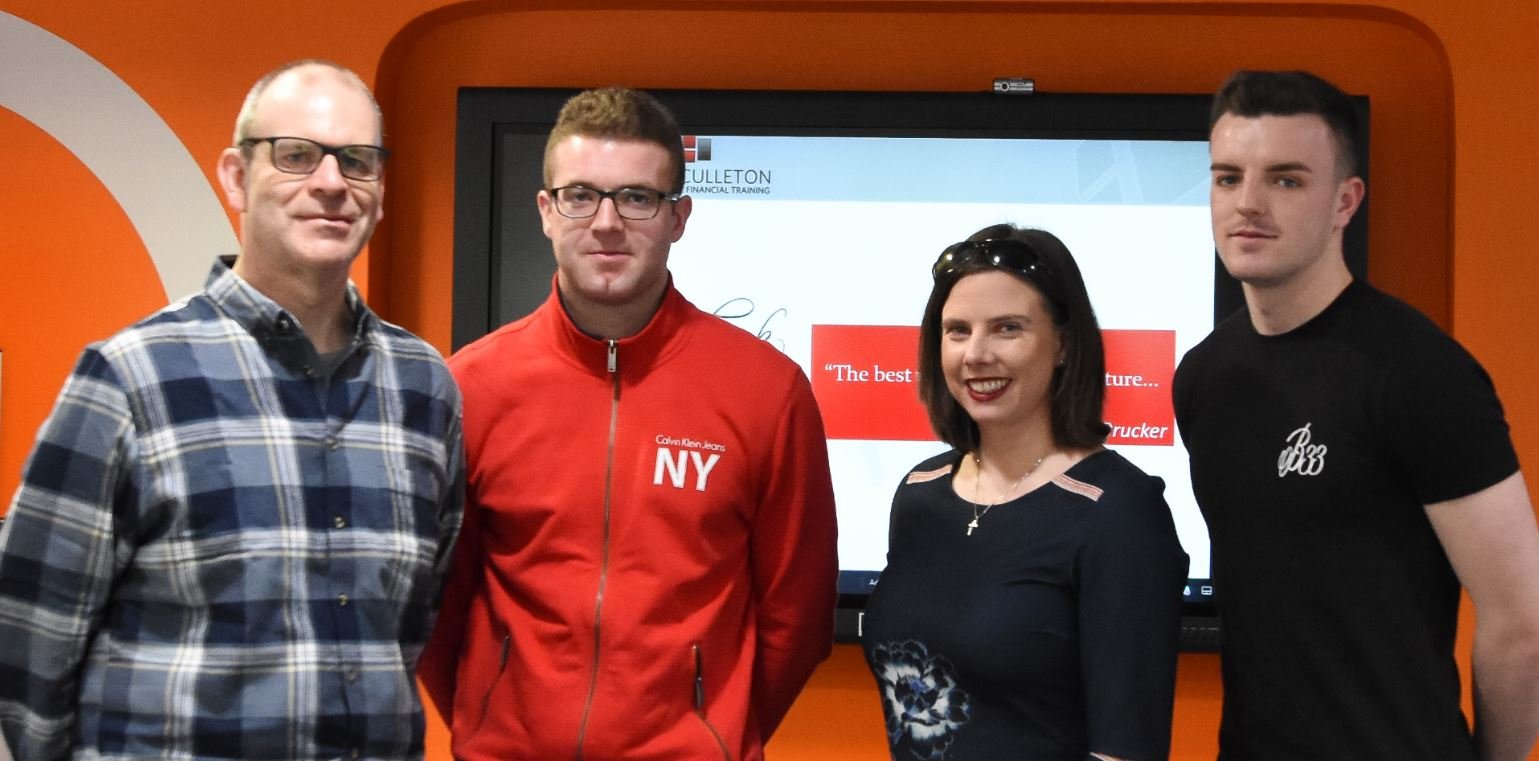 NCI Accounting Lecturer, Desmond Gibney pictured with finance expert, Susan Hayes Culleton along with BA (Honours) in Business students, Keith Pigott and Thomas Mahon.
Two final-year students, Keith Pigott and Thomas Mahon, share their insights into our full-time BA (Honours) Business degree – maybe you should make it your business!
Why did you choose to study the BA (Hons) in Business course at NCI?
Keith: "I always had an interest in Business, but wasn't sure what sector I could see myself working in after college. After some research, and attending open days, I decided a general business degree would let me learn all aspects of the sector, from Accounting and Law, through Marketing and HR to Economics. NCI appealed to me in particular because class sizes tend to be smaller. I also liked that the socs and clubs at NCI provide a great way for people to socialise and get to know everyone in the college. The fact that NCI's graduate employment rate is so high was another inducement – and I can see now, having gone through the course, that this is very much down to all the help and assistance from the career team in the college."
Thomas: "My experience is a little different to Keith's. When I left school, I undertook a Level 6 certificate in Business, and then left education for three years. When I was examining my options for progressing my studies, I looked at a number of colleges: open days are essential for getting a real sense of what a college is like. I was impressed by the facilities, the lecturers and, especially, by the support structures provided by NCI. Having been out of education, I was worried about being able to refocus myself and settle back into studying, but it was easier than I thought it would be, and here I am in my final year."
Do you have any tips for someone thinking about college?
Thomas: "For someone thinking of returning to education, who might be doubting themselves, my biggest piece of advice would simply be: apply for your preferred course; take it one step at a time; make use of the support you are offered - and you just might surprise yourself."
Keith: "Once you're in college, you really do need to take advantage of all the help and expertise that is offered to you – for me, I especially found Career Services to be amazing at the work they do: there is so much guidance, advice and active support for securing work placements and graduate programmes."
Was there any particular aspect of the course that you feel is particularly valuable?
Keith: "From my first day on the course, I have continued to be impressed by the way the lecturers deliver content to make it understandable and enjoyable. The lecturers are very approachable, whether it's after lectures or during tutorials. Tutorials are a great way to ask lecturers questions on topics you may be finding difficult as the classes tend to be small so lecturers have more time to assist students. I also liked how 'real world' much of the learning experience was, including how many industry people we met – from mock interviews with real recruiters from businesses we would all aspire to work with, through to guest lectures from industry specialists."
Thomas: "Yes, for me too, seeing how the subjects I'm learning are applied in the real world was really important. Because a general business degree allows you many specialisation opportunities, guest lecturers who are specialists in their area give you a real sense of what it would be like to work in that one area of finance or marketing or accounting. I really enjoyed our guest lecture by Susan Hayes Culleton (pictured above), for example, who gave us great insight into what it takes to start up a business. She is a role model for anyone with ambitions in business. My key takeaway was how important it is to listen to what consumers want."
Keith: "I learned a lot from Susan about finding a niche, leveraging USP and simply having the confidence not to be afraid of failure. But also, she gave some great advice on successful presentations and it really directly helped me with the presentations I had to make to my peers in our module on Contemporary Issues in Finance and Accounting. Getting the chance to listen to a guest speaker like Susan is a privilege."
If you have more questions about undertaking a BA (Honours) in Business at National College of Ireland, whether full-time like Keith and Thomas, or part-time in the evenings, you can come to an Open Evening this Summer and speak directly to a lecturer. For secondary school students looking at next year, our CAO Open Days will be Wednesday 20th November 2019 and Saturday 18th January 2020.