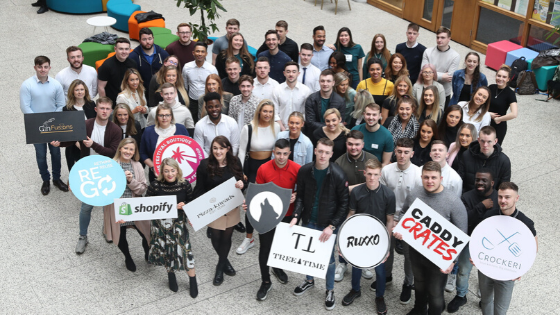 Final year BA (Honours) in Marketing Practice students developed their own online businesses during their final semester and showcased their brands to faculty and other members of the NCI community.
The capstone project is supported by ecommerce solutions company Shopify which helps entrepreneurs around the world start and grow their businesses with a suite of tools to aid digital selling. Each of the 12 groups established Shopify stores to sell products that reflected their interests, created brands that each stand out in their own way and leveraged social media to shared brand stories and promote their products. Throughout the process, students developed their communication, teamwork and problem-solving skills while gaining practical experience with video creation, graphic design, campaign management and storytelling. This project brings these skills together to help students develop their graduate profile, making them highly desirable candidates for entry-level marketing roles.
Let's jump in and get to know these newly established businesses!
1. Breathe In, Breathe Out
Our first group of budding marketers launched a range of luxury candles infused with crystals which spread energy and reduce anxiety.
2. Candlelit Gems
This group's brand supports strong, young women and celebrates individuality and uniqueness – we're a big fan of this message!
3. TheSiptail
TheSiptail offers beautiful cocktail kits that make it fun and easy to mix your own drinks. They also have a range of premade non-alcoholic drinks to choose from.
4. Síoda Silk
From pillowcases to face masks, this range of silk products are 100% Irish, 100% sustainable and explore the health and beauty benefits of using this fabric.
5. Muggí
Determined to make their brand stand out from the crowd, this group of marketing students created keep cups with a little bit of 'you' by offering a collection that is individually designed.
6. The Masca Bag
This premium sports bag is engineered to keep your wet and dry gear separate and makes sure you look stylish while you work hard to achieve your sporting goals.
7. Galz and Dogz
What did this group have in common? Their mutual love of dogs! They developed a hamper of fashionable and fun items which they promoted on social media and on their website.
8. Let's Link
The team behind Let's Link made the decision to start a podcast where they explain the meaning behind their jewellery brand and numerical pendants.
9. Birdie Brace
While the Birdie Brace is designed to help anyone with bad posture, this group cleverly targeted golfers as a defined market to focus their marketing efforts.
10. Poka Phone Cases
This group really put their social media skills to the test by promoting their online mobile phone shop across a number of social channels including Twitter, TikTok and Pinterest.
11. My Month of Mindfulness
Understanding that adding something new into your daily routine can be difficult, this 30-day mindfulness journal aims to help people commit to self-care.
Our BA (Honours) in Marketing Practice will provide you with a uniquely practical experience where you can create your own business just like these students and join the workforce with confidence!