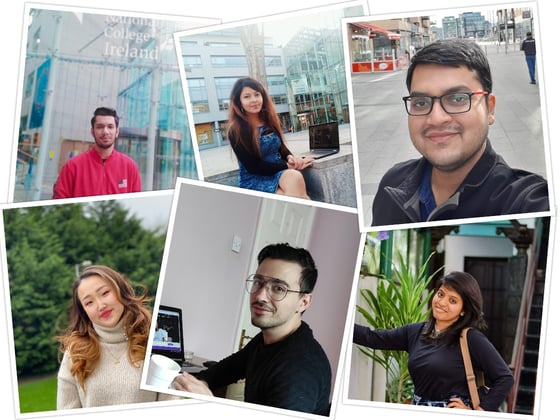 Say hello to our new International Student Ambassadors; Gantsetseg, Arnauv, Anjuli, Mario, Bindhu and Rohan! The group will be sharing their stories, their top advice, and their experience of studying in Ireland as an international student over the coming months.
If you're thinking about joining the international student journey with them, keep reading to find out more about our ambassadors including what motivated them to study in Ireland



Gantsetseg, Mongolia
"Hi everyone, my name is Gantsetseg Otgonsuren and I am currently in my second year of the BA (Hons) in Human Resource Management. Choosing NCI was an easy decision as I had my mind set on the College since secondary school. I feel as if I belong here and am so happy to be studying at NCI, I know it is the right college for me and I believe it will be the same for you too.
I am a very empathetic and passionate person. I love helping others and that is the main reason why I chose to study HRM. I strongly believe that we all have a voice that can be heard."
Arnauv, India
"Hello readers! I am Arnauv Kaushik and I am currently pursuing my MSc in Cloud Computing. Recently, NCI gave me the opportunity to participate in the 'AWS Educate Challenge' where I secured 3rd place. It's just one of the many industry-level events and competitions students can be a part of here.
When I decided to pursue this field, NCI was the clear choice as the faculty is highly professional, dedicated and masters of their respective domains. The course has been upgraded and it is way beyond what other universities offer and demand by the job market."
Anjuli, India
"Hey everyone, I am Anjuli Patel and I am studying the MSc in Data Analytics at NCI. I have a Bachelor of Engineering degree and worked as a BI Developer in different firms including Facebook, Teradata and TCS.
Gaining satisfactory employment after completion of my master's was my main criteria for selecting NCI. The College is situated in the Heart of Dublin and the course structure is very impressive. Even with everything going online, NCI faculty, alumni and students' union have been very helpful and pro-active in guiding and helping all students."
Mario, Mexico
"Hi everyone, I'm Mario from Guadalajara, Mexico, the land of tequila and tacos and I'm currently studying the Higher Diploma in Science in Computing at NCI. I possess a Bachelor of International Business and have worked in the finance industry for over seven years.

I have wanted to further my studies abroad in the IT field in an English-speaking country for several years and thanks to NCI and the scholarship they offered, I am getting closer to my professional transition towards the Industry value. I am delighted to be part of this year's team of international student ambassadors."
Bindhu, India
"Hi all, I am Bindhu Purushothaman and I am studying the MSc in Cloud Computing at NCI. When I moved to Dublin in 2020, I never imagined I would study online but I have adapted well and that's what matters.
Currently I am an International Ambassador for Education in Ireland where I write about being an international student in Ireland. I'm an introvert by nature but I do enjoy socialising and catching up with friends on the latest news. I am passionate about computer technology and I enjoy meeting new people through painting, hiking, and reading novels."


Rohan, India
"Hello everyone, my name is Rohan Singh from India (New Delhi), and currently, I am a student at NCI studying the MSc in Cybersecurity. I joined NCI in September 2020 after completing my Bachelor's degree in Computer Science and Engineering from India.
I always wanted to complete my Master's degree from one of the most prestigious institutions, and this is where NCI fulfils my dreams. NCI is perfect for anyone who wants to start a career in cybersecurity as it is industry-oriented and always up-to-date. You also have the opportunity to receive a scholarship to help pay the tuition fees which helped me a lot."
Follow the international section of our blog for more student stories. If you're interested in studying at National College of Ireland as an international student, take a look at the courses we offer, review the international section of our website or email our International Team at international@ncirl.ie.