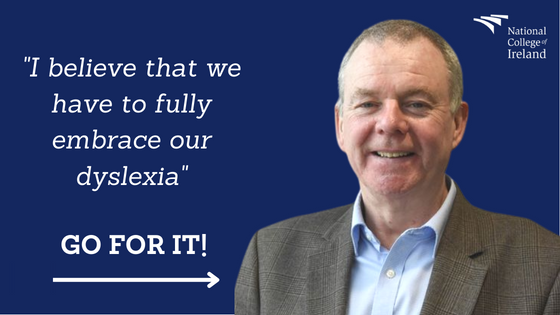 This is a guest blog post by Dave Cormack, Assistant Professor, NCI's School of Business. Dave is an MBA graduate, a Fellow of the Institute of Leadership and Management and a long-standing Member of the Marketing Institute of Ireland. Having discovered that he is dyslexic late in life, Dave became an advocate of the Dyslexia Association of Ireland and shared his story during a webinar. He is also a founding member of NCI's Dyslexia Working Group which aims to lead on initiatives in this area.
I've been dyslexic for sixty-two years. I can't ever not be dyslexic. I am not defined by being dyslexic, however, my dyslexia is a major contributor to the person I am, and it isn't something I'd ever consider changing.
Like most dyslexics in 1960's and 70's Ireland, I travelled through the education system unaware of my learning disability. I had an awareness from a young age that I was different, and I also knew I was fairly clever and good at some things, reading not being one of them. My parents were very encouraging which allowed me to be confident and have the skills to focus on my strengths. Unfortunately, I didn't tend to get the same encouragement from the education system which tended to expect everyone to fit into the same mould and not go beyond the "norm".
Having wrestled with "being different" for thirty years, I eventually had myself tested and my dyslexia was diagnosed. Simply getting a diagnosis proved to be a major boost to me. Up to this I knew I was clever, but I very often felt "stupid" and indeed at various times throughout life, I had been labelled as "being stupid".
For the next thirty years I progressed my career, gained a master's degree, while at the same time, not sharing my disability outside some very close friends. Since passing sixty, I have "gone public" about being dyslexic. This is something I have found liberating, I have also been heartened by the number of people who have thanked me for sharing my story. Some of the nicest comments I have had are from former colleagues who invariably tell me they would never have known.
Below is the webinar of my journey hosted by the Dyslexia Association of Ireland:
The societal journey of dyslexia matches mine well; the 1960's and 70's was a time of unawareness and even ignorance. The next decades brought awareness but not understanding and if we're honest, we set about trying to "fix" dyslexics and not the education system. Progress then moved to what we refer to as "reasonable accommodation". The sentiment may have been good here, however, society is still looking at dyslexia as a problem and not the system.
We are now slowly reaching the stage of embracing dyslexia. That embracing is evident in industry where employers are now actively seeking "dyslexic thinkers" for our unique skills. I now believe that we ourselves have to fully embrace our dyslexia and let the world know that most of us are excellent lateral thinkers, really good problem-solvers, and have a sixth sense allowing us to perceive and empathise where non-dyslexics struggle.
I am delighted that the Dyslexia Association of Ireland are facilitating workshops to this end. This is an opportunity to take the next step towards embracing your gift – GO FOR IT!
The Dyslexia Association of Ireland's Embracing Your Dyslexia Workshops will take place over multiple dates across the country with the first session taking place at NCI's campus. Register Here.