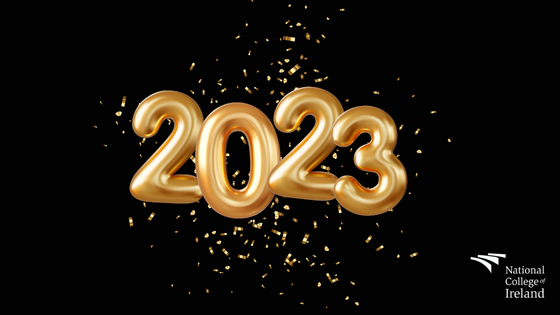 The thought of a new year's resolution may make you feel tired after the trying time we've just been through but having a goal in mind will give you the energy and motivation you need to move forward.
Here are some proven steps you can take to maintain your willpower throughout 2023!
1. Keep it real
What one, real step can you take to position yourself better for the future? It may be adding to your trade/executive knowledge with studies in Management, to boost your career to the next level; it may be using RPEL to take all your lived experience and use it to return to higher education so that you have an internationally recognised qualification the next time you go job-hunting. It may be that you think you need to leave your much-loved sector and move to one where jobs are more future proof, such as technology, through the Springboard+ initiative for example.
Don't see this as 'retraining', you are not suddenly losing all the sectoral expertise you had never to use it again, you are *adding* to it. The face-to-face experience of your retail job transferring to software design might make you a UX expert; your integral knowledge of the travel industry combined with Data Analytics could position your company as the next market leader; you might invent a computerised musical instrument, or use Internet of Things in your next fine art piece. At NCI, we believe in lifelong learning and so should you.
2. Own it
Once you have identified the change you need to make and are resolved to undertaking it, own that decision. Say it out loud and listen to yourself say it. Still sounds like a good idea? Be brave and tell your family and friends. Now, take pen and paper and write it down and look at your resolution. Make it a long piece of paper though, with enough room for the next step…
3. Break it up
You need to break your Big Resolution into smaller steps and work out how they fit in with your other commitments. Christmas is a busy time, so diary off two hours to search for a course you might like.
Is it online? If some of it is on-campus, is the location convenient for you, do the class times suit? Money is tight, so can you get any help, any back-to-study grant (you should check out our Springboard+ courses)? There is no need to be overwhelmed, each college will have someone to advise you. A good idea is to attend open days for the college or specific courses you are interested in. NCI has an Online Open Evening coming up in January.
Your brave and scary resolution will begin to reduce itself into concrete decisions and timetables: this course in that place, apply for that scheme now to get funding, in the evening to fit in with my job, or full-time to take advantage of the child-care available to me. A series of steps that will lead you to identify, secure, and follow through on your resolution.
4. One thing at a time
And that's the thing to remember – a series of steps, not a giant leap in January! The positive psychological impact of ticking things off on a checklist is well known. 'Search courses' – check. 'Talk to adviser' – check. 'Take sample class' – check. 'Apply'…. Each of these steps is not insurmountable, take them one at a time and you will reach your destination!
5. Well done, you!
Even when you know it might ultimately be rewarding, making a change is difficult. If you become overwhelmed or demotivated, it will be hard to continue. Treat yourself! Whether it's a mince pie with your cuppa while you attend an online open day or raising a glass to toast yourself on the day you've put in the application, celebrate these moments when you are proud of yourself.
Reach the end of your first module? Buy yourself a fancy pen for all the notes you're taking, one you look forward to using to sign contracts in the future! Or take a scheduled break with family and friends, or even dinner with your new classmates.
6. Keep track, to keep ON track
Refer back to your first list on the regular and check in with how you're doing against your deadlines. If you need to change your plan, then do it – and don't beat yourself up. Even the strongest willed of us can run out of steam. Acknowledge to yourself that what you're doing *is* difficult, *is* a challenge, but is also rewarding. This is where the ticked boxes on the checklist, where the treats you've given yourself, will properly go to work for you: you can see your achievements to date there on paper, you can think back to the rewards you've already earned.
With what you've already achieved you know it is possible to tweak your plans as required by any change in circumstances, so that you can get back on track to achieving your resolution. Consider seeking out support to help you reach your goal. At NCI, there is always someone to talk to, someone who is as invested in you doing well as you are, whether that is your programme coordinator, who will help you grapple with and pass even the module you least like (with academic support available if needed), or the award-winning careers team, who will work to position you for your next role.
If education features on your new year's resolutions, NCI can help. Come to our Online Open Evening  on 11th January to learn about our business, computing and education courses running in early 2023.
This post was originally published in 2021 and was updated in January 2023.