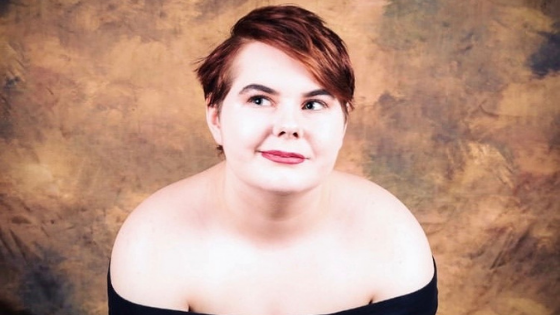 Rebecca Redmond Trimble, who holds an honours degree in Marketing Practice from NCI, is now settled in Belfast, in preparation for undertaking her Master's degree at Queens University. We asked her to share her NCI experience with us.
"My whole family became connected to NCI as soon as the College moved to Mayor Street, back long before I can fully remember it, as we lived locally then, with my Granny and Grandad at the heart of the family, holding together all of us, my parents, aunts, uncles and all us grandchildren. My cousin was one of the first babies to be part of the Early Learning Initiative's ParentChild+ home visitor programme, and my Godmother did a higher education course there. National College of Ireland was just always this positive place I knew about when I was growing up.
"I decided in TY that I wanted to be a midwife, so my first 4 choices on my CAO form all related to that, and my 5th choice was Marketing Practice at NCI. When I heard I'd gotten it, though, it felt like it was meant to be! I can't explain, but I wasn't sad about not being a midwife, I felt like: yes! Marketing! This is meant to be!
"I was living in Balbriggan at the time, and I managed the adjustment from school to third level okay in 1st Year, when I guess everyone else was adjusting too, but I found 2nd Year difficult – I had a lot going on myself, and found it hard to focus on my studies. I ended up having to repeat. A lot of people might have found that disheartening, but for me it just made me even more determined.
"I'm the eldest in my family, I have younger siblings that look up to me: it was very important to me that they see me not give up, that they see me work hard, that they see me succeed. I know the importance of seeing possibilities, and I want them to see what's possible."
College Life
"When I went back, I fully committed to College life – which doesn't mean I just studied all the time, though I did set myself up so that I could concentrate on my work.
"College life is also about the people you meet – from all over the world, from all different backgrounds and experiences – it's a chance to find yourself a bit and express yourself. I had already been a member of the Equality Society and, when I repeated 2nd Year, I took on the presidency of the society – which is a lot of work in a smaller college like NCI, because membership is smaller, so there are fewer people to delegate to! But it was one of the happiest experiences of my life, I will always be proud of the work I did.
"In 3rd Year, that last term before the College closed because of Covid-19 in March 2020, I launched a poster campaign across the campus where members of the Equality Society proudly came out to their peers. If you can be visible, you should be visible, to strengthen those who might not feel comfortable or confident yet, and to let people know it's okay to be themselves.
"My third year ended, then, with the move online, and I did NOT adjust well at first! I had tech issues, and I felt so detached from everyone by the sudden closure of the campus, that it was hard to find the energy to engage with them and fix them, there was so much going on. But I'm not naturally a passive person – so when I was heading into 4th year, I did a major upgrade, did online tutorials for myself in all the platforms we use, so that when the year started, I was ready!"
I ❤ NCI
"I have to say – I love NCI! I mean, no place is perfect, you know? But the thing is, when I spoke up in NCI, I knew I'd be listened to. From the first day I started College, I met such lovely people there; everyone, from the lady in the canteen, who is so friendly, through the Student Support team, who really actually do have your best interests at heart, to the lecturers on the marketing programme: really sound people.
"There is not a lecturer I had that I wouldn't want to meet again – especially Dave Hurley and Dermot Bradfield, Louise Maguire and Dave Cormack; I feel like I could contact any of them right now and they'd still help me if I needed it, and I will stay in touch with them all."
Marketing Practice Capstone Project
"In the final year of Marketing Practice, rather than a thesis, we do a Capstone Project. We worked directly with Shopify to conceive of, product source and test, and create an actual business of our own, with an integrated campaign to bring it to market and promote it.
"I had been toying with an idea for some time… candles with jewellery inside. You gift someone a candle, scented to preference, and when it burns down, it releases a piece of jewellery that you had selected for them. I had seen some indie/alternative versions of this that intrigued me and felt it could be marketed to a mainstream audience.
"The first people I sold the concept to were the other people in my group, because this was a group project! Luckily for me, they bought it. Because it is something I am genuinely interested in, I took on a lot of the product research – obviously, only certain materials respond well to being encased in wax and set on fire! But there is so much more you have to consider, from health and safety regulations through to the possible actions of the end-user.
"One of my first lessons was Candle Burn Time…. It took me 18 hours to video the prototype burning down to release its inner gift!
"The project also taught us business planning, finance, market research – both existing products and possible competitors or collaborators and customer identification - presentation, packaging…. Everything! Candlelit Gems was a success. We wound it down and donated the profits. For my team-mates, it had been a good learning experience. For me, it had been a chance to see that my idea could actually become a real business.
"I'm continuing to research – I've been looking at the idea of Irish Beeswax candles, small level production of high quality, very personalised gifts. I see lots of potential for different collections, maintaining authenticity, possibly in collaboration with other artisans. I'm moving to setting up my own business now."
Life lesson
"Of course, I've also just moved to Belfast and am preparing to start my full-time MSc in Marketing at Queens. I could never have started my higher education in a place the size of Queens, it's intimidating! I might have gotten lost! NCI has given me the confidence, as well as the education, to go to Queens.
"In any college or university, if you ask for support, you will get it – and if I had one thing I'd say to all third level students, it is to remember that you will never again be in a place that will offer you so much support so readily if you ask for it! In a smaller College like NCI, you are more visible to your lecturers, so if you start having a rough time, like I did in 2nd Year, your lecturers will actually notice and ask you if you need help – of course, you still have to be brave enough to get over yourself and say yes!
"One of the things you learn in Marketing is to marshal your resources – you might have a great idea for a marketable app but not be able to code, so you need a programmer – that doesn't make you a lesser person, not to be able to do everything, it makes you a smarter person, knowing that you need input from other experts.
"I know I'm bringing really strong knowledge and experience, as well as a tested business idea, with me onto my Master's programme, and am also assured enough to know that I have loads left to learn and am open to what others can teach me – and I will always be learning, my whole life."
We wish Rebecca every success in her academic and business endeavours. Curious about studying marketing at NCI? Visit our BA (Honours) in Marketing Practice course page to learn more.