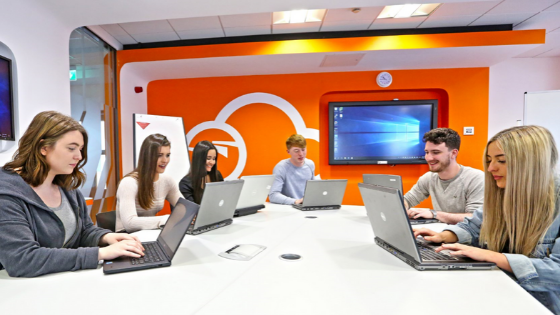 Data science is a relatively new and emerging field. As it's not a well-known study area, it causes uncertainty for second-level students who are considering their college options and applying for courses through the CAO.
So, let's dive in and get to know data science better...
Data science is the study of information – where it comes from, what it tells us and how to convert it into a useful resource which can help businesses make decisions, solve complex problems and create strategies to improve results and performance. It's an inter-disciplinary field which mixes technical ability with business insights to drive change based on intelligence.
What does a qualified data scientist do? Your tasks might include:
Collecting large sets of data from various sources
Cleaning and validating data to ensure accuracy
Applying data analysis techniques to gain insights
Analysing the data to identify patterns and trends
Interpreting the data to discover solutions and opportunities
Effectively visualising and communicating the results to support business decisions
If you're looking for a clearer picture of working in this area, you can read what a group of established professionals working in the field of data science across a wide array of industries say data scientists really do in the Harvard Business Review.
An example of a well-known company using big data to improve user experience is streaming giant Netflix. Netflix collects huge amounts of user data to understand what type of content interests the subscriber and targets users with suggestions for the next show or movie to watch. Another example is oil giant Shell who use data science techniques to anticipate machine failure at their facilities across the world.
Now that you understand what it is, here are some big reasons why data science might be the right choice for you to study at college:
1. Earning Potential
Studying data science in college can lead to a lucrative career. According to the Higher Education and Outcomes Report released in July 2019, ICT graduates receive the highest weekly earnings five years after graduating compared to other sectors (based on the analysis of the destinations of students who graduated between 2010 and 2016).
However, data science is one of the top paid technology jobs above other IT and management roles with the average base pay over €50K in Ireland according to job search site Glassdoor. So, if you're willing to put the work in, it will be worth it.
2. Employment Opportunities
Full-time BSc (Honours) in Data Science students will have the opportunity to complete a six-month work placement in their third year of the course. This allows students to gain valuable experience while they are still studying, ensuring that they can hit the ground running when they graduate the following year.
NCI computing graduates are highly sought after with many students completing their work experience in established companies such as Microsoft, Intel, Citi, SAP, Irish Life, Vodafone and Workday. The college hosts a showcase event before students leave the college where students can display their talents and knowledge to impress potential employers. Many students gain employment as a result of networking with employers at this event.
3. Alternative Entry Method
For students who are worried about securing a H5 in Mathematics in your Leaving Certificate, they can complete our Alternative Mathematics Exam to study data science at National College of Ireland. Leaving Certificate students who are not studying Higher Level Maths or are concerned that they may not achieve the required grade can undertake our maths exam as an alternative method of entry to our data science courses.
Free preparation classes will be held at the college in advance of the exam from Monday 17th to Wednesday 19th August with the exam taking place on Thursday 20th August. You can email our School Liaison Officer Karen Campbell to register you place for the exam.
4. Free Fees Initiative
Both our BSc (Honours) in Data Science and Higher Certificate in Data Science courses qualify under the Free Fees Initiative and the Student Grant Scheme (SUSI).
This means that students only pay the contribution fee which covers administration costs along with the gym charge. However, students who are eligible for the SUSI grant do not pay the student contribution fee. These initiatives ensure that pursing third-level education is a viable pathway for students who may not be considering college as an option for them due to financial concerns.
5. Learn Cutting-Edge Technologies
Data science graduates develop technical expertise providing them with the skills to guarantee they will be ready to jump straight into the workplace when they leave college. Students will be encouraged to build an understanding of new technologies such as data modelling, machine learning and artificial intelligence as they progress through the course.
Along with this in-demand skillset and expertise getting students ready for a role as a data scientist, the NCI Careers Team will provide valuable training to support students before they start their job hunt. This involves technical job interview techniques, personalised CV preparation and advice on building a professional online profile.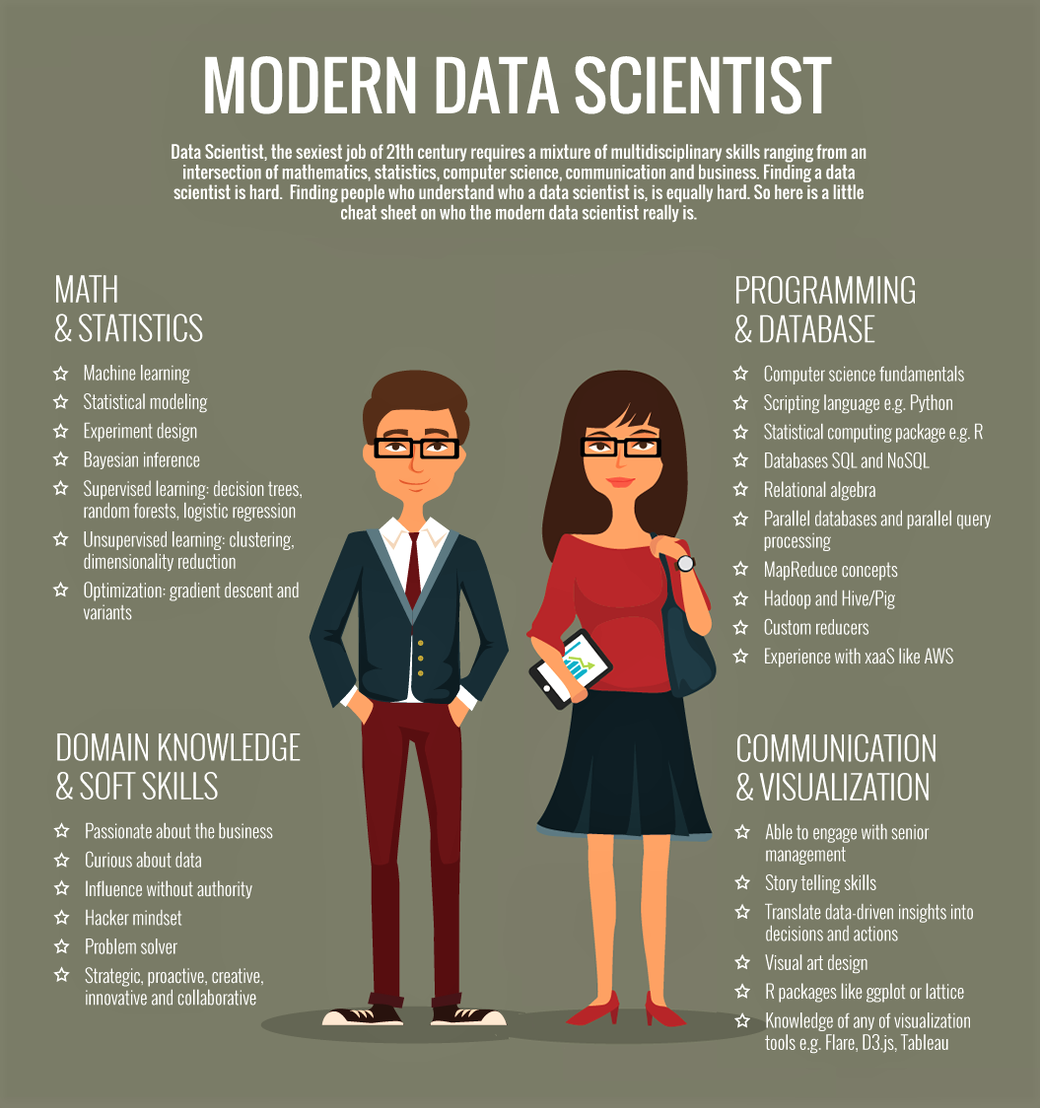 Image: Moazzem Hossain (Medium.com)
6. Global Demand for Data Scientists
There is an acute shortage of qualified data scientists worldwide. A recent report from job site Indeed revealed a 29% increase in the demand for applicants for roles in the area of data science year-on-year while there has been a staggering 344% increase since 2013 with searches by job seekers growing at a slower pace (14%) suggesting a gap between supply and demand.
Given that there is such a demand for applicants for these roles across the globe, this gives graduates the opportunity to combine travel and gain international work experience which can serve to enhance your CV and your future employment opportunities.
7. Work Across Various Sectors
One of the best things about being involved in this area is that data scientists can work across a range of industries and sectors. Some of the top industries for data science professionals include healthcare and pharmaceutical, financial services, manufacturing, logistics, telecommunications and the automotive industry.
As a data scientist, you can make an impact in your role by examining the performance of key areas of a business such as sales and marketing, operations and customer services and driving positive changes based on evidence.
8. Future-Oriented Role
Data is the driving force behind industries in the 21st Century. Anyone planning to develop their knowledge of the data science field is placing themselves in a strong position for a successful future career.
Forward-looking enterprises who understand that data fuels the future are hiring data scientists now. It's the career of tomorrow and promises to deliver a future-proofed career for anyone who equips themselves with knowledge of technologies such as machine learning and artificial intelligence which will help them become a truly valuable asset to their employer.
9. Contribute to Society
Yes, data science can make the world a better place. There are many 'good news stories' attributed to experts evaluating data in creative and intelligent ways so as to produce effective results.
A recent example involves a group of data scientists and medical experts who collaborated at Oxford University to create a more efficient contact tracing process during the COVID-19 pandemic. The team used mathematical models to show that traditional methods were not fast enough to thoroughly slow the spread of the virus. Given this information, they created a mobile phone-based solution which sends text messages to anyone who has been in direct contact with a confirmed cased directing them to self-isolate immediately.
10. Best of Both Worlds
If you think that you have a flair for business, you have a desire to develop your technical skills and you're fuelled by the need to understand big data, then studying data science is the right choice for you. It's a highly skilled profession which combines technical ability with business acumen and has an abundance of opportunities for growth.
You will gain knowledge of a range of concepts such as computational thinking, problem-solving and programming, data visualisation and project management.
Studying Data Science at National College of Ireland
Students have the option to include both of our data science courses on their CAO form to ensure that they can accept an offer for the Level 6 course if they do not meet the requirements for the Level 8 course. View the course pages for further information:
Remember that our Alternative Mathematics Exam will take place on Thursday 15th September which will allow you to pursue the course even if you're worried about the Higher Level Maths entry requirement.
To get to know the course even better, listen to Dr Arghir-Nicolae Moldovan, Programme Director of the BSc (Hons) in Data Science, discuss the structure of the programme, the employment opportunities it offers along with the support the college provides for our students in this video:
Have some questions about studying data science at NCI? Get in touch with our School Liaison Officer, Karen Campbell, who will be more than happy to discuss any queries you may have!