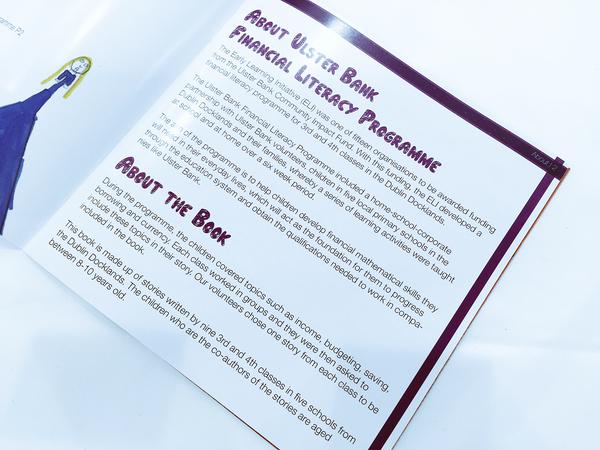 Poor numeracy is a national issue, and one which seriously affects life chances. Research reveals enormous differences in the maths skills of children when they first start school, and indicates that it is very difficult to close the gap.
But there are ways to address the balance, as the Ulster Bank Financial Literacy Programme, an innovative community and corporate partnership run by the Early Learning Initiative at National College of Ireland, has proved.
Over a four month period, the college worked with 126 school children from five schools in the Dublin Docklands, to improve the financial literacy skills required for money management and everyday tasks, like budgeting and saving.
Supported by Ulster Bank, whose volunteers visited the schools to provide lessons on a variety of financial topics, the programme resulted in the creation of a new short story book, called Sailing on the Saving Seas. The book, launched yesterday at Ulster Bank by Mr Kevin Humphreys TD, Minister of State at the Department of Social Protection, is made up of one story from each of the nine classes who were involved in the programme. All authors are aged between 8 and 10 years old.
Dr Philip Nolan, Chairman of Ulster Bank, said:
"We are delighted to support ELI and their fantastic work with schools in Dublin's Docklands. It's initiatives like these that go a long way to providing practical, meaningful support to teachers and school children alike. "
Dr Josephine Bleach, Director of the Early Learning Initiative at NCI, said:
"The involvement of Ulster Bank staff as volunteers was a key motivational factor in helping the children engage with and understand these financial theories. Their enthusiasm and energy made the cognitively challenging activities fun and enjoyable for the children. We are very appreciative of the generosity and commitment of Ulster Bank, without whom, this programme would not be possible. Together, we are helping these young people develop the skills they need for education and employment."