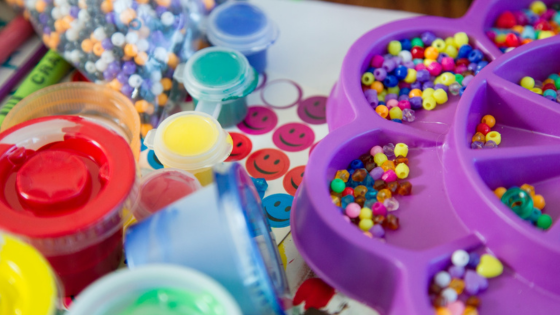 This is a guest blog post from the Early Learning Initiative at NCI which works to address the problem of educational underachievement in marginalised communities.
Sensory play can be a valuable tool for children's development, but the mess it can create often worries parents. Fortunately, there are ways to enjoy the benefits of sensory play without wrecking your home. In this blog post, we'll explore the benefits of sensory play and provide activities that won't take all day to clean up.
The 7 Senses
Humans have seven senses, including the commonly known senses of hearing, taste, touch, sight, and smell, as well as the vestibular and proprioceptive senses. The vestibular sense helps with posture, stability, and movement, while the proprioceptive system registers sensations in muscles, joints, and tendons to establish body position and manage motor tasks.
Benefits of Sensory Play
Sensory play offers several benefits for children, including:
Helping sensory-sensitive children explore new situations and sensory-seeking children obtain desired sensations
Allowing children to express their thoughts and understanding through role-playing, material exploration, and imitation
Increasing children's knowledge of the world and themselves
Providing a calming effect for children who have experienced trauma through water play
Promoting healthy brain development as children engage in sensory activities
With these benefits in mind, it's worth exploring sensory play with your child, and with our clean-up tips, you can enjoy the benefits without worrying about the mess.
Sensory Bags for Kids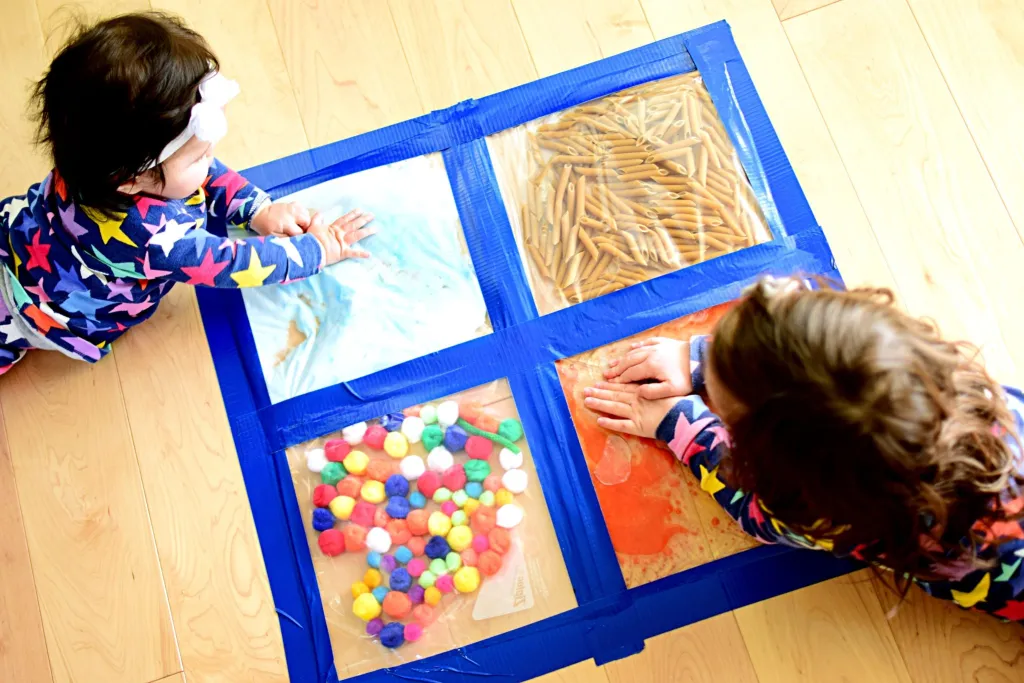 Sensory bags are a fun and easy way to engage your child in sensory play. You can customise them to suit your child's interests and adapt them to their needs. Here's a simple guide to making your own:
Materials:
Clear Ziplock bags
Duct tape
Ideas for Sensory Bag Fillings:
Water beads
Hair gel with pom poms, glitter, confetti, or flowers
Water and oil
Cooked pasta
Slime
Paint
Shaving foam dyed with food colouring
Instructions:
Choose your desired materials and place them in a clear Ziplock bag. Seal the bag and use duct tape to reinforce the edges, ensuring that it doesn't leak.
For added stability, tape the bag to the floor or a flat surface.
Remember to adapt the activity to suit your child's needs. For younger children, consider removing smaller items or doing the activity on the floor. With these simple steps, you can create a fun and engaging sensory activity for your child.
Summer Soup: Mess-Free Outdoor Sensory Activity: Summer Soup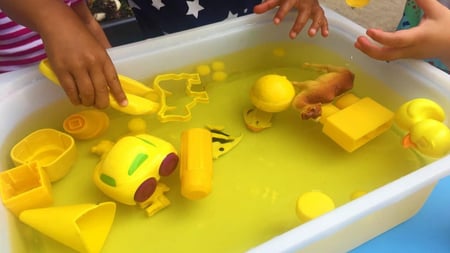 Sensory play doesn't have to be messy! With this outdoor activity, you can enjoy the benefits of sensory play without worrying about cleaning up the floors. Here's how to make summer soup with your child:
Materials:
Large container
Water (with optional food colouring)
Lemons (cut into slices)
Flowers and leaves
Utensils:
Ladles
Pots
Spoons
Bowls
Cups
Small containers
Instructions:
Fill a large container with water and add food coloring if desired. Add lemons, flowers, and leaves.
Gather the utensils your child would like to use.
Let your child play and explore with the materials in the container.
By doing this activity outside, you can enjoy the benefits of sensory play without worrying about cleaning up the floors. Plus, your child can enjoy the fresh air and sunshine while they play.
DIY Fairy Dough: A Simple and Fun Sensory Activity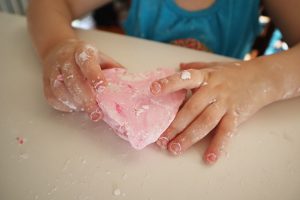 Fairy dough is a fun and easy sensory activity that you can make with just a few materials. Here's what you'll need:
Materials:
340g corn flour
250ml conditioner
Food coloring
Bowl
Mixing spoon
Ideas for Utensils and Materials:
Playdough cutters (cookie cutters or cups can be used instead)
Rolling pin
Flowers
Buttons
Beads
Mini bells
Kid-friendly scissors
Glitter
Googly eyes
Lollipop sticks
Instructions:
In a bowl, mix the corn flour, conditioner, and food coloring until it forms a dough-like consistency.
If the mixture is too liquid, add more corn flour until you achieve the desired texture.
Once you've made your fairy dough, let your child's imagination run wild with the utensils and materials you've prepared. They can create their own fairy garden, build a castle, or make their own creatures. With this simple and fun sensory activity, your child can explore their creativity and engage in imaginative play.
DIY Obstacle Course for Kids: Fun and Easy to Make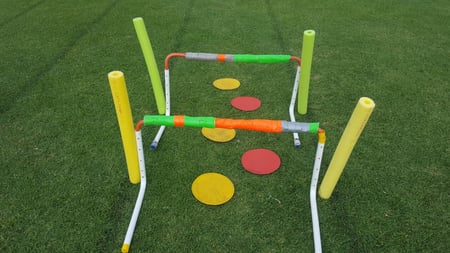 An obstacle course is a great way to get your child moving and having fun. Here's what you'll need to create your own obstacle course:
Materials:
Hurdles or something that children can hop over
A cone
Instructions/Ideas:
Start with some bouncing exercises to warm up
Run to the cone and back
Do donkey kicks
Bunny hop over 5 hurdles or a hurdle-type equipment
Do wheelbarrow walks to a wall
Finish with wall push-ups
By using simple materials like hurdles and a cone, you can create a fun and engaging obstacle course for your child. You can also add different exercises or challenges to keep things interesting. With this DIY obstacle course, your child can improve their coordination, balance, and strength while having fun.
This sensory play information was compiled by Emma McCracken, while on a 3-month work placement with NCI. Emma has since successfully achieved her honours degree early childhood education at DCU.