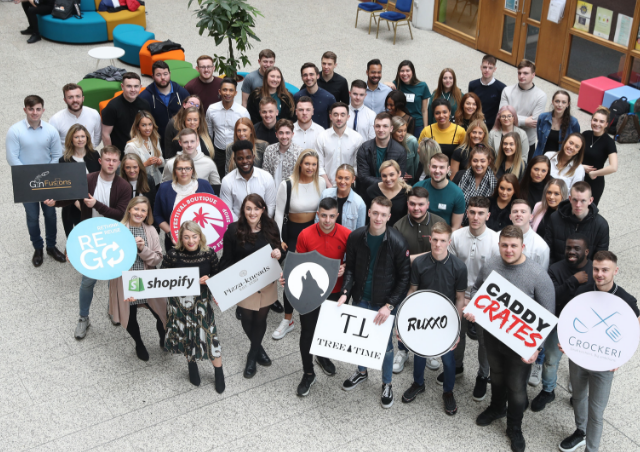 A new tradition was started at NCI with the inaugural Final Year Marketing Project Showcase event in collaboration with Shopify. Third year BA (Honours) in Marketing Practice students impressed attendees by presenting the outstanding brands they developed in groups as part of their capstone projects.
The capstone project for this marketing course brings together the knowledge and skills students cultivated across various subjects such as brand management, consumer behaviour, digital marketing and entrepreneurship. This is the first year the college has established a partnership with ecommerce software company Shopify to work with students to build strong brand identities by providing guidance and encouraging analysis of all areas of their businesses before it launched. Customer Support Team Lead with Shopify, Gary Mullin, attended many of NCI Marketing Lecturer David Hurley's classes in the college to share his extensive knowledge of the ecommerce platform but also to provide strategic direction from his own background in marketing and his experience helping Shopify customers grow their businesses which provided our students with the learning experience of a lifetime.
From environmentally sustainable coffee cups to RFID-blocking protective wallets, these are the innovative brands our students developed using Shopify's ecommerce tools:
1. Norsecafé
The ethos of this brand of strong coffee is to be the 'fuel for your voyage', connecting the strength of their coffee with Viking heritage. The group intend for this product to replace highly-caffeinated energy drinks, particularly for the younger demographic including the student market.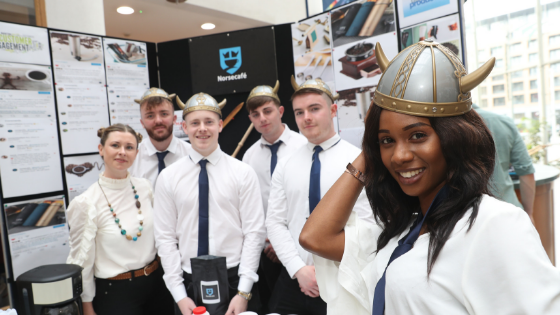 Instagram: @norsecafe
2. Gin Fusions
Unsurprisingly, this was an extremely popular stand at the showcase as the group offered samples of gin with their premium botanical fusions to attendees. This group leveraged high-quality photography to promote the different flavours on offer such as juniper berries and hibiscus flowers.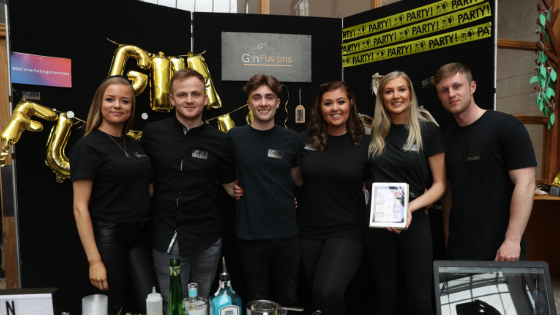 Instagram: @gin_fusion
3. Re Go Eco
This environmentally group of marketing students developed their brand to 'say no' to single use plastic products with their bio-degradable coffee cup. The group rallied NCI students to join their beach clean up day at Sandymount during the semester, an activity which strongly supports their brand values.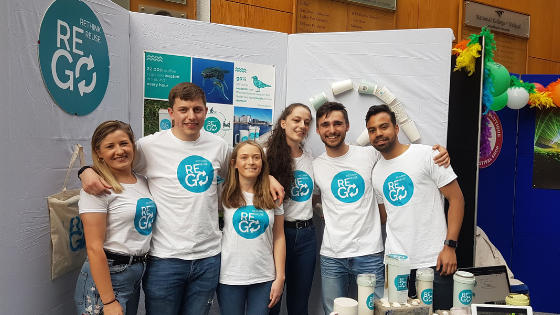 Instagram: @re_go_eco
4. GLOW
Having discovered the healing power of crystals, this group created a beauty brand with four types of handheld face and body rollers made from amethyst, citrine, hematite and rose quartz hailing the products for their healing powers and other benefits - Gary even tried them out!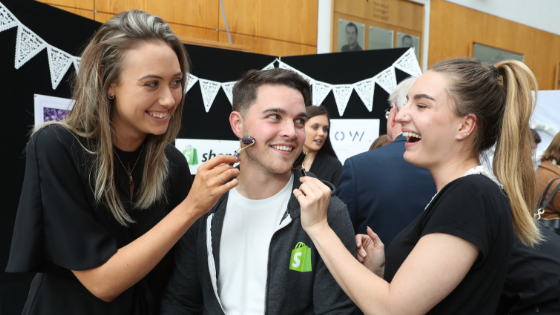 Instagram: @glowcrystalrollers
5. Armour & Wolfe
As technology such as contactless payments advances, so too does the threat of these changes being exploited. With this in mind, this group of marketers are combating the issue with 'modern armour', stylish RFID wallets designed to protect against wireless card fraud while looking smart.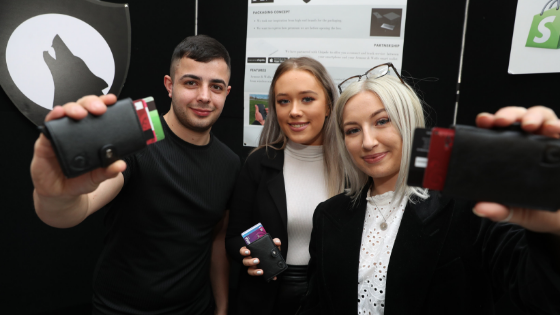 Instagram: @armourandwolfe
6. Ruxxo Sox
With their fun brand of exclusive sock wear, this colourful group are looking to appeal to the 'hipster' market who want to be stylish from head to toe and set trends with their unique choice of stylish foot apparel which can't be found anywhere else and help their customers be the best versions of themselves.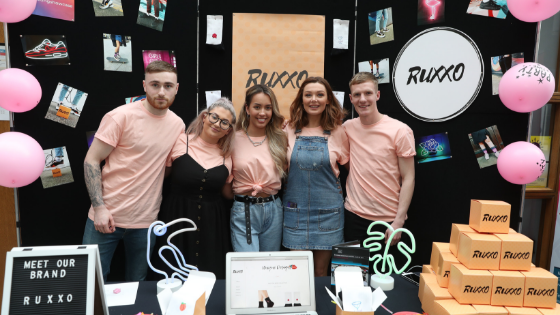 Instagram: @ruxxo_sox
7. Tiny Tailored
This group undoubtedly have the cutest Instagram account which is filled with adorable personalised baby outfits promoting their offering as well as aligning with their brand tagline 'little ones, little once'. The brand celebrates a special time by providing a unique product which can be kept forever.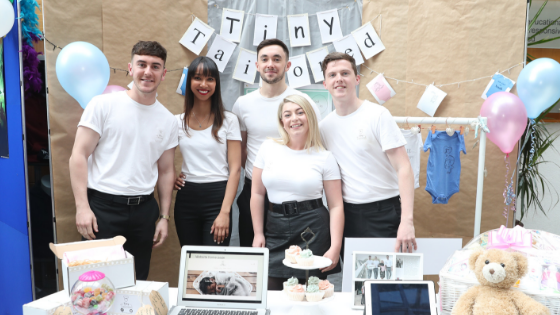 Instagram: @tinytailoredshop
8. The Festival Boutique
This online store is a one-stop shop for all your summer festival essentials selling everything from tents, chairs, chargers and, of course, lots of glitter! As you can see, the party theme continued at the team's showcase stand with bright colours and dance music...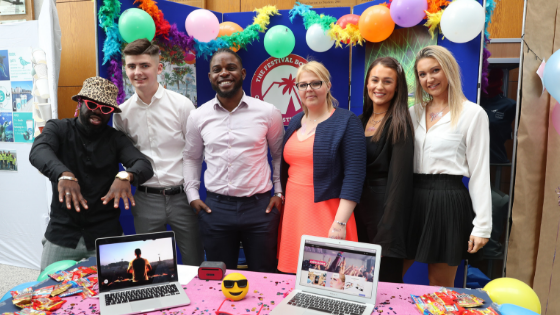 Instagram: @thefestivalboutique
9. Caddy Crates
Surprisingly, this was the only group in the class who created a sport-related brand offering golf enthusiasts a subscription service to test new products and get exclusive discounts on golf balls and accessories. This interactive stand attracted attention for offering attendees a chance to get a 'hole in one' on their mini green.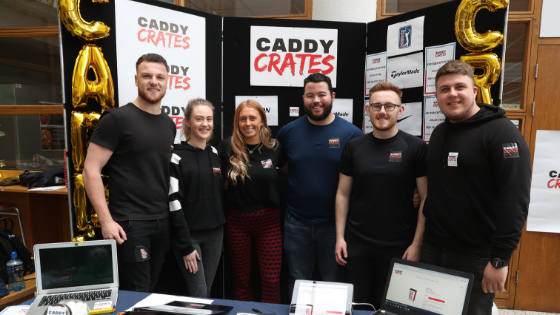 Instagram: @caddycrates
10. Crockeri
These products are a great solution for limited kitchen space as they help to reduce mess and save time meaning customers can fully embrace their passion for cooking, no matter how much kitchen space they have. The brand tagline is simple but explains the concept clearly - 'small kitchen, big ambitions'.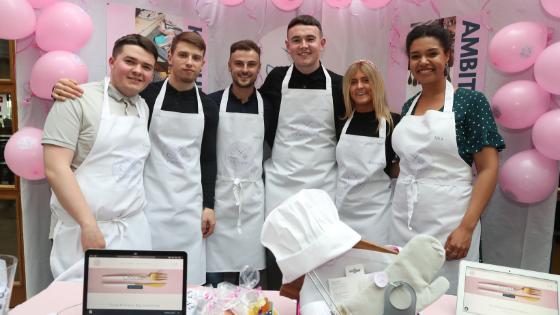 Instagram: @crockerikitchens
11. Tree Time
Our second environmentally-focused group of marketers developed a range of handcrafted watches made using natural wood, bamboo and leather. The watches are individually crafted with unique characteristics with each one sold generating a donation to non-profit organisation 'Trees for the Future' to plant a tree.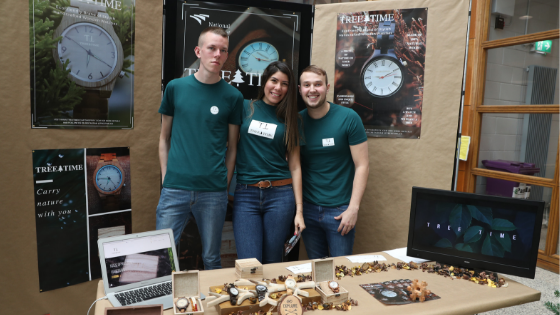 Instagram: @treetime.com
12. Pizza Kneads
With the aim of building a community for pizza loves, this brand focuses on connecting people with a passion for this popular Italian food. Offering a baking stone which achieves the perfect takeaway style pizza at home their their ecommerce store, this stand was turning easily heads at the showcase event.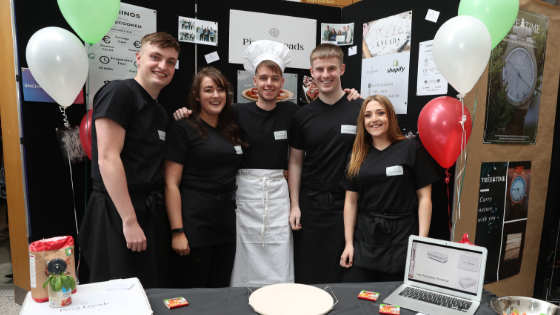 Instagram: @pizza_kneads
Further details of the class of 2019's marketing projects can be found on the NCI Shopify Showcase Brochure. Members of the Shopify team came along on the day to capture the event in progress and some words of wisdom from the educational team involved in the programme:
If you're interested in becoming an expert in marketing like this group of soon to be graduates, take a look at our BA (Honours) in Marketing Practice course or advance your skills with an MSc in Marketing (either part-time or full-time). We're already looking forward to the next marketing showcase to see what the incoming final year marketing practice students will come up with!