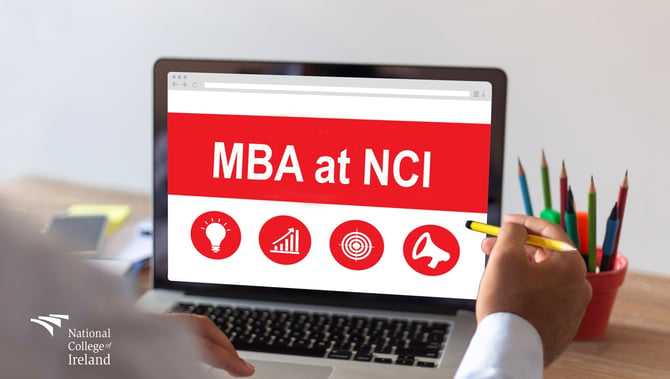 Looking for a Dublin MBA? Rob Ward, NCI Director of Student Recruitment, shares his experiences.
If you have questions about studying the MBA with us, come to our Taste of an MBA event from 6pm to 8pm on Thursday 15th August to attend a mini lecture and meet current students and graduates:
Each year at National College of Ireland we meet people at our open information evenings that are thinking about doing the MBA. They have heard it's a well-regarded qualification, they want to take the next step in their career and they are often looking to get the broader more holistic or "CEO" perspective on the business. But at the same time they often have doubts. Will everyone in the class already be a leader, a captain of industry? Will I be out of my depth? What will the people in the programme be like and will I learn from them?
When I stepped into my MBA class I had some of these fears. However, I think what you learn and what I see from students on the MBA at NCI is that you really learn so much from the people in your class. You could be sitting discussing a case study about a manufacturing company and getting the insights and opinions of someone from financial services, a graphic designer, a restaurant owner and a serial entrepreneur.
This type of cross pollination of ideas and experiences is a vital part of your journey on an MBA. So I would say embrace and enjoy it.
The MBA can help you with your career in many ways. For example a survey of graduates in 2008 carried out for the MBA Association of Ireland by Amárach Consulting found that the degree resulted in significant career change and professional growth, whether through promotion (44 per cent), change of position (39 per cent) or change of employer (39 per cent).
Apart from these tangible benefits the MBA can also give you access to a tremendous new network for life. It can give you the opportunity to broaden your horizons into other areas of business. It can also really give you a great confidence boost and the trust in yourself to lead teams, organisations or industries.
Every year our MBA cohort features a diverse range of professionals from across a range of sectors. We find that students from all sectors benefit considerably from the experience of their fellow classmates. Here is a profile of a recent MBA group at NCI to give you some idea of the type of people who undertake the Masters in Business Administration.
| | |
| --- | --- |
| Job Title | Sector or Industry |
| Chief Financial Officer | Infrastructure Group |
| Business Development Manager | Development Sector |
| Client Services Manager | Financial Services |
| Treasury Analyst | Enterprise Software |
| Export Sales Manager | Building Materials |
| Director of Operations and Supply Chain | Food Sector |
| Treasury Technology Lead | Pharmaceutical |
| Chief Executive Officer | Infrastructure Group |
| Graphic Designer | Not for Profit |
| Programme Coordinator | Charity |
| Infrastructure and Energy Manager | Telecommunications |
| Managing Director | Infrastructure Group |
Find out more about our MBA course, hear what students and employers have to say or meet the team! You can also come along to the next "Taste of an MBA" event on Thursday 11th April.
Questions? Feedback? Leave us a comment below. All commenters on NCI's blog get added to a raffle, to win a weekend away!