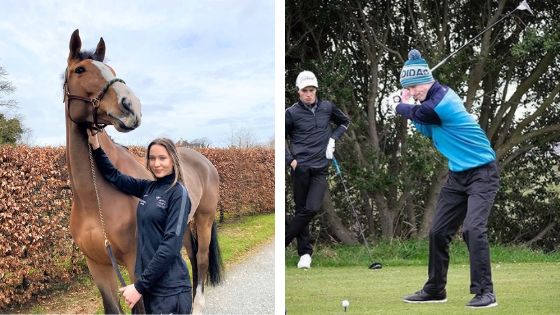 Did you know that our Sports Scholarship covers a range of sports, not just football and basketball?
Psychology student Kasia is a showjumper while Human Resource Management student Ethan is a competitive golfer. As sports scholars, both Kasia and Ethan enjoy a range of benefits including:
Financial bursary of €2,000 each year of study
Annual gym membership
Personal training sessions
Nutrition and dietary advice
Performance coaching
Branded athlete pack
Students applying to study at NCI through the CAO can also avail of a reduction in points required to join their preferred course (up to 30 points). Applications are currently open for new full-time students. It's completely free to apply and you can submit your form online, so you won't need to print or post anything.
Visit our Sports Scholarship page to see the full package and to watch a video featuring two of our other sport scholars. Let's get to know Kasia and Ethan a bit better!
Tell us about the course you're studying at NCI.
Kasia: "I'm really enjoying studying the BA (Honours) in Psychology. The curriculum turned out to more extensive that I expected but this has shown me the many career possibilities that will be open to me when I graduate. Even though the course can be challenging at time, the lectures are so interesting – classes just fly by!
What I really enjoy about the course is the discussions that take place. Not one lecture occurs without one. In psychology, your own opinions and experiences are welcome and are often discusses during the lecture (depending on how open you want to be).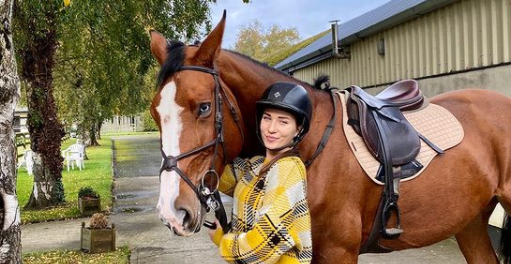 As a dyslexic student, I have been offered extra supports such as extended exam times, e-books, and special recorders for lectures so I can listen back and write up my notes at home. There are many supports available for all students at NCI, it's one of the many things I love about the College."
Ethan: "My course is the BA (Honours) in Human Resource Management in NCI's School of Business. It's a great course where you cover a range of interesting subjects from Employment Law, Economics and Financial Accounting in first year to specialising on HR modules in second and third year such as Industrial Relations, Performance and Reward Management and Learning and Change in Organisations.
There is a good mix of practical work and theory across the modules. The lecturers are extremely knowledgeable and helpful and have been a great support to me throughout the course.
One important element to mention is that, while it's a three-year course, you can decide to do a year work placement in industry which will help you stand out from the crowd when you graduate."
Can you share details about your sporting background?
Kasia: "I began competing as a showjumper when I was 17 and slowly moved up the levels and progressing new horses. One of my greatest accomplishments was coming 5th in the Horseware Ireland Championships. I also achieved some 1st places in Amateur classes.
Now that I have moved up from the Amateur category, I can definitely say that one of the most important things I have learned is that a good support team is vital to success. This includes a trustworthy coach, friends and family members who are available to help care for the horses and even other athletes who understand the sport."
Ethan: "Here's a quick rundown of my golfing achievements to date:
Member of Skerries Golf Club with a current handicap of 1
2018 – Boys Captain, Skerries Golf Club
2018 – Challenge Cup Winner, Skerries Golf Club
2017 – Challenge Cup Winner, Skerries Golf Club
2016 – Boys Golfer of the Year Award, Skerries Golf Club
The main objective of the Sports Scholarship for me is to improve my golfing abilities while enjoying the programme as much as possible. Not everyone gets to represent their college within their respective sport and that is something I take great pride in.
The scholarship programme offers great opportunities to improve at your sporting performance as well focus on your academic goals. Taking advantage of this is important, while also enjoying the process along the way. Earning this scholarship was one of my best sporting accomplishments to date."
How has the Sports Scholarship benefited you during your time at NCI?
Kasia: "The Sports Scholarship has helped me both with my physical health and financially. NCI has a great team of physiotherapists at Peak Physio who have helped me understand my body's strengths and weaknesses. They gave me a range of exercises which helped me work on improving the areas I tend to struggle with.
The bursary is a great help. As you can imagine, showjumping can be pretty expensive at times. The financial support that was included in the scholarship package gave me the opportunity to buy a new saddle which fit me and my horse better, resulting in an improved position over the jumps and better overall comfort while riding."
Ethan: "The Sports Scholarship has greatly benefitted me throughout my time at NCI. The programme offers students the opportunity to consult with leading training professionals, obtaining advice on both fitness and nutrition regarding their sport.
Working with Peak Physio over the past two years has been excellent; receiving a personal training, gym, and dietary plan specific to golf has been invaluable. The scholarship programme also offers financial supports for both sport and academic expenses."
How do you balance study and your sporting responsibilities?
Kasia: "I must admit, balancing college and showjumping can get exhausting at times. But eventually you fall into a routine and it really taught me to be organised and not to waste precious time.
Generally, I try to train before my lectures and then study in the evenings. Since Friday to Sunday is taken up with competitions and travelling, I try to get most of my work done in the evenings during the week. I'll always take my laptop to overnight competitions with me so if I have a bit of time and the energy at the end of the day, I'll do some work in the hotel."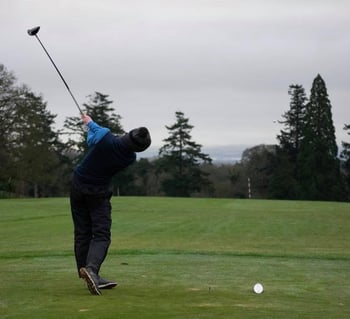 Ethan: "The learning supports NCI offers allows athletes to keep up-to-date with their academic requirements throughout the sporting year. During the off-season in the winter months, having free access to SV Fitness beside the college is a huge bonus as it allows me to maintain my fitness levels when college golf tournaments may not be occurring.
I play golf whenever possible, at the weekend and after college when time and daylight allow. Golf is also a good way to get fresh air after a day of studying and working on assignments, even if it is nine holes in the late afternoon."
Do you have any tips or advice for someone considering applying for the Sports Scholarship at NCI?
Kasia: "My advice for any CAO students who are thinking about applying for NCI's Sports Scholarship is to just do it! Don't underestimate yourself. The online form only takes a few minutes to complete and the interview process is not as scary as it seems at first. It just involves a chat about your sport which, if you're passionate about it like me, is an easy topic to discuss.
Best of luck to anyone applying for the scholarship – you won't regret it!"
Ethan: "My advice for future students considering applying for the Sports Scholarship Programme would be to go for it. If you're passionate about your sporting activities and want to compete at a high level while at college, this is a great opportunity to improve your performance and benefit from financial support for both college and sport expenses. Going through the scholarship interview process is a valuable experience in itself that will stand to you going into the future."
Applications for the Sports Scholarship are currently open. If you have any queries about the programme, get in touch with our Sports Team by emailing sport@ncirl.ie.