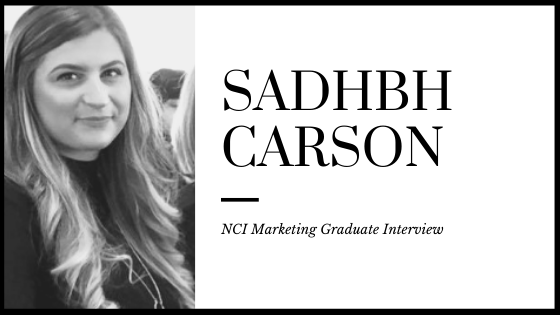 Gaining a qualification in marketing can be your passport to a career in a variety of areas, whether you're interested in digital marketing, brand management, market research, sales or product development. For Sadhbh Carson, graduating from NCI with a BA (Honours) in Marketing Practice degree equipped her with the skills and experience to join the SAP Graduate Programme.
Having joined the programme in 2016, Sadhbh has now progressed to become a Senior Territory Manager for the company's HR solution, SuccessFactors. After a positive few years at the company, Sadhbh recently qualified for SAP's top sales performers programme based on her sales achievements and has been highly commended by the company's Regional Business Development VP, John Massey, who commented that she has been 'an extraordinary ambassador for the programme during her time at SAP'.
Sadhbh tells us why she decided to study marketing at NCI and shares her advice for anyone considering adding the BA (Honours) in Marketing Practice to their CAO application along with her experience working at the multinational software company, SAP.
Why did you choose to study the BA (Honours) in Marketing Practice at NCI?
Just like a lot of students applying for courses through the CAO, I was unsure of the area I wanted to specialise in at third-level. I spent a lot of time researching degrees that covered multiple modules and topics and felt that the BA (Honours) in Marketing Practice at NCI would help me delve into the world of marketing but would also allow me to progress my learning across a range of business subjects.
As I was considering studying at NCI, I spoke to past students of the college who recommended the hands-on approach lecturers took in class and the open culture within the college. I wasn't doing any business subjects for my Leaving Certificate at the time so I felt that this practical approach would help me ramp up my learning and get settled into the college easier and I was right!
What part of the course did you enjoy most and why?
I really enjoyed the live projects we worked on during the course which allowed us, as students, to partner with Irish companies to understand their business strategy and align our knowledge to support their requirements. Part of this project included presenting our ideas to management teams and executives in these organisations. I credit this experience with helping me build the strong communication skills I have now which have been invaluable to me in my professional career.
The wide variety of modules offered as part of this course from Brand Management to Emerging Technologies for Business, Entrepreneurship to Innovation and Creativity in Business, truly allowed me to find my passion and niche.
What skills and abilities did you develop as a result of studying this course?
Completing the marketing practice degree at NCI has equipped me with a huge amount of knowledge and confidence in my abilities.
In particular, I have a strong understanding of consumer strategy and excellent project management skills as a result of working on group assignments during the three years of the course. I have also gained the ability to build a strong professional and personal brand image as I am aware of how important this is for my career development.
What attracted you to join the SAP Graduate Programme in 2016?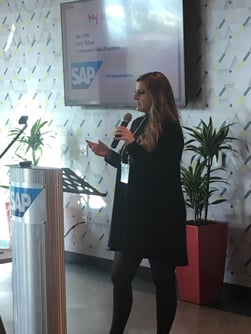 When I applied for the SAP Graduate Programme, the NCI Careers Team helped me prepare for the interview, gain a fuller understanding of the role and how I could apply what I had learned during the degree to the requirements outlined in the job description.
SAP has been a fantastic company to work for; they have embraced my development and offer learning opportunities for employees at every stage of their careers.
Tell us about your experience working in a large multi-national company.
I am just entering my fourth year with SAP and I have loved every second of the job!
When I started, I was on an internship and I am now a Senior Territory Manager for our HR Solution SuccessFactors. My work involves recruiting new clients and also supporting existing clients as they implement SAP products. I have been given the opportunity to work with some really exciting brands and travel frequently which is something I enjoy.
What advice would you give to anyone considering studying the BA (Honours) in Marketing Practice at NCI?
This course is the beginning of your career; use it as a platform to network with peers and meet organisations you could possibly work with. With the variety of modules offered through the BA (Honours) in Marketing Practice degree, you will get the opportunity to find your passion!
Sadhbh Carson studied the BA (Honours) in Marketing Practice at National College of Ireland.