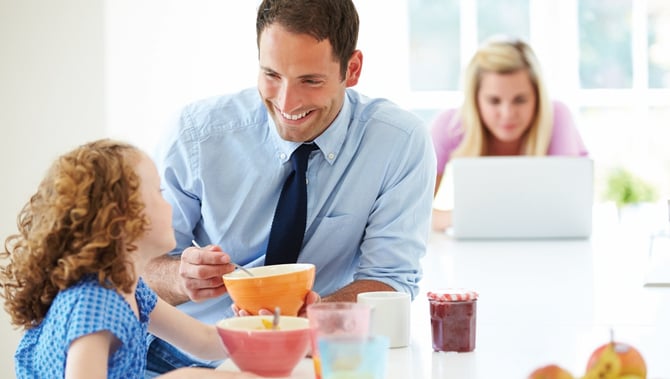 "I had been thinking about going back to college to do an MBA for quite some time. I put it off at first because I was concerned about managing my studies with my work schedule, and with my family life. After I had my first baby, these concerns were even stronger. I was also worried about fitting in with my classmates and concerned I didn't have as much work experience as they had.
I decided to face my fears head on. I talked to my boss and my husband – separately! – and with their support I put together a schedule that factored in work, class time, study time and family. I was able to share this with them so they knew what demands I had on my time. I also asked the college about the profile of the people who usually did this course. They sent me a list and I could see they were from a wide range of backgrounds and ages, so I felt more comfortable about my contribution to the class.
On the two nights a week I had class, my husband took care of childcare and dinner arrangements. I managed to fit in most of my studying and assignments after my daughter's bed-time and during her naptimes at the weekend. It was definitely challenging but the hard work was worth it and I am really happy with what I have achieved. I gained a lot of new knowledge and skills and as an added bonus, my presentation skills also really improved.
I really enjoyed my experience of studying the MBA at NCI. It was convenient for me to get to and from and I found myself really looking forward to the class discussions. I made friends in my class from a wide variety of backgrounds and we all keep in touch."
Grainne's tips for returning to education:
Be very organised. Things like getting the washing done at the weekend and building in family time will help you find a good balance. If you find you have a spare half hour, use it to read a journal or revise your notes. Get the most out of every available minute you have.

Don't let your fears hold you back. Yes it's a lot to take on but you will feel great when you have met your goals.

Consult with your employer, get their support and buy in and ask for their opinion on particular courses and colleges. They might also be able to contribute financially.

Build your support network and when friends or family offer help, take it! At particularly busy times my sister would take the wee one to let me concentrate on my studies and when I was writing my dissertation she went to visit granny and grandad for the weekend.

Check out your chosen college's credentials - are the courses accredited, and can you attend an open event and speak to students and lecturers?

Make sure the college you choose is convenient to your workplace and your home! You don't want to waste time on your commute.

Check out what supports are offered by your college – things like extra classes and study groups can make a difference.

Set a regular schedule and stick to it even when you find it tough. Share your schedule so people know what commitments you have and can help keep you on track!

Your classmates will be a valuable network for you so make sure you get to know them and keep in touch after the course.

Embrace technology, it makes it so much easier. We set up a WhatsApp group for the class and were constantly in contact on that and on Moodle, which is a virtual learning application.
If you're ready to take the next step in your educational journey, check out the courses NCI is offering for a September start or if you're interested in studying an MBA come to our Taste of an MBA event.
Blog post originally written in December 2016 and updated in March 2018.