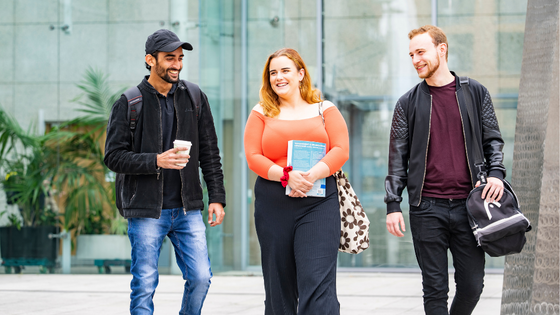 For many prospective students, choosing a third-level institute that is right for them can be a harrowing task. To make life a little easier, we've put together ten reasons why you should choose NCI to further your education.

Reason 1: Student Services
National College of Ireland goes the extra mile to ensure that every student's time spent here is enjoyable as possible. Guided by the wellness concept which values a student's social, physical, psychological and spiritual well-being, NCI offers its students a wide range of free services to ensure they get a rewarding and fulfilling college experience, both personally and academically.
Reason 2: Small Class Sizes
Many students that attend larger institutions struggle to build unique personal relationships with their lecturers or classmates. National College of Ireland's teaching practice of smaller class numbers allows the students to form a more personal and approachable relationship with their tutors and fellow students.
Reason 3: Dedicated Staff
Our lecturers here at National College of Ireland are not only industry professionals, but dedicated tutors and educators who go the extra mile, to ensure you receive the best third-level education possible. From day one right through to your final exam, our lecturers and staff are committed to ensuring you get the most out of your college course.
Reason 4: Location
Attending third-level education isn't all about lecture halls and presentations. One vital aspect of college is the social life - and what better city to spend your days off and nights out in than Dublin? One of the most friendliest and vibrant cities in Europe, Dublin offers an array of activities and events to enjoy, and with National College of Ireland situated in the heart of the capital, you will never be too far from the fun. We're smack bang in the middle of the action - check out our Instagram account for pictures of our surrounding area.
Reason 5: Graduate Employment
National College of Ireland has one of the most consistent and best graduate employment records in Ireland. 96% of full-time NCI graduates who graduated are in work or further education with 88% of those who are employed working in graduate-level roles. Our Graduate Destinations Reports detail where NCI graduates go after finishing their full-time qualification.
Reason 6: Transport
National College of Ireland's prime location means our campus is one of the most easily accessible in the city. Situated in the IFSC, our campus is only a few minutes' walk from Busáras and Connolly train station, with the LUAS passing by our door every six minutes. We have our own LUAS stop right (Mayor Street - NCI) right on the doorstep!
Reason 7: Global Connections
National College of Ireland has numerous links with leading universities throughout the world including Stanford, UC Berkeley and Cornell University. These links have cemented NCI as one of the top third-level education institutions in the country.
Reason 8: Highly Relevant Courses
Through our School of Business and School of Computing along with our Centre for Education and Lifelong Learning, we offer internationally-recognised full and part-time programmes accredited through QQI. We work closely with industry and professional bodies such as the Chartered Institute of Personnel and Development, Institute of Commercial Management and the Psychological Society of Ireland to ensure courses closely align to industry needs.
Reason 9: Industry Professionals
All our courses are designed and delivered by professionals who are experts in their fields, and combine the highest academic standards with industry experience to ensure our graduates are ready to hit the ground running.
Reason 10: Clubs and Societies
NCI boasts a wide variety of exciting student-friendly clubs and societies which cater for a broad range of interests and hobbies. This allows our students to try new things, meet new friends and most importantly have fun. Take a look at some of the clubs and societies you can join!
To learn more about National College of Ireland, check out our upcoming events to find an online webinar or a campus meetup that will help you answer questions you have about studying with us.
This post was originally published in 2015 and was updated in 2023.