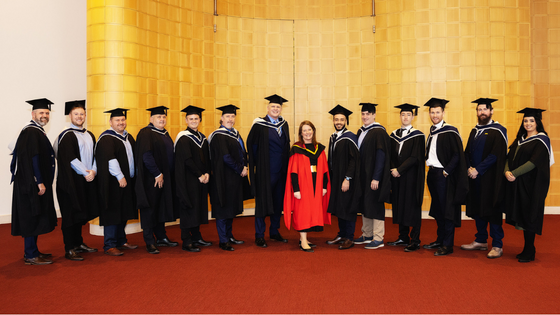 An MBA is an internationally recognised qualification that will enable you to position yourself to take advantage of career opportunities at the highest level of business. The MBA at NCI emphasises the development of business and management skills to solve problems through structured analysis, effective decision-making and strong communication and leadership skills.
Applications for our MBA programme starting in September 2023 are currently open. For further information and to apply, visit the course page.
Our MBA students come from a wide and diverse range of industries but tend to have one thing in common; the desire to work hard and progress in their career. We spoke to a number of graduates of this prestigious degree who share the reasons why they chose NCI for their MBA, what aided their decision-making process and the personal and professional benefits they have experienced as a result of undertaking this qualification.
"It helped put my career on the right track"
- Andy Byrne, Learning Consultant at Meta
Andy, who you may recognise from our recent advertising campaign, found that he was able to understand and contribute to business areas he didn't feel confident in before undertaking his MBA. This helped him gain new perspective and take his career to the next level.
The word Andy uses to describe the MBA is transformational. When participating in an MBA taster session for future students, Andy shared that there are so many ways he has changed, adapted, and grown in both his personal and professional life since he has completed the two-year MBA degree at NCI.
If you're at a crossroads in your career, unsure what your next steps are, this internationally recognised qualification gives you the opportunity to dive into various business areas to give you confidence when speaking in the boardroom. Overall, it's something everyone can benefit from.
"It's the best decision I've made, I'm reaping the rewards"
Erica Coen, Business Development Manager at Chanelle Pharma
Erica's decision to pursue an MBA was career-driven. At a point where she realised she needed to take action to get to the next level in her career, she started engaging with a number of colleges to discuss their MBA programme but NCI was her top choice due to the community-based learning approach and supports available to part-time students.
Discussing the lectures during an MBA taster session, Erica said that the calibre of lecturing is fantastic and that the quality of lecturers delivering the content is unparalleled. Students come from a variety of industries which brings enormous value to the classroom as different perspectives and mindsets are shared, resulting in an interactive and engaging learning environment.
Reflecting on her journey after the first year of the degree, Erica found that she was more agile in her work and decision-making process and that she was backing herself in more ways than one at work. At that stage, she was able to say that choosing the MBA at NCI was the 'best decision I have ever made. I am reaping the rewards from that decision in both my personal and professional life'.
"I could put the learnings into practice on a daily basis"
Eamon Sharkey, Director of Marketing, Fundraising and Communications at Goal
Before applying for the MBA at NCI, Eamon felt there were gaps in his understanding of the business world as it had been several years since his last time in education. Similar to Andy, Eamon found that the MBA helped him build confidence when applying strategy and making important business decisions.
When considering his study options, Eamon found that the MBA was the right direction for him as it was broad – touching on many areas of his organisation such as HR, finance, and marketing – but it also allows students to focus on areas that interest them. He also felt employers would consider a postgraduate qualification to be valuable but that the prestige of an MBA would really help him stand out from the crowd.
Eamon points out that while undertaking the course, he was able to directly put into practice key learnings that were taking place in the classroom, whether that was roundtable discussions or theoretical approaches to organisational challenges.
"The standard of lecturers on the MBA is world class"
Adam Shah, Vice President Operations Risk at Citi
Having worked at Citi for a number of years, Adam credits the MBA at NCI as being a crucial factor in helping him achieve a big promotion. Sharing his reasons for recommending the MBA at NCI, Adam notes that it is an internationally recognised qualification and that the standard of lecturers delivering the course is world class. As NCI's faculty are drawn from industry, "the lecturers not only had the theoretical understanding but the practical experience behind what they taught."
In terms of the business insights the degree offered, Adam shares that the MBA gave him the edge in his career as it allowed him to understand how every decision can impact the bottom line.
"It was a personal goal, I felt I had unfinished business"
Marion Ryan, Director of Retail Operations at Paddy Power Betfair
As a director of retail, there was knowledge Marion wanted to gain in areas like leadership, finance and law. She felt that it would have been difficult to gain that knowledge at work or through self-learning, so further education seemed like the most obvious route for her.
Getting a master's was also a personal goal to tick off Marion's list. She felt she had unfinished business with formal education and regretted not making the most of college the first time around. Going back and restarting that journey is something Marion says she would recommend to anyone.
"I saw the MBA as a gateway to higher-level career roles"
Djimillah Djemai, Strategy Project Manager at Accenture
Djimillah believes that in order to build a successful career you need to stay relevant – and to stay relevant you need to accept you don't know everything. You must continually learn.
Having studied business at undergraduate level, the more she learned, the more she realised there was so much more to learn. To give herself an edge, she realised she needed to push herself even more. The MBA is viewed by many employers as the gateway to executive positions. It also offers a plethora of opportunities to extend your network and learn from experts in a wide scope of industries – both classmates and lecturers.
"I found that joining a taster session helped me make the decision"
Andrew Bennett, Head of Project Management & Business Implementation at CACEIS
When discussing his decision-making process, Andrew knew that he had to do his homework beforehand so he did a lot of online research, spoke to people who had completed MBA degrees in various colleges and found out that you could join a taster event where he could speak to lecturers and previous students which he thought would be the best way to go about it.
After attending a Taste of an MBA event at NCI, Andrew knew that this was the course he was going to do based on the community feel in the College. He liked that classes were small, giving students the opportunity to really get to know classmates and lecturers which improves the learning experience.
Are you interested in attending a taster session? We will be sharing the date of our next Taste of an MBA event soon, keep an eye on the events section of our website for the latest updates.