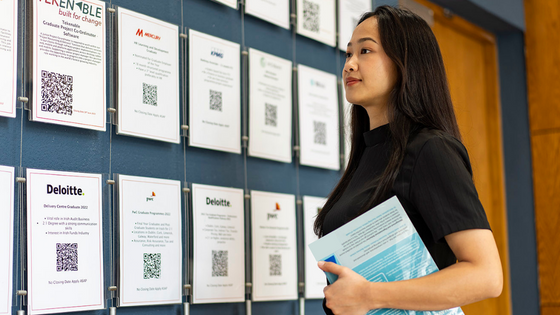 There's a new opportunity at National College of Ireland for someone who is looking to kickstart or advance their career in accountancy.
Our new MSc in Accounting, starting in September 2023, will allow students to fast track their accountancy career by gaining generous examination exemptions from the professional accountancy bodies. This is a conversion course meaning students with undergraduate degrees from disciplines such as computing and engineering, along with those holding related qualifications such as business, can start or continue their journey to becoming a professional accountant by completing this full-time programme.
Developed in response to industry feedback and the global shortage of qualified accountants, this course offers fantastic job prospects and will help you take advantage of the demand for individuals who fill this skills gap.
Assistant Professor Theresa Mulcahy is the Programme Director for the MSc in Accounting at NCI. She is immensely passionate about the opportunities this course offers students so she has shared her top 5 reasons why you should pursue a master's in accountancy.
1. Professional Accounting Exemptions
If you're wondering why you should apply for a master's in accounting, well this just might be it. To become a fully qualified accountant, you need to complete a number of professional exams offered by the professional accountancy bodies but students who graduate with our MSc in Accounting will have exemptions from a number of these exams.
For example, Chartered Accountants Ireland (ACA) have 3 sets of exams which you would need to complete after your undergraduate degree. However, if you complete the MSc in Accounting at NCI then you will already have the first set of exams (CAP 1) done. With that first box ticked, you will only have two sets of exams left before you are a fully qualified accountant who is capable of earning a highly competitive salary and has job security.
Graduates may claim the following professional exemptions:
Association of Chartered Certified Accountants (ACCA): Various papers at the Applied Knowledge and Applied Skills levels (9 papers in total)
Chartered Accountants Ireland (CAI): Full CAP 1 exemptions
Certified Public Accountants (CPA Ireland): Foundational Level (Financial Accounting, Management Accounting and Taxation), Professional Level (Financial Reporting, Advanced Taxation, Corporate Law, Audit & Assurance and Managerial Finance)
Exemption criteria are subject to change, students and graduates should check with the relevant professional bodies for the up-to-date criteria.
Watch our recent course information webinar to hear more about the professional exemptions and the course structure:
2. Career Prospects
If you're the type of person who craves structure, then a career in accountancy could fulfil this need for you. By electing to join the postgraduate route, you are following a structured career path; not only will you have a guided pathway to becoming a fully qualified professional accountant, but you will have a head start on other job applicants due to the number of exemptions you will have gained as part of the MSc in Accounting at NCI.
"I'm very passionate about this programme. I think that within a year you have such a great start to your career. It is an intensive year, but it's definitely worth it."

Theresa Mulcahy, Assistant Professor
As this is a new degree, we don't currently have employability stats for the MSc in Accounting. However, the closest comparison can be made with the MSc in Finance which has a 97% employability rate. This incredible statistic shows the strong demand for graduates with knowledge and expertise in this field. Graduates of the MSc in Accounting can be employed in audit or taxation roles or as trainee accountants or analysts.
3. Competitive Candidate
Not only will you be highly sought after as a graduate of the accounting discipline, but you will have an edge over other candidates as a result of being a partly trained accountant.
This new degree will be globally recognised and will give you the opportunity to distinguish yourself as a top candidate in an industry or practice role. Not only will you expand your knowledge and expertise with a postgraduate qualification, but you will accelerate your growth by undertaking modules which will help you develop leadership skills and an understanding of the accounting world, along with the impact trends and current affairs has on the landscape.
4. Career Change
NCI's faculty members, many of whom also work in industry, are consistently hearing that there is a shortage of trainee accountants in Ireland. This means that there is a good opportunity for anyone who already has an undergraduate degree in a different field to transition to a career in accounting which will provide a high return on investment and a structured career path.
"In five years' time, you will look back and say that this was a really good decision."

Dr Colette Darcy, Dean of NCI's School of Business
As it is a conversion course, the MSc in Accounting will bring you from the basics of accountancy right through to your professional exam exemptions. It is also a lucrative career as recent graduates can join training contracts for three years with industry employers such as Deloitte, PwC, EY, BDO, Grant Thornton or Citi, and complete the remaining professional exams with support from your employers while earning a highly competitive salary.
5. Extended Visa
There is an additional reason to pursue a master's degree in accounting and it's a pretty big one for international students. Those who travel to Ireland to complete a level 9 postgraduate degree can avail of a 1-year Study Visa and a Graduate Work Visa for up to 2-years. However, as Ireland is trying to attract more trainee accountants, MSc in Accounting students may apply for a Professional Training Accountancy Visa which will allow international students to stay here for up to 4-years.
This would mean that after completing NCI's MSc in Accounting and gaining exam exemptions, you can continue your training whilst on this special visa. This gives you the time and space to complete your training and become a fully qualified accountant in Ireland while working and earning a salary.
Visit the Department of Justice website to learn more about this visa.
What's Next?
By completing the MSc in Accounting at National College of Ireland, you will not only develop foundational knowledge of accountancy but you will gain generous professional accountancy body exam exemptions that will set you apart from other graduates in the business arena and highlight you as a very attractive part-qualified accountant for potential employers.
NCI has an ambitious and vibrant business school. When you choose to study with us, you can be confident that you will have an excellent educational experience and great employment prospects. This is a full-time level 9 programme so it is a step up from undergraduate level, but you will gain invaluable skills and expertise that will help you drive your career forward.
Visit the MSc in Accounting course page for full details on the content, entry requirements, indicative schedule and more. If you are applying as an international student, explore the international section of our website for useful information such as scholarships and agents in your country.