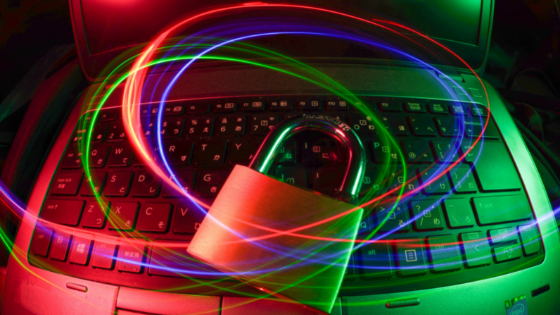 Cyber-attacks and online fraud stories are in the headlines now more than ever before. Grant Thornton Ireland recently reported that the total economic cost of cybercrime in Ireland in 2020 was €9.6 billion, a massive increase since their first report revealed that the cost was €630 million back in 2014.
These factors, along with the growing sophistication of threats, mean that there is a spotlight shining brightly on the cyber world and on experts who can protect companies and consumers on a daily basis. While there are many reasons to study cybersecurity, capitalising on a growing area with a skills shortage is always a smart decision.
National College of Ireland's range of cybersecurity courses can help you develop world-class skills and detailed knowledge, allowing you to add value to your team and organisation or to build a bridge between your current career path and a new role in this growing sector. Part of the support you will receive at NCI will be from the Careers Team and your dedicated Careers Advisor, Conor Nugent. Conor works with students on a one-to-one basis outside of your classes to prepare your CV and LinkedIn page and conduct mock interviews for internships, graduate programmes, and other entry-level cybersecurity positions. Even once you finish your course, you will have access to our award-winning Careers Service for 6 months after you graduate so you can continue working with Conor and the team to land your dream cybersecurity role.
So you can see the industry is growing and there are supported pathways to a new career, but what are the really big reasons you should consider cybersecurity?
1. Rising Demand for Cybersecurity Professionals
A recent study conducted by non-profit cybersecurity network (ISC)² found that Ireland needs 10,000 more cybersecurity workers to meet the rising demand for skilled professionals in this area, with an estimated skills shortage of more than 199,000 cybersecurity professionals across Europe. While the number of new entrants to the sector has grown annually, the demand continues to outpace the supply of talent.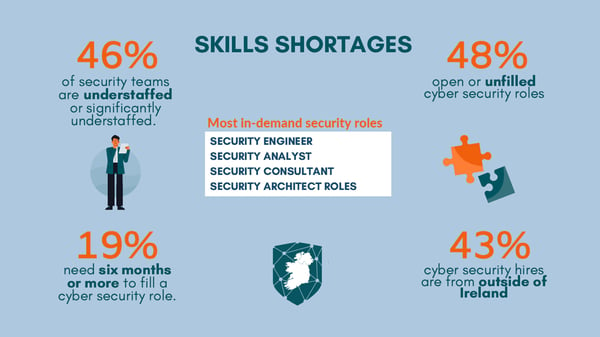 Image: Cyber Ireland Skills Report 2021
Cyber Ireland, the national cyber security cluster that brings industry, academia and Government together to represent the Irish cyber ecosystem, further illustrates the growing demand for cybersecurity professionals in their Skills Report 2021. The research into the cybersecurity market trends shows that, of the organisations planning to hire, 82% will hire technical security staff with 50% planning to hire new graduates. This confirms that, not only is the industry looking for experienced recruits, but that there is an appetite to onboard new graduates and provide the required training.
2. There Are Some BIG Companies Hiring Right Now
Speaking of career options for cybersecurity professionals, there are a number of well-known domestic and international companies hiring graduates at the moment in Ireland including:
A&L Goodbody
Accenture
AWS
Deloitte
EY
Fidelity Investments
Google
HEAnet
Hewlett Packard Enterprise
IBM
Mastercard
PwC
ServiceNow
Twitter
Zurich Insurance Company
We recommend signing up for the NCI Careers Newsletter so you can receive weekly alerts listing the graduate recruitment opportunities in this field along with upcoming career events and other useful resources.
3. Studying Cybersecurity is Accessible to All
You can take the direct route from an undergraduate computing degree (specialising in cybersecurity) to a postgraduate qualification and become a master of cybersecurity. However, if you're a non-technical graduate, having previously studied business or science for example, there's an option for you to upskill by studying the Higher Diploma in Computing (Cybersecurity) at NCI.
Irish Rugby Sevens Player, Ian Fitzpatrick, previously studied business at undergraduate level but decided to pursue a career in cybersecurity after working in a small tech firm for a number of years. He shares his story with us including the reasons why he decided to return to education and his advice for anyone considering the challenge of upskilling as a cybersecurity professional through this course.
4. You Will Gain A Range of Valuable Career Skills
Not only will you gain specialised cybersecurity skills such as conducting forensic investigations, vulnerability and incident detection and investigating breaches, but you will also gain some highly useful transferable skills.
Your communication skills will come into play when presenting your findings, your ability to analyse a problem will be put to the test when developing computing solutions and you will need to draw on your teamwork skills when working together with your classmates on assigned projects. If you're studying a cybersecurity course part-time at NCI, whether that's online, blended or in-person, and you have other responsibilities outside of this, you will find that you will have gained expert time management skills by the time you graduate.
5. It Will Lead to Meaningful and Important Work
The importance and value of the cybersecurity profession has been recognised more and more in recent years, particularly with large hacking stories making front page news such as the HSE ransomware attack in May 2021. Cybersecurity engineers and consultants are the skilled experts that companies turn to when these situations occur meaning that people working in this space can make a real impact when hacks take place; you could say that you get to be the hero of the story!
Outside of the newsworthy cyber breaches, your work in this area would save the company you work for money on a regular basis and your ethical contribution to projects would prevent crime and contribute to the strength of your organisation's security posture.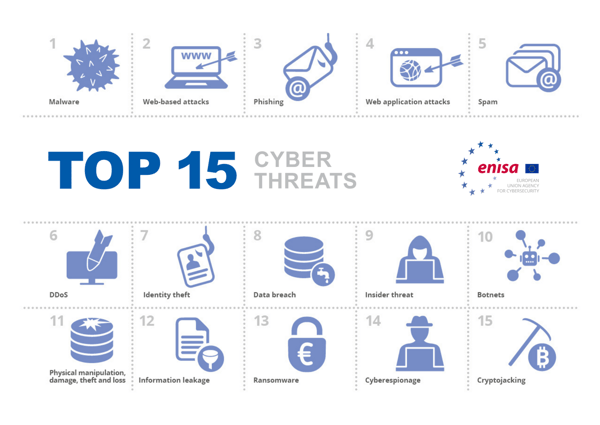 Image: European Union Agency for Cybersecurity
6. You Will Be Able to Earn an Attractive Salary
Graduate salaries in cybersecurity roles are attractive with almost a third earning between €35k - €45k according to the Cyber Ireland Skills Report 2021. The average salary for a cybersecurity expert in Ireland is €52,750 according to job search website Jobted with the highest salaries exceeding €85,000, showing there is high earning potential if you decide to move into a career in this field.
To support MSc in Cybersecurity students in their search for graduate roles with desirable salaries, we offer an internship in the third semester of the course. This provides you with a direct connection to companies who are actively seeking to build their IT security team. 70% of companies who hosted a cybersecurity intern in 2021 went on to hire at least one of their interns into graduate positions following their placement. In addition to this opportunity, students can connect with NCI alumni through the NCI Tech Network on LinkedIn and through the many tech events that the NCI Careers Team host.
7. You Can Choose Which Area to Specialise In
While cybersecurity is a specialisation itself, you can fine tune your skills in a specific area and become an expert in that that space. Common roles include:
Cyber Security Analyst
Cyber Architect
Cyber Security Consultant
Penetration Tester
Information Security Analyst
Cloud Security Analyst
Security Engineer
Security Audit Analyst
Threat Analyst
Application Security Engineer
Security Researcher
DevSecOps Engineer
Network Security Engineer
Cyber Risk Consultant
Cyber Compliance Analyst
8. You Will Have the Opportunity to Travel the World
The skills shortage and demand for cybersecurity professionals isn't limited to Ireland; many countries across the globe are welcoming international workers in this field. The number of unfilled cybersecurity jobs grew by 350%, from 1 million positions in 2013 to 3.5 million in 2021, according to Cybersecurity Ventures.
This is good news for those trained in the area as it means you can decide to live in another country and not worry about job security. Many international companies give their employees the chance to work abroad in other countries they have bases in which is a great way to make your CV stand out the next time you apply for a new role.
Studying Cybersecurity at National College of Ireland
No matter what stage of your education journey you're currently at, NCI offers a cybersecurity course that suits you. Visit the course pages below for detailed course content, entry requirements and to apply.
Undergraduate Courses
Postgraduate Courses
View the full range of cybersecurity courses available at NCI.
The Postgraduate Diploma in Science in Cybersecurity is funded by the Springboard+ initiative meaning it's free for those who are unemployed and those in employment pay reduced fees. Visit the course page on the Springboard+ website to apply.