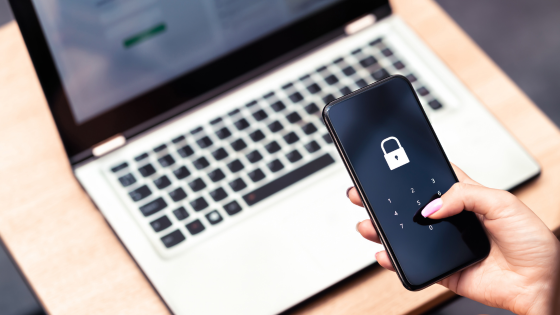 While technology continues to evolve and change the way we work for the better, so too do the challenges that come with it, most notably around protecting key information against cyberattacks. The threat of such attacks is at an all-time high, with Grant Thornton Ireland reporting the economic cost of cybercrime in Ireland to be €9.6 billion.
These threats have increased the demand for cybersecurity specialists, with organisations now actively seeking out skilled professionals who can protect the privacy and confidentiality of their sensitive data.
If cybersecurity is an area that you are interested in building a career in but aren't sure if you are the right fit for it, don't worry. We've outlined below some of the skills that cybersecurity professionals should possess to help them excel in the field.
(And don't panic if you see a skill mentioned that you feel you aren't strong in, at NCI we provide a number of Cybersecurity focused courses that can help you get up to speed).
1. Risk Management
Understanding the risks posed to your organisation and implementing a strategy to eliminate these threats is a major part of a cybersecurity professionals' role. Identifying these threats early ensures your company can prepare sufficiently, upgrading areas of the businesses that may have previously been vulnerable to attacks.
Risk management skills that cybersecurity professionals should develop:
Risk Assessment: The ability to estimate and identify security threats and outline mitigating actions to resolve the situation.
Compliance and Regulations: Be aware of industry-specific compliance requirements (e.g GDPR, or Network and Information Systems Directive (NISD) for example) and any relevant cybersecurity regulations to that industry or country.
Troubleshooting Issues: Be able to swiftly find a solution to any cybersecurity issues that arise across the organisation, whether it be a device, network, cloud, web, or application breach.
2. Technical Proficiency
It may seem obvious but is worth stating that if you intend on entering the world of cybersecurity, you will need the technical ability to succeed. Whilst not wholly necessary, individuals looking to start in this industry will ultimately benefit from having a STEM (Science, Technology, Engineering and Maths) degree and some programming ability.
Technical skills that cybersecurity professionals should develop:
Programming: The ability to code is key to most technology roles in today's work environment and cybersecurity is no different. Cyber professionals will need to ensure they are skilled in programming languages, such as HTML, Javascript and Python, to ensure they can code solutions to any suspicious activity they come across on their network.
Security: Strong security awareness skills are required to identify data breaches, potential phishing attempts and other malicious activities. Penetration testing is an area of training that cybersecurity professionals should focus on, as it is an exercise that helps to find and exploit vulnerabilities in an organisations' computer system.
Network Administration: Understand how to manage an organisation's network protocols and configurations in order to correctly set up a firewall and detection systems to protect the company's information.
3. Data Management
Cybersecurity will involve you working with vast amounts of information, so it is crucial that you are comfortable managing and analysing datasets. Whether it's personal details being submitted through a website form or credit card information accompanying an online order, cybersecurity professionals must ensure that the data is collected and managed appropriately to prevent any serious security breaches occurring.
Data management skills that cybersecurity professionals should develop:
Data Collection: Be familiar with all the channels that the organisation collects data from to help detect potential breaches that may occur.
Data Storage: Ensure that the systems in place for data storage are secure, appropriate, and compliant with relevant regulations. For example, GDPR states the personal information can only be held as long as it is needed, after which it needs to be removed from the system.
Data Analysis: Have the ability to review and understand several different datasets to identify any unusual patterns or activity to help prevent cyber threats and security breaches.
4. Adaptability Skills
Cybersecurity is a dynamic field, so adaptability and a willingness to continuously learn are essential. Whether it is implementing new technology or responding to a threat, cybersecurity professionals must always be ready for the unexpected.
Adaptability skills that cybersecurity professionals should develop:
Continuous Learning: The ability to stay on top of latest trends and technologies or regulatory changes, to ensure you have the knowledge to protect against new cyber threats that arise.
Collaboration: Cybersecurity professionals will be required to work with several divisions and teams across their organisation, so it is important you can adapt your communication to these different teams when discussing cyber issues.
Open to Change: Individuals working in this industry should be open to adopting new technologies and strategies to safeguard their organisation against complex cybersecurity threats. Relying on outdated systems could result in a major breach of your company's information.
5. Soft Skills
While much of any cybersecurity role will focus on the hard, technical skills, soft skills will also play a major part. Individuals looking to succeed in this industry will need to ensure their soft skills are to a high standard to ensure they make a real impact within their team and the wider company.
Soft skills that cybersecurity professionals should develop:
Communication: Require the ability to explain security risks in a clear, simple-to-understand manner to non-technical stakeholders.
Problem-Solving: The ability to think critically and troubleshoot complex security issues quickly and effectively.
Decision-Making: Time may be limited when handling a potential security risk so professionals in this field need to be decisive in their actions.
Studying Cybersecurity at National College of Ireland
Interested in joining the exciting world of cybersecurity? No matter your level of experience, NCI can offer a cybersecurity course that suits you. Visit our cybersecurity courses for detailed course content, entry requirements and how to apply.
Undergraduate Courses
Postgraduate Courses
Looking to find out more? If you have any questions about our cybersecurity courses, get in touch with our Admissions Team by emailing admissions@ncirl.ie.