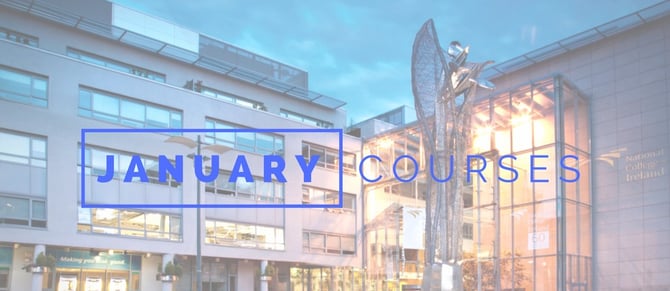 The January 2020 intake at National College of Ireland offers you the chance to begin your studies in – you guessed it – January, instead of waiting until the following September. There are many reasons for people to take advantage of this January entry; see how many of these resonate with you:
1. You want to start the new year with a firm sense of resolve, progress and achievement – and let's face it, what else would you be doing on those cold and wintery evenings?
2. You're at a transition period and you're ready to make a change right now – so why wait?
3. You've done your research and you know the course you'd like to do is available now, for a January start. Browse the list of January starting courses at NCI.
4. You want access to the same high academic quality, excellent course content and access to facilities as our September starting courses – but sooner!
5. You want to gain a head-start on the competition by being among the first to complete your course and acquire a whole new skillset.
6. You're impatient to gain advanced knowledge in the same subject area as your primary degree, or to enhance your degree with a more specialised business or computing qualification.
7. You want to earn more. Research indicates that those with postgraduate qualifications are more likely to earn higher salaries and progress more quickly to managerial positions.
8. You weren't quite ready to commence your studies in September, but you can't face the thought of waiting for another year.
9. You want to improve your employability. When job opportunities arise, your CV will be greatly enhanced by these two little words: currently studying.
10. You want an educational partner that is focused on your employability and career. NCI's courses are designed with input from industry and employers, ensuring your skills are the ones in demand.
Browse NCI's range of January courses or call 1850 221 721 to speak to a dedicated course advisor now.
This post was originally written in December 2016 and edited in January 2020.