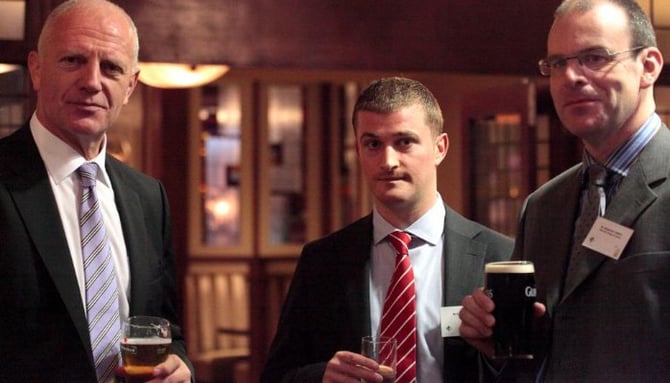 When anyone asks me how I knew Eoin Fennessy, I usually say that we were in college together. That answer is technically true, but it doesn't tell the whole story. I first met Eoin in September 2003 among a group of students in my first-ever class when I started lecturing in National College of Ireland. Eoin was a brilliant student and deservedly won the special achievement award and the student of the year award at his graduation in 2004. I wouldn't normally quote from a chant popularised by fans of Liverpool Football Club, being of a different allegiance myself. But there is a chant titled "We all dream of a team of Carraghers", in tribute to Jamie Carragher. And in an Irish football context there is the chant of "A Team of Gary Breens". Many times during my lecturing career in NCI, I wished I had a class full of Eoin Fennessys! "A Team of Fennos"!
We followed Eoin's progress, with his CIMA accounting qualification, his tax qualification, tax advisory career and promotion up through the management ranks in BDO, where he was deservedly popular with colleagues and clients. And I quickly learnt that the best way to catch up with Eoin was to suggest meeting for a 'cuppa'! Most of all, we followed with admiration the way that Eoin faced the battle with his illness since being diagnosed with a malignant brain tumour in October 2010. When I visited him in Beaumont hospital in May of 2016, the very first thing he said to me was that I must be sick of hospitals, because he knew that I had reason to visit family members a fair bit in the last couple of years. It was a typically considerate remark by Eoin. Eoin's illness didn't define him, but perhaps the way he faced it did define him. Eoin was a very private person, but put aside his natural reserve by engaging wholeheartedly in a very public campaign to raise tens of thousands of euro for cancer research.
The photograph accompanying this piece shows Eoin with the then-President of National College of Ireland, Dr Phillip Matthews, in September 2011. It illustrates another aspect of Eoin's personality: he loved making connections, and if the person was someone important, so much the better! The day after this picture was taken, I noticed that Eoin had made a new LinkedIn connection: Dr Phillip Matthews, former captain of the Irish rugby football team, and of course Eoin was a great rugby fan! So I tackled Eoin about that, and I said (slightly tongue in cheek) that it really wasn't good form to be accumulating connections like that with someone you met once at a business dinner. But Eoin didn't see anything wrong with that, because that was just his personality. In fact, I was talking recently to Paul Creedon who has known Eoin since they were both four years old, and Creedo said that in his schooldays Eoin was known as 'Friendly Fennessy' because he would chat to anyone. And inter-school rugby rivalry certainly wouldn't get in the way of making new friends!
One great piece of advice I got from Eoin's great friend and also an NCI graduate, Tiarnach Donnelly, when I was dealing with a family bereavement was: "Don't mourn the death, celebrate the life instead." So to conclude, all I wish for is that Eoin Fennessy or 'Fenno' or 'Friendly Fennessy', or however people knew him, will be celebrated for the inspirational person that he was: a great son to Tom and Lorraine; a great brother to Caroline; and an inspirational colleague and friend to so many. And in the words of Van The Man, "Let your soul and spirit fly into the mystic"!
Eoin Fennessy BA, ACMA, AITI. 10th June 1983 to 17th September 2016.
Pictured from left to right: Dr Phillip Matthews, Eoin Fennessy and Desmond Gibney, taken at the Irish Academy of Management annual conference dinner, Dublin, September 2011, hosted by National College of Ireland. Photo © Desmond Gibney; first published on LinkedIn here.