How to apply to college through the CAO: 6 Top Tips
It's coming to that time of year, where you have to make your choices about going to college; but before you do, check out our 6 top tips for applying to the CAO.
1. Register on time
Whether you've chosen your courses or not, you can apply to CAO for free by the 1st February.
If you don't register by then, you can register after the 1st Feb (until the 1st May) but there is a fee of €80 so make sure you get in on time.
2. Pick Your Courses Wisely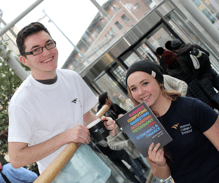 Now you've probably heard it from your Guidance Counsellor before but it is really important to list your course choices, on the CAO, based on your preference not on points.
Course points fluctuate depending on the demand for the course and the level of points that students applying to the course get; so you never know what will happen. In some cases points can fluctuate as much as 50 points up or down.
You don't want to get stuck on a course you only put as your top choice because it had higher points so make sure you ignore the points and put the course you like as number 1.
3. Check The Routes
There are tons of ways to go to college and get your degree, make sure you find out what they are.
For example, you can choose to do a level 6 cert., like NCI's Cert. in Business, which allows you to jump into 2nd year of some of NCI's degrees.
Some colleges have 1 year top up courses that you do after your leaving cert. to gain entry to their courses.
Plus, there's always the PLC (Post Leaving Cert.) option where you can do a 1 or 2 year course in a college of further education and then reapply to the CAO the following year, using your PLC results. These courses are usually structured more like college and less like school so it suits some people more.
4.Check the Entry Requirements
Most courses have some level of entry requirements attached. You need to meet all of these requirements for the course before your points are looked at for entry. Some courses require you to have a science subject or a certain level of Maths. For example, most of NCI's level 8 degrees require a C3 in 2 higher Level subjects and a D3 in 4 ordinary level subjects (including a D3 in ordinary level Maths and English).
5. HEAR & DARE
There are some great access routes into college and some have their own so check out their website. A lot of colleges are involved in HEAR (Higher Education Access Route) and DARE (Disability Access Route to Education). These can be a real help when you're applying for college as they provide some great support options and can allow you to get up to a 50 point reduction from CAO.
You apply for HEAR and DARE while applying through CAO so make sure you tick the box and have all the right documentation for your application.
6. Double Check
So you've registered for the CAO and you've filled in your courses. CAO will now send you an email with all the information you've submitted. Double check it and make sure it's all correct. If there's something wrong in the email, there's something wrong with your application and you should sort it our straight away.
Good luck from everyone at National College of Ireland, don't miss our open day on November 25th and for more information, check out CAO video on how to apply.