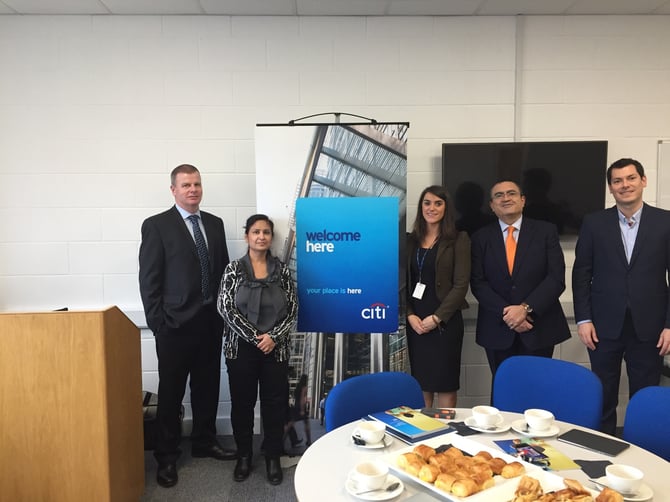 Pictured: John Fleming (Citi), Anu Sahni (NCI), Michelle O'Hagan (Citi), Horacio Gonzalez-Velez (NCI), Victor del Rosal (NCI)
With innovative high-tech proposals including Virtual Reality, Internet of Things, and Machine Learning, postgraduate computing students from National College of Ireland met their mentors from Citi to launch the Citi upStart programme. Thanks to diverse technological and business backgrounds, Citi mentors bring a wealth of experience to help the students to mature their technology-based business plans.
upStart is a team-based entrepreneurship programme run by Citi in Ireland. Teams of postgrad students from different universities propose start-up business plans, based on a new IT artefact. Each plan must be feasible and the teams have to improve their plans, together with Citi mentors, over a period of six months. Each start-up plan is judged on novelty and marketability.
The upStart entrepreneurship programme is coordinated by John Fleming, Vice President, Global Finance Technology Systems at Citi. In his capacity as the Citi upStart programme leader, he has commented that "Citi is delighted to have the National College of Ireland joining the upStart programme this year and we are really excited about the innovative ideas coming from their masters students."
In its sixth annual iteration, the Citi upStart now encompasses four leading higher education institutions in Ireland. At NCI, a selected group of MSc Cloud Computing students have competed to join the programme this year. Students were selected based on their performance in challenges within their Utility Computing module, completed as part of the Master's programme. Now, they will benefit from advice from top mentors at Citi, increasing their exposure to industry, while emphasising the importance of real-world innovation and product development.
Dr. Horacio Gonzalez-Velez, Head of the Cloud Competency Centre at NCI highlighted that "with upStart, we expect to continue nurturing novel, technological ideas from our students in order to positively impact services, products, and more importantly people's lives around the world.".
The upStart programme will culminate with Dragons' Den-style presentations to a panel of industry experts in March. The panel will include business and technology experts from Citi, Accenture, Microsoft, Dell, and Cisco. NCI students will compete with teams from three other institutions: Trinity College Dublin, Queen's University in Belfast, and the University of Limerick.
Citi upStart is a clear collaboration between academia and industry to develop talent and high- tech entrepreneurs. In addition to encouraging the production of commercial ideas, it will help to develop 21st century skills such as creativity, collaboration and leadership, which are essential for future success.
The programme will include guest lecturers from the technology industry, who will discuss the latest developments and sector trends. The programme will also host round table discussions for the students, in association with Citi Ventures and Citi experts in global locations including London, New York and San Francisco.