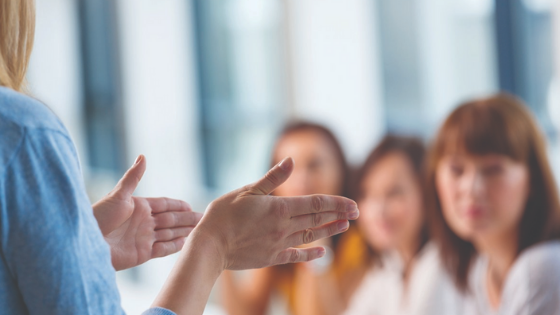 College can be an exciting, challenging and sometimes terrifying time – but don't worry, we're here to make the journey a little easier for you. We asked NCI's staff and faculty to share their best words of wisdom and candid advice, for our new students. Whether you're a part-time student juggling studies with a full-time job or an undergraduate who's come straight from school, there should be some tips here to help you navigate your college years.
Relationships are everything: "College networks and friends will stay with you all your life. Be interested in others and they will be interested in you. Have courage! Go for it! Reach out!" Gina Quin, President at National College of Ireland
"It's so important to develop good relationships with your class group. You can be a great support to each other during your studies, as well as possibly making lifelong friends." Brigina O'Riordan, Early Learning Initiative at NCI
Recognise that first days are tough: "No-one likes the first day of anything; work, new job, college - it can seem so overwhelming but give us a chance, NCI is a great place to be, day two will be a lot easier and before you know it you'll know the faces of your class-mates, your lecturers and the layout of the college." Leah Kinsella, Programme Co-ordinator, School of Business
Try to live in the moment. "We can do nothing about the past – it's gone. We have no idea what's going to happen in the future – so there's no point in worrying about it. All you can control is what's going on now. There are always options and ways of getting where you want to go…just go with it and enjoy the journey!" Catherine Elliot, Learning Support Tutor, Student Support
Take advantage of all the student support: "'If you need help please ask: there are lots of people here to support you." Karen Mooney, Disability & Inclusion Officer, Student Support
"It's important to engage with the careers department – you will not get this assistance in the future and it's vital to help you to get the job that you really want to do or guide you in the right direction. Quite often people leave it until the last year to engage with the careers department but the earlier you start to think that way the easier and better it will be for you to choose the right type of job for you and to give you the tools in order to best 'sell' your skills to potential employees." Mary McNally, Careers Office
Develop your interests: "College years are the best years because you have a set routine but the freedom to enjoy that routine with new friends. Be entrepreneurial, only do a project topic because you like the topic, make what you're genuinely interested in match what you want to specialize in - it'll make college a lot more relevant and fun." Dr. Damien Mac Namara, Lecturer in Computing
Familiarise yourself with the facilities: "Get familiar with the library, how to find journals, how to research and find the materials you need. If you talk to the library staff and use the resources well it will really help. Half the battle in doing many projects is being able to find the materials you need. If you have mastered this art in the early stages you will be set up for your entire college career.
Fit in some physical exercise: use the college gym, consider a college club or society or even a walk or run before you study. This balance will help your concentration and general well-being.
Finally find a good sandwich place. In my experience this can be crucial to your college happiness and success." Robert Ward, Marketing Director
Get stuck in: "Most students are only at college for 1,000 days so you need to start learning, connecting and growing from your first day." Caroline Kennedy, Careers Officer
"The first time you feel like skipping class – don't! You'll see that it wasn't so bad making the effort to go in, and you won't get started on any bad habits.
When you get your first assignment, ask your lecturer for a brief overview of referencing and searching databases. Most lecturers would be happy to give you a quick refresher and it will settle any nerves you might have about doing your first bit of academic writing." Emily Ferns, Marketing Executive
"My advice to all students is that hard work, attendance, and actively listening will, most of the time, lead to high achievement. Also understanding that YOU have to do most of the work, not the lecturer, not the lab assistant, not anyone else, just you." Dr Dominic Carr, Lecturer
"Work at a steady pace all of the time, and this way you will never fall behind. Ask questions in class, learn from your peers and, even when you feel like doing nothing, do something: reading a book chapter or a short journal article is better than not." Grainne Foley, Marketing Department
"Be thinking about building your CV from year 1. Your CV is a dynamic document that captures you in action. So be active and get involved in college life outside of your studies…but not at the expense of your studies." Orla O'Sullivan, Careers Office
"Whatever you're working on, always know the answer to the question "What am I trying to do?" If you don't know that, work it out before doing anything else." Oisin Creaner, Lecturer
We have lots more advice and resources on the blog (here's a good place to start), and we've shared even more through our social media channels, so make sure you're following us everywhere!