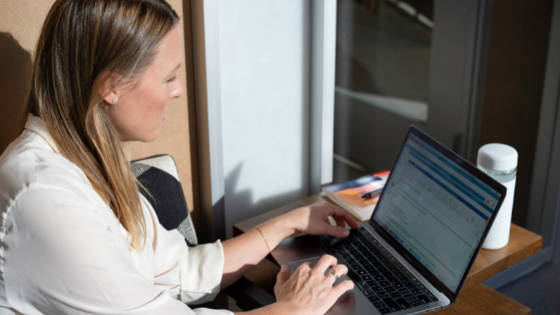 Returning to education is a big commitment. Not only are you investing many hours of your time towards gaining a third-level qualification, but the financial commitment can be a major worry for many students. While it's important to think about the long-term outlook in terms of your career prospects and earning a higher salary after graduation, paying your course fees may seem like a major obstacle in the short-term.
However, there are many measures in place to help prospective students afford college. If you're aiming to study part-time at NCI, these funding supports will help you achieve your education and career goals:
1. Direct Debit Plan
A common misconception is that part-time students are expected to pay their full course fees before they start their classes. This is not the case.
At National College of Ireland, we offer a Direct Debit Plan that allows students to pay just 20% of the course fee and then spread the remaining cost of the course across the duration of their studies. There is no additional fee or interest charge for students availing of this payment option.
For example, a part-time MSc in Management student would pay a booking fee of €830 before classes start in September and then eight monthly instalments of €415 starting in October. Note that in order to formally graduate and receive your parchment, you will need to have paid your fees in full.
2. Scholarships and Discounts
If you're worried that a part-time course is out of your reach due to financial constraints, it's a good idea to explore the various aids and supports available to prospective students including full and partial scholarships.
NCI graduates or final year students are eligible to apply for our First-Class Honours Scholarship (50% discount), Dean's Award (full scholarship) or €1,000 Discount Scheme to return to study part-time at postgraduate level. Those who haven't studied at NCI previously can avail of the 30% Club Scholarship, Irish Refugee Postgraduate Scholarship, or the Uversity Scholarship Scheme.
There are further scholarships and discounts available if these options don't suit your study plans.
3. Laptop Loan Scheme
The sudden shift towards 100% online learning during the pandemic highlighted the technology gap for disadvantaged students who were forced to use inappropriate ICT devices to access their virtual classes. The Department of Further and Higher Education, Research, Innovation and Science took action by providing a government grant that allows institutions such as NCI to loan a laptop to qualifying students to help them complete their chosen course.
The Laptop Loan Scheme may help you take one step closer to applying for your dream part-time course!
4. Tax Relief on Tuition Fees
This is something that is often missed by those considering a return to education; you can claim tax relief on your tuition fees at a standard rate of 20% through Revenue.
Another positive is that you can claim the relief during the same tax year after you have paid your fees, or you can wait until the following year and receive your relief in one bulk payment. A receipt containing all the necessary information is provided by NCI's Fees Office.
5. Student Assistance Fund
The Student Assistance Fund provides financial support to disadvantaged students who are experiencing financial difficulties while attending college. This support is available for both full-time and part-time students who have either ongoing needs for financial support or require emergency financial assistance.
In particular, part-time students who are lone parents are encouraged to apply as additional funding has been made available to support this group. The Student Assistance Fund is managed by the Higher Education Authority on behalf of the Department of Education and Skills.
Interested in studying part-time at NCI? Register for an upcoming information event to learn more about our Business, Computing, Psychology and Education courses.
6. Fund for Students with Disabilities
NCI offers a range of supports for students with disabilities including assistive technology, one-to-one learning support and additional library allowances. The first step is to reach out to our Disability Officer, Karen Mooney, who will be able to assess your educational needs and align supportive measures with your requirements.
In terms of financial support, the Fund for Student with Disabilities aims to ensure students can fully participate in their academic programmes and are not at a disadvantage. Part-time students who are studying an undergraduate or postgraduate course for less than one-year in duration are eligible to apply for this assistance.
7. Funded Courses Through Springboard+
We are delighted to have the opportunity to offer a number of funded courses through Springboard+ and the Human Capital Initiative (HCI). Funded by the Government of Ireland and the European Union, you can study one of these courses for free if you are currently unemployed or for a massively reduced cost of just 10% of the course fee if you are in employment.
These initiatives address skills shortages in the workforce meaning they can be the link that helps you transition into a career with higher earning potential and vast employment opportunities. Starting in September 2023, you can join a technology course in the following areas; Data Analytics, Cybersecurity, Software Development, Blockchain, Artificial Intelligence or Web Development at NCI.
8. Employer Sponsorship
There are direct benefits for companies who provide upskilling opportunities for their employees by offering educational benefits. These include increased productivity, employee loyalty and the ability to take on new projects.
If your employer offers an educational assistance programme as part of your employee benefits package, you can apply to avail of Employer Sponsorship to study at NCI with your fees covered as part of this agreement. Completing the form confirms that the sponsor will pay the full course fees prior to you commencing your studies at NCI.
9. Free Access to Learning Resources
While the purchase of brand-new textbooks might have been an additional college expense once upon a time, this is no longer the case due to the extensive range of free learning resources available to students virtually.
The Norma Smurfit Library at NCI undoubtedly offers world-class support for our students who have access to hundreds of thousands of good quality, online resources. This includes over 60,000 ebooks, ejournals across a broad range of disciplines and topics, a digital archive of the electronic research produced by NCI staff and students, library guides, past exam papers and much more. The Library Academic Support Centre is available to help you understand what resources are available, find the information you require and provide guidance on how to carry out desk research.
10. Blended and Online Class Delivery
Many NCI courses, particularly those delivered part-time, heavily feature virtual classes with some on-campus learning. The demand for this delivery method was highlighted during the pandemic with the majority of students championing the shift to online learning as they balanced working full-time alongside their studies.
A positive consequence of the ability to study anywhere is, not only the saving of time by eliminating the commute to college, but also the financial saving as the need to take public transport or pay for parking is reduced along with snacks and coffees that can now be gotten for much cheaper at home.
On top of this, your student discount will allow you to make savings on travel, food, fashion, health, entertainment, subscriptions and more throughout the duration of your studies!
Thinking about joining a part-time course? We have a number of options from specialised business areas to advanced computing subjects and comprehensive education programmes to choose from.