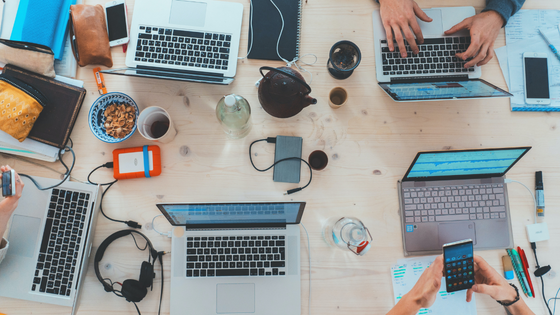 With so many changes in the workforce in recent years, including the shift to remote and hybrid working models, many professionals are seeking more flexible working arrangements. According to the CSO, 88% of those in employment who worked remotely during the pandemic would like to continue to do so, with 6 in 10 preferring a mix of remote and office work.
While changing careers to work in the tech space can offer benefits including better job security, a higher salary and career growth, many tech companies had already adopted flexible working prior to the pandemic meaning you can generally expect this to be included in your package.
Springboard+ is a Government of Ireland and European Union initiative which is designed to help graduates upskill in areas which have skill shortages. At NCI, we offer non-technical graduates with a Level 8 qualification the opportunity to complete a Higher Diploma over one year (blended) or two years (online). Students develop expertise in their chosen specialist area, allowing them to apply for roles in a new field with support from our dedicated Careers Team.
If you're interested in transitioning into a career in tech, follow these steps to see what it takes:
1. Choose an Area to Focus on and Research It
The key to your career move being successful could lie in you finding a specialist area that you are highly interested in and passionate about. While it's important to gain a general understanding of computing, especially if you are coming from a non-technical background, deepening your knowledge of a specific subject area can result in you becoming popular with recruitment consultants who are looking to fill roles where skills gaps exist.
Whether you choose to focus on Data Analytics, Cybersecurity, Software Development, Web Development or even lesser-known areas like Blockchain and Artificial Intelligence/Machine Learning, spend some time researching the area online, experiment with tasks and get ready for the next step.
2. Find Ways to Upskill in That Area
NCI's Higher Diploma in Science in Computing is specifically designed to help graduates from different backgrounds gain a Level 8 qualification in computing.
One of the most advantageous elements of this course is that, while it is a Level 8 award, you are not stepping into an advanced technical course. You will join a range of computing modules and then you will study specialist areas such as Web Design, Software Development, Blockchain Foundations and Introduction to Databases. As a previous graduate from a different discipline, you will bring your life skills and experiences with you on the programme and into a new subject domain. Graduates of this course will be eligible for a number of roles in the ICT sector with previous students now working as Software Engineers, Data Specialists, Web Developers and more.
3. Build Your Portfolio As You Go
A great way to demonstrate the skills you are learning throughout your studies is to build a portfolio which includes projects you have worked on, both in groups and individually. As you are looking to upskill in a technical area as quickly as you can to transition into your new career, this portfolio will be a valuable asset you can refer recruitment experts to which will prove you have essential skills without prior industry experience.
If you really want to stand out from other applicants, offer your skills to friends, family, and local businesses. For example, you could design a website for a small restaurant outside of your coursework and include this as an example in your portfolio when applying for roles requiring web design skills.
4. Engage with Career Services
If you choose to study a Springboard+ course at NCI, a Career Bridge module is integrated into the programme to help you meet your career goals. This module will complement the technical skills you will learn by providing the skills employers seek such as networking effectively and developing an online brand. Career Bridge will provide you with:
Individualised career planning and counselling
CV review and feedback
Expert interview coaching
Networking and personal branding strategies
Virtual career resources such as a regular vacancy newsletter
NCI's award-winning Career Development and Employability Service organise employer events throughout the academic term such as interview marathons, career fairs, alumni networking, and employer presentations. The team will work hard to improve your employability in the tech space.
5. Network with Tech Professionals
The power of connecting with those who are a few steps ahead of where you want to be on your career path cannot be underestimated. These are the people who can give you key advice that will make you stand out in an interview or help you align your application with the requirements of the role or values of an organisation.
Start by evaluating your connections on LinkedIn and then their connections. Ask to be introduced to people working in the areas you want to move into along with HR professionals who are seeking applicants for tech roles. If you work in a non-tech role in a large organisation with various teams working in IT specialist areas, ask if you can shadow another staff member for a day to soak up their knowledge and career advice. Remember, if you join a Springboard+ programme in computing at NCI, you will attend networking events as part of the Career Bridge module. Data analytics graduate, Darren Malone, met his future employers Aon at NCI's Career Fair!
Applications for NCI's Springboard+ and Human Capital Initiative (HCI) courses in computing starting in September 2023 are currently open. Visit the Springboard+ page on our website for full details.