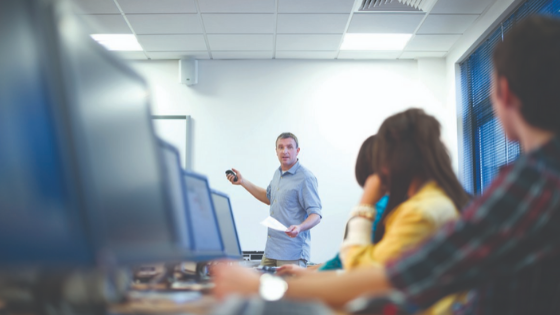 With a history of teaching HR courses that stretches back more than 60 years', it's no surprise that our human resource management courses and lecturers are always kept busy at NCI's summer open evenings.
Held at our city centre Dublin campus, the open evenings are a great opportunity to get a feel for what it's like to study human resource management – or any of our other part-time courses – at the college.
Bronwyn McFarlane, who lectures in Human Resource Management and Organisational Behaviour at NCI, and is the Programme Director for the new Honours degree in HR Strategy & Practice, put together this helpful guide to the questions she is commonly asked about studying HR at National College of Ireland.

Q. I already have a Level 8 degree (not in HR) but I'm now working in a HR or training role and think I should get a HR qualification; which course would be open to me?
A. The Postgraduate diploma in HRM would be a great option; this leads onto the Masters in HRM. This is a Level 9 programme.
Q. I would like to get into HR but it's a while since I was in education; what course would you recommend?
A. If you want a course that gives you CIPD accreditation and provides you with the skills to work in the HR function, the CIPD diploma (1 year) or Certificate in HRM is a good way to start. When you have completed the diploma you could then progress straight to stage 2 of our new Honours degree in HR Strategy & Practice.

Q. I heard you can now get a degree in HRM at NCI over 2 years. Is this true?
A. Yes, the new BA HRM Strategy and Practice is run over two calendar years, in a condensed format and allows part-time learners to gain an honours degree and CIPD accreditation * (Note programme is currently undergoing validation by CIPD)

Q. Will a CIPD programme give me an edge in the jobs market?
A. Yes. Many employers looking for staff in the HRM profession view CIPD as a recognised standard in terms of someone's level of professional competence. Jobs adverts for HR roles will often state that CIPD membership is a requirement.

Q. I'm working as a HR Business partner and completed my CIPD Diploma at NCI last year. I'd like to go on and do further study. What's the next step?
A. The new BA (Hons) HRM Strategy and Practice would be the next logical step. Because you have already completed the diploma you would go straight onto Stage 2 of this new degree.

Q. Do you have a postgraduate course in Learning & Development or Organisational Development as I work in this area (or want to get into it) and I already have a degree in HRM or Business?
A. We don't offer specific post-graduate qualification in either of these areas although we do offer a Masters in HRM which is a very popular programme. You can study this full-time or part-time. The MA in Learning and Teaching would be another excellent choice.
Still have questions about NCI's HR courses in Dublin? Come to our next open event!
Questions? Feedback? Leave us a comment below. All commenters on NCI's blog get added to a raffle, to win a weekend away!