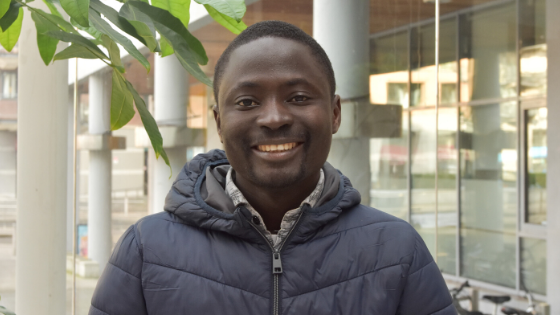 Nurudeen Oyewole studied journalism at undergraduate level and gained experience as a journalist in his native Nigeria before deciding to further his education by joining NCI as an international student.
Having applied for the MSc in Entrepreneurship, Nurudeen was a recipient of the Entrepreneurship Scholarship which provides 50% of the tuition fees. This scholarship is only offered to international students at NCI and supports the development of individuals who are interested in exploring innovation and creativity, who have an entrepreneurial mindset and those who seek to start their own business.
Nurudeen explains why he chose to study at NCI, how the scholarship has helped him, what he has enjoyed about his experience in Ireland and his advice for anyone considering studying abroad below.
Why did you choose to pursue a postgraduate qualification in business at National College of Ireland?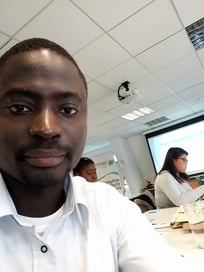 A friend of mine drew my attention to National College of Ireland (NCI) and the scholarships available at the college for international students when I was searching for postgraduate study opportunities. I had secured a place on two PhD courses at that time but studying at NCI appealed to me due to the funding support that the international scholarships provided.
As I had registered a business focusing on media relations and consultancy services, the MSc in Entrepreneurship appealed to me as I knew it would encourage me to expand my horizon, develop my knowledge of business strategy and help me establish my company.
And that was it. I applied for the course, my place was confirmed, and I secured the scholarship. Next thing I knew, I was on a plane to Ireland to meet a bunch of new friends, enjoy new experiences and work hard to gain my qualification!
How has the international scholarship you secured from NCI helped you achieve your educational goals?
I must say that choosing to study at NCI has made a huge difference for me, it has truly broadened my horizon. For the first time in a long while, I am relating to the world beyond journalism which I studied at undergraduate level and have established my career in.
I must also salute the foresightedness of the college for offering a scholarship to study entrepreneurship. This is a topic which many may believe does not require formal education as many who start successful businesses seem to possess a natural talent for entrepreneurship. However, the modules on this course have been developed comprehensively ensuring students build a strong foundation.
To me, the college management has demonstrated that it is in tune with the realities of modern world and as such, has been meticulous in selecting each of the modules on the course. Indeed, the experience and knowledge gained from Marketing to Project Management, Business Enterprises to Business Planning and Strategies, among others, has been extraordinary and I couldn't have asked for more.
What have you enjoyed during your experience studying at NCI?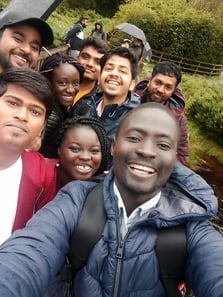 Lots. It is difficult to write it all, but the experience has been well-rounded. In other words, studying at NCI has empowered me not just with academic knowledge gained within the four walls of the college but it has also supported my development during my time outside the classroom.
From the academic point of view, I can attest to my own improved knowledge and skills in the development of a business planning, fund sourcing, organisation management, promotional channels and strategies for goods and services, contractual terms and agreements in business, powering enterprises with innovations as well as information and communication technologies (ICT), among others.
Outside of my time spent in the classroom, NCI has actively supported my quest for employment. I have been able to attend career fairs which gave me the opportunity to meet potential recruiters one-on-one. It is also through NCI that I was able to secure a part-time position with the National Student Engagement Programme (NStEP), a joint initiative of Quality and Qualifications Ireland (QQI), the Higher Education Authority (HEA) and the Union of Students in Ireland (USI).
These are just two of many reasons that have added to my experience studying at NCI.
What advice would you give someone who is considering studying abroad in Ireland?
If you are considering studying abroad, my best advice is to be sure of your decision – you should think "yes, I definitely want to do this".
This is because studying abroad involves some great times (as you can see from my experience above) but also some difficult times. You will need to adjust to the Irish weather, you may feel homesick at times among other challenges you need to prepare for. On the good side, the fun of meeting new people from diverse backgrounds, getting used to new ways of living, experiencing new cultures, gaining international work experience, among others, are some of the reasons why you should embrace the opportunity to study abroad in Ireland.
Nurudeen is one of NCI's International Ambassadors who is currently studying the MSc in Entrepreneurship. He received the Entrepreneurship Scholarship which provides 50% of the tuition fees. If you're interested in studying at National College of Ireland as an international student, visit the international section on our website for further information.